10 Best Large SUVs Of 2023, Ranked
From mainstream family haulers to luxury models, these are the biggest and baddest full-size SUVs currently on sale
Though midsized and small SUVs may be attractive for most buyers, there is no substitute for full-size. Those in need of swaths of passenger and cargo space, generous towing ability, all-terrain prowess, and plenty of family-friendly amenities are best suited to the big boys, full-size SUVs. With three rows of seats that don't sacrifice on the ability to haul stuff, powertrains that can handle their bulky proportions, and the kind of features and comfort required on long road trips, large SUVs fit the bill for delivering on just about any need.
The market for full-sized SUVs is somewhat limited compared to the mid- or small-SUV segment, but there are still plenty of options. As such, TopSpeed is here to provide you with a rundown the best large SUVs on the market in 2023. They run the gamut from new models to established players in the segment and here are the 10 models that made it onto our list.
Note: The starting MSRP listed for each model includes destination charges.
10 2023 Ford Expedition And Expedition Max: $56,970
The Ford Expedition and its longer-wheelbase sibling, the Expedition Max, are solid all-around choices in the class tick all the right boxes. A twin-turbo V-6 outputting between 380-440 horsepower? Check. A smooth 10-speed automatic and available all-wheel drive? Check. A maximum tow rating of 9,300 pounds, a spacious cabin that offers an impressive 36 inches of third-row headroom, and 21 cubic feet of cargo space behind the back seats? Check, check, and check.
Along with two size options, the Expedition comes with a family-friendly cabin that seats five as standard, but most trims will accommodate eight passengers with available second-row captain's chairs. While not particularly nimble, the Ford delivers a mostly smooth ride and responsive powertrain. Base models are fitted with desirable features like a Wi-Fi hotspot, 12-inch touchscreen, and Ford's Co-Pilot360 safety suite, with upper models featuring more power and luxe features like massaging front seats and an adaptive suspension. And with a starting price of just under $57,000, the Expedition provides plenty of bang for the buck.
9 2023 GMC Yukon and Yukon XL: $59,295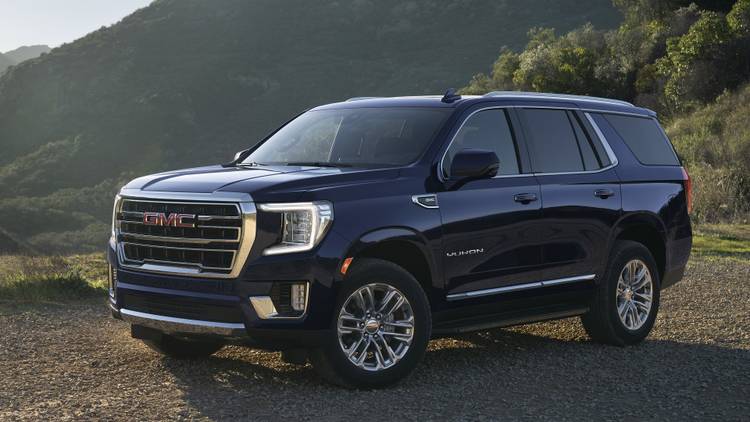 Like the Expedition, GMC's big-boy Yukon SUV comes with an option of two wheelbases with the XL adding additional cargo space (41.5 cubic feet behind the rear seats), though the standard model will still swallow an impressive 25.5 cubic feet of stuff. The Yukon stands apart from most of the models on this list by offering seating for up to nine people, though it can also be had in eight- or seven-passenger configurations.
Inside, the Yukon delivers an upmarket interior that features amenities like a dual-screen entertainment system for those in the back, a panoramic sunroof, or a choice of Bose audio systems.
The Yukon is available with a pair of V-8s, either a 5.3-liter delivering 355 horsepower or a 6.2-liter unit developing 420-hp, with both engines bolted to a 10-speed automatic with either rear- or all-wheel drive. Opt for the more powerful engine and all-wheel drive, and the Yukon can haul up to 8,400 pounds.
8 2023 Infiniti QX80: $74,395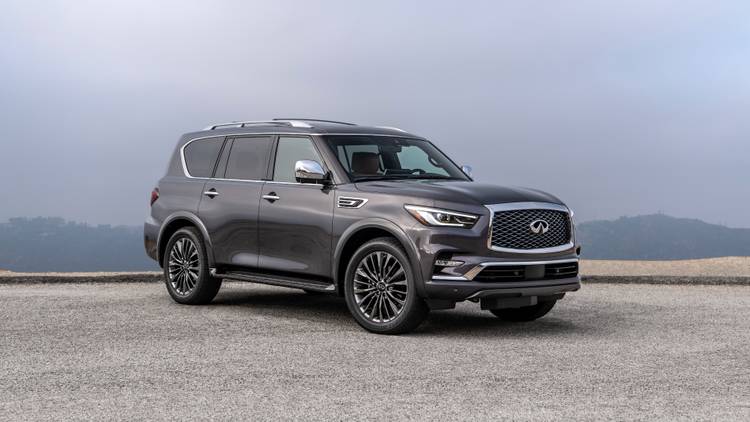 The Infiniti QX80 is dated compared to its more fresh-faced and modern rivals, but it does present an attractive price for those who want all the capabilities of a full-size SUV with a luxury badge. The QX80 is motivated by a 5.6-liter V-8 delivering 400 horsepower to either the rear or all four wheels providing smooth and respectable acceleration, with 60 mph coming up in 5.9 seconds. The V-8 pairs with a seven-speed automatic transmission and will tow up to 8,500 pounds regardless of drivetrain.
The QX80 has second-row captain's chairs as standard for seven-passenger seating, but buyers can opt for a second-row bench for eight passengers. The Infiniti has a quiet and comfortable cabin, and though it only holds 16.6 cubic feet behind the rear seats, there are cubbies and storage spaces galore throughout the cabin. Its generously equipped as standard with a self-leveling suspension, leather seatings, a digital rearview mirror and a 12.3-inch touchscreen. While not as spanking-new as competitors, the QX80 still delivers.
7 2023 Mercedes Benz GLS: $82,950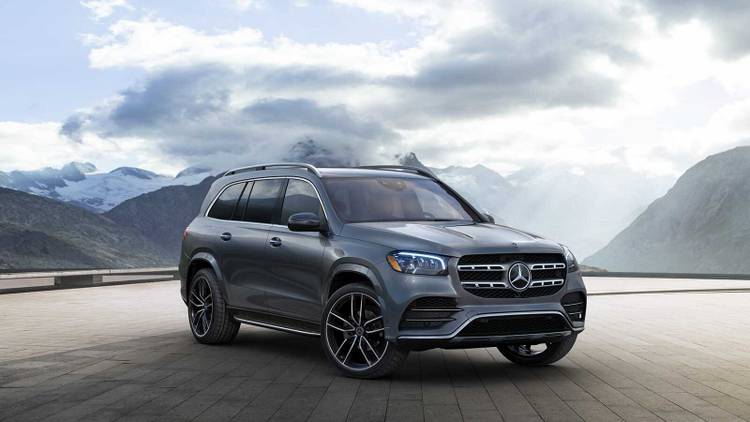 The Mercedes GLS is one of the more expensive models on this list, but it exemplifies the adage "you get what you pay for," because, in the Benz, you get a lot. The GLS sports a sumptuous cabin with top-tier features like augmented reality navigation, four-zone climate control, and dual 12.3-inch displays, and thanks to a standard adaptive air suspension, it provides a buttery-smooth ride. Its also extremely accommodating with seating for either seven or eight passengers with 35 inches of legroom in the rear that will easily fit adults. With those back seats in place, the 2023 GLS has 17.4 cubic feet of cargo space.
A turbocharged six-cylinder is standard in the GLS450 and cranks out 362 horsepower while the GLS580 ups the ante with a 483-horsepower twin-turbo V-8 with an impressive max towing of 7,700 pounds. Those wanting even more power and performance can also look the Mercedes-AMG GLS model. With a spacious and luxurious cabin, powerful engines, commendable driving dynamics, and plenty of tech and features, it's hard to fault the GLS.
6 2023 Jeep Wagoneer and Wagoneer L: $60,995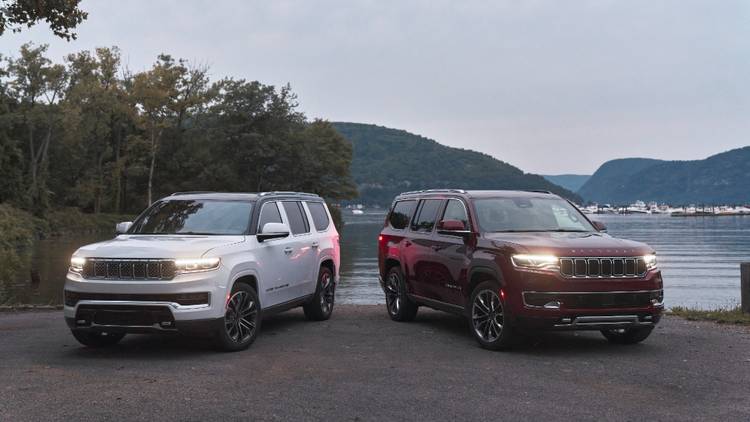 The Jeep Wagoneer is a relative newcomer to the full-size SUV fray, but the standard model and its larger "L" version have already impressed. In addition to a cavernous cabin and a luxury-like quality, the Wagoneer provides the genuine all-terrain capability one expects from any model wearing the Jeep badge. To boot, the Wagoneer can haul up to 10,000 pounds, putting in the towing territory of the most capable full-size trucks. It's powered by either a 5.7-liter V-8 or a twin-turbo inline-six offering 420 horsepower with rear- or all-wheel drive and a eight-speed automatic transmission.
For tackling the great outdoors, the Wagoneer is available with an adjustable air suspension, three various four-wheel-drive systems, and drive modes for seemingly all terrains. Available as either a seven- or eight-seater, the Wagoneer L offers a massive 44 cubic feet of storage behind the rear seats, and third-row passengers get 36.6 inches of legroom and 39 inches of headroom.
5 2023 Lincoln Navigator: $81,620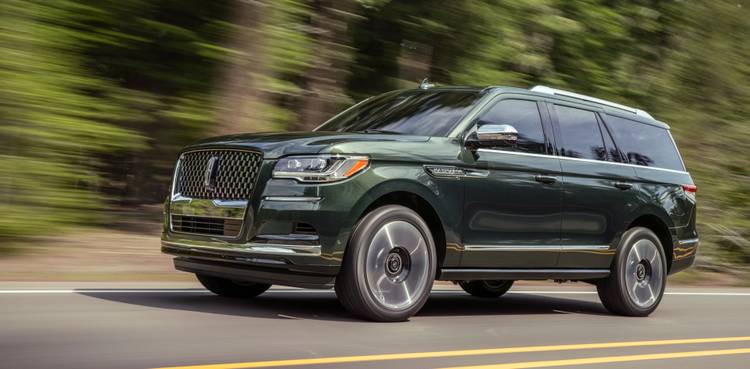 Consider the Navigator the ultimate expression of the Lincoln brand, and not just for its size. The Navigator features an extravagant cabin, a gutsy powertrain, and the real-world practicality required in its segment. The standard Navigator and long-wheelbase Navigator L are equipped with a powerful, 440-horsepower V-8 that scoots the sizable SUV from 0-60 mph in just 5.3 seconds. It pairs with a 10-speed automatic transmission, either rear- or all-wheel drive, and will haul an impressive 8,700 pounds.
Even in its base trim, the Navigator sports a 13.2-inch touchscreen, heated and ventilated seats in the first and second row, triple-zone automatic climate control, and a massive list of standard driver's aids and safety features. The Navigator L is the most spacious choice with 19.3 cubic feet of cargo space behind the rear row and 41 inches of legroom for rear passengers. As such, the Navigator is the certainly tops Lincoln's charts for overall competence, and it's certainly an strong choice in the full-size SUV class.
4 2023 Cadillac Escalade: $82,690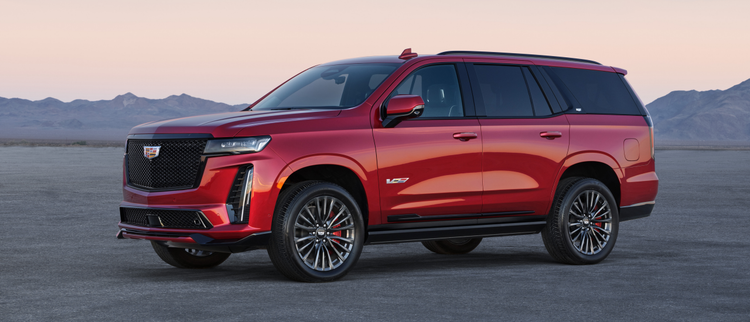 A Cadillac badge may not hold the same weight it did, say, half a century ago, but the Escalade undoubtedly remains one of the best overall choices in the three-row SUV segment. The Escalade includes unique features like a night-vision camera, GM's Super Cruise semi-autonomous driving system, and a curved OLED display spanning a massive 38 inches in addition to its sumptuously appointed cabin. It's also spacious for the whole family with up to 25.5 cubic-feet of cargo space behind the rear seats and 35 inches of rear legroom for up to eight passengers with second-row captain's chairs available. Ride quality on the highway is sublime.
A hulking 6.2-liter V-8 developing 420 horsepower with a 10-speed automatic is standard with a turbocharged, 277-hp diesel engine available for better fuel economy. And new for 2023, the Escalade-V is now available with its supercharged V-8 cranking out an eye-popping 682 horsepower with other performance upgrades. When properly equipped, the 2023 Escalade will haul up to 7,700 pounds. With bold styling to compliment its bold figures, the Escalade continues Cadillac's prominence. Read our in-depth review of the Cadillac Escalade V here.
3 2023 BMW X7: $78,845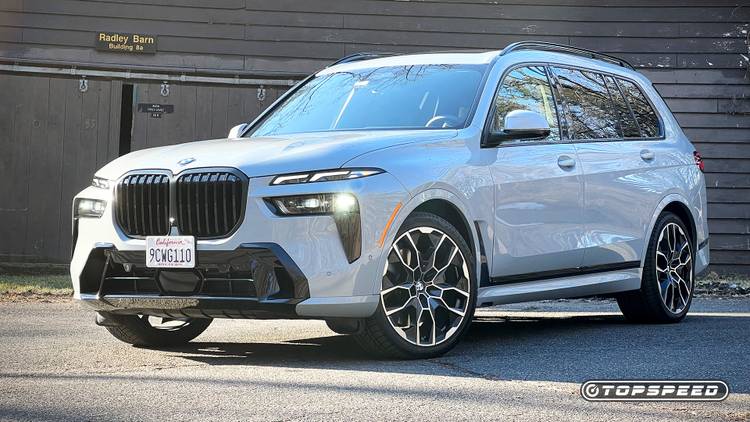 The 2023 BMW X7 isn't the most capable or cavernous of the large SUVs on this list — it's cargo space behind the rear row is just 13 cubic feet, rear passengers are limited to 33 inches of legroom, seating is limited to seven passengers and it's max towing of 7,500 pounds trails some competitors — but the X7 remains the top choice for enthusiasts with larger families.
The 2023 X7 is equipped with a turbo inline-six delivering 375 horsepower, but the M60i provides a serious dose of extra power with a 4.4-liter V-8 cranking out 523 horsepower that will zip the X7 from 0-60 mph in just 3.8 seconds. Both engines are bolted to an eight-speed automatic with all-wheel drive, and the X7's driving demeanor is far sportier than its dimensions would suggest with an air suspension, active anti-roll bars, rear-axle steering and other performance-oriented kit.
The X7's modern, attractive, and luxe cabin has a long list of desirable features in its base trim, including synthetic leather upholstery, heated front armrests, and a panoramic sunroof, with the M60i making available features like a massaging front seats, heated and cooling cupholders and glass shifter and rotary dial. It may not be the most pragmatic choice among large SUVs, but the 2023 X7 can proudly wear the badge of being one of the "ultimate driving machines" in its class with top-tier cabin appointments and features. Read our in-depth review of the BMW X7 here.
2 2023 Lexus LX: $89,160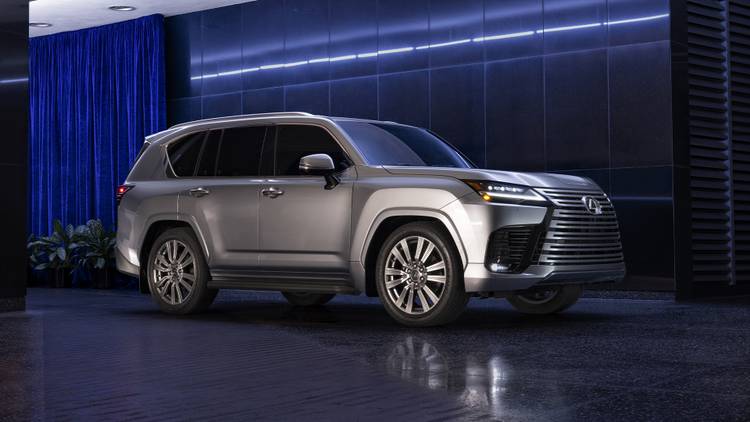 The 2023 Lexus LX's cabin is quiet enough you may be able to hear your hair grow, and all the while, passengers will be coddled by its executive-level fit and finish. Even those behind the front seats will be spoiled with available features like a rear seat entertainment system, massaging and reclining second-row captain's chairs and a wireless charging pad in the rear. The LX accommodates five passengers as standard, though it can seat up to seven if those in the back can make due with just 31 inches of legroom. Cargo space is 11 cubic feet behind the third row but a spacious 46 cubic feet behind the second row.
All LX models are fitted with a twin-turbo V-6 delivering 409 horsepower with a 10-speed automatic transmission and standard four-wheel drive that can haul up to 8,000 pounds. Though it's not the most agile full-size SUV on our list, it has impressive off-road prowess and kit as the corporate cousin of the new Toyota Land Cruiser. If you put a priority on all-terrain prowess, good fuel economy for the class, a quiet and comfortable interior, and second-row amenities, the LX should be on your short list. Read our in-depth review of the Lexus LX 600 here.
1 2023 Land Rover Range Rover: $105,975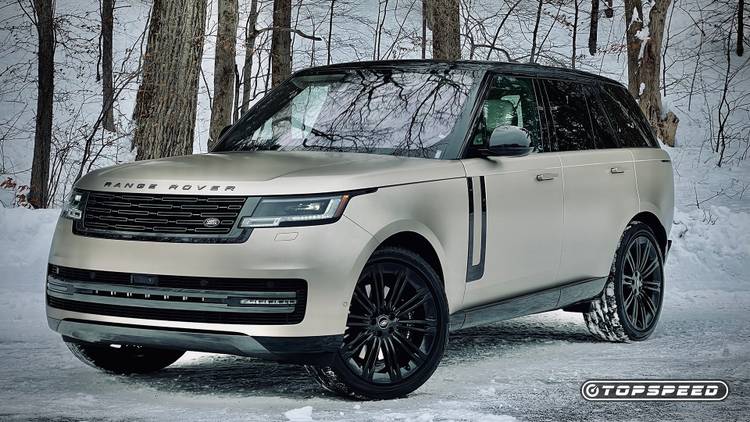 The Range Rover takes our top spot on the list because, in short, it does just about everything, and does it extremely well. The latest Range Rover sports sophisticated styling on the outside hiding a rich cabin underneath with didn't-know-I-wanted-that features like power rear sunshades, a 35-speaker audio system, and a front console refrigerator in addition to all the goodies one expects from a six-figure SUV.
Buyers can also choose their preferred overall size and drivetrain.
The standard-wheelbase Range Rover seats five with Executive Class rear seats maxing out the comfort for rear riders with just a four-passenger capacity. The long wheelbase Range Rover comes with a third-row bench seat for up to seven. Two-row models provide up to 48 inches of second-row legroom, while third-row passengers still get 35.8 inches. Cargo space is a notable 40 cubic feet in either the standard or long wheelbase models, but the third row limits storage space behind the rear row to just nine cubic feet.
That is a price many are willing to pay for the off-road capability for which Land Rover is synonymous — the Range Rover is just at home on the trails as it is on the highway and can tackle just about all terrains. Yes, the Range Rover is the most expensive model on this list with a starting price of $105,975, but for those who can swing the extra dough, we think it's absolutely worth it for a large SUV that excels in just about every category.