2024 Toyota Grand Highlander Review: Do We Still Need the Regular Highlander?
The verdict: The all-new 2024 Toyota Grand Highlander impresses with both a highly usable third row and real cargo space behind it, not to mention a surprising amount of giddy-up-and-go from the available Hybrid Max powertrain.
Versus the competition: The Grand Highlander's spacious interior is much more aligned with the biggest three-row SUVs in the class than that of the regular Highlander.
Drivers in the market for a three-row family SUV have a lot of new and redesigned models to consider, including the potentially confusing addition of the 2024 Grand Highlander to Toyota's SUV lineup. The Grand Highlander is an all-new model sold alongside the automaker's already-popular Highlander SUV. It's essentially a super-sized Highlander — which, interestingly, makes it normal-sized for its class. That's because the regular Highlander is smaller than competing SUVs like the Honda Pilot, Hyundai Palisade, Kia Telluride and Volkswagen Atlas.
I've been thrilled to see three-row family SUVs getting so much attention lately because these are the vehicles that most appeal to my current life stage: two kids under 6 years old. After driving the Grand Highlander and seeing how much there is to like about it, I question if anyone really needs to consider the regular Highlander anymore.
Big Boost to Cargo Room
In terms of its overall footprint, the Grand Highlander is roughly the same length, height and width as an Atlas or Pilot — which is to say longer, taller and wider than the regular Highlander. That extra space is most noticeable in the cargo area.
If you're looking for maximum usability with all seats in place, you'd be foolish not to consider the Grand Highlander. We perform standardized cargo testing that aims to create results you can compare between different brands (because not all automakers measure cargo space the same way), and the Grand Highlander's 14.5 cubic feet of cargo space behind the third row is significantly more than the regular Highlander's minimal 8.6 cubic feet of space. It's also more than Toyota's tanklike Sequoia, which has 10.7 cubic feet of space behind its third row, and the Pilot's 11.5 cubic feet. The Grand Highlander is closest to the Atlas, which has 14.1 cubic feet with an optional subwoofer and 14.5 cubic feet without.
The Grand Highlander also impresses behind the second row, with 26 cubic feet of cargo space. That puts it on par with the Palisade and slightly behind the Atlas, which has around 30 cubic feet. The Grand Highlander's 26 cubic feet behind the second row is more than the regular Highlander has (24 cubic feet), but it's not as drastic a gain as you get behind the third row. The Grand Highlander's cargo area also includes an underfloor storage compartment for the retractable cargo cover. In some competitors, removing the cover means either taking up space in the cargo area to store it or leaving it in the garage.
A More Usable Third Row
Along with the cargo area, the Grand Highlander's extra dimensions help with third-row space; this new Toyota's third row is far more accommodating than the regular Highlander's, and it's more in line with competitors in its segment. My knees were slightly more elevated in the Grand Highlander's third row than they were in the Atlas, making for a marginally less comfortable seating position, but it's a night-and-day difference versus the regular Highlander's third row, which is tight for adults or even larger kids. The Atlas gets the nod as the most accommodating third row for adults, but the Grand Highlander is close behind it — and out in front of a lot of competitors.
More … Power?
Now for the twist: Among its peers, the Grand Highlander Hybrid Max version that I drove is fast. With the most powerful of the Grand Highlander's three available powertrains, this version makes a combined 362 horsepower. Yes, you read that right: 362 hp. In a Highlander. Few mainstream three-row SUVs offer that much power. We clocked 0-60 mph in 6.15 seconds in Sport mode, which is a little quicker than Toyota's 6.3-second claim and quicker than anything else you'll experience in this class outside of a 400-hp Ford Explorer ST or V-8-powered 357-hp Jeep Grand Cherokee L.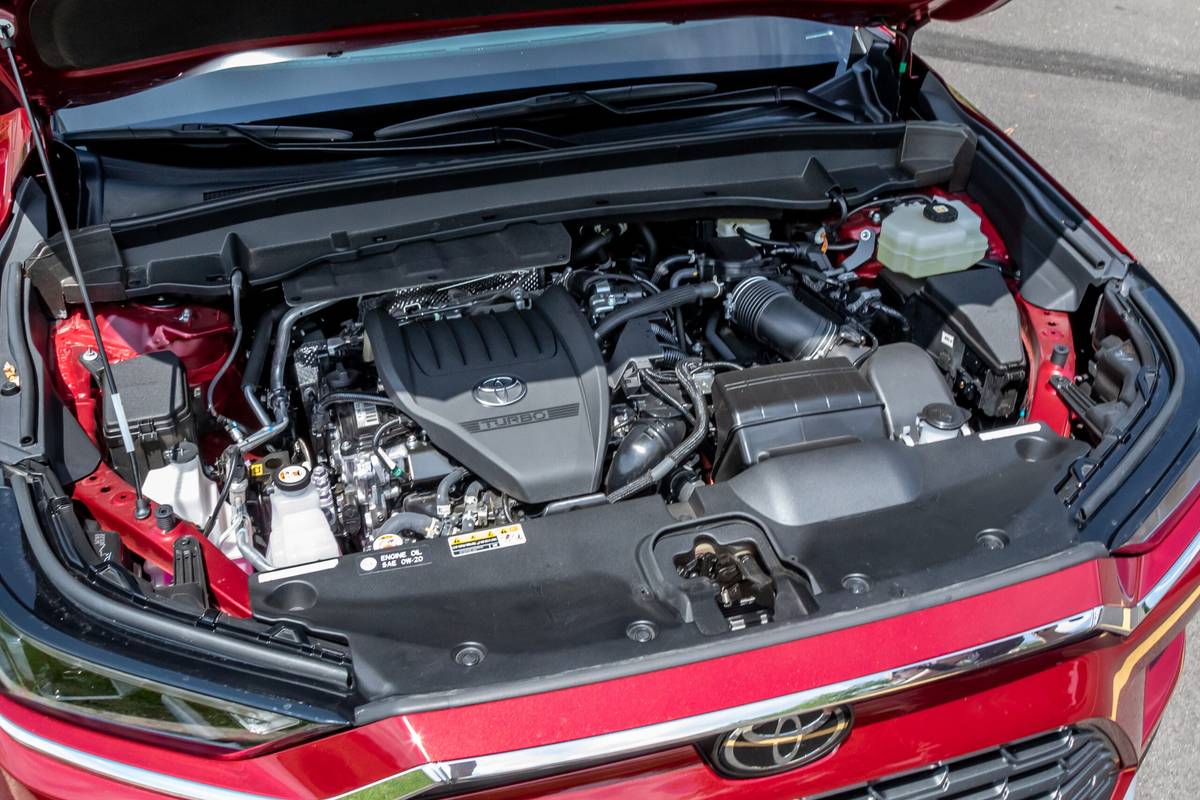 2024 Toyota Grand Highlander | Cars.com photo by Christian Lantry
Do you really need this much acceleration from a three-row family SUV? Probably not, but I'm surprised by how many of the people I've advised on these vehicles comment on how underpowered some of them feel, and I get it. If you're spending upward of $50,000 on a vehicle (which is surprisingly easy to do), you expect something notable under the hood. The Grand Highlander Hybrid Max has that.
The powertrain consists of a turbocharged 2.4-liter four-cylinder gasoline engine and a pair of electric motors, all of which combine to make those 362 hp. An electric motor powers the rear wheels, creating electronic all-wheel drive (there's no physical connection between the front and rear wheels). This is a trick powertrain because even though the engine pairs with a six-speed automatic transmission — which is on the low end in terms of gear count for a new car — the electric powertrain offers seamless acceleration, making for one heck of a fun driving experience. No matter the speed, you can punch the accelerator pedal and be rewarded with a burst of acceleration. And whether they're electronically augmented or natural, the engine noises heard in the cabin sound convincingly like a big-displacement V-6 instead of an electrified four-cylinder.
I enjoyed driving the Hybrid Max more than I thought I would, and its 27 mpg combined EPA rating is impressive for this kind of power on regular 87-octane gasoline. An Explorer ST with AWD, for example, is rated 20 mpg combined, with premium gasoline recommended for best overall performance .
Despite all this talk of electrification, however, the Hybrid Max is not a plug-in hybrid with an electric-only driving range; it's more of a performance hybrid system. This is either a bummer if you're looking for a three-row plug-in SUV (of which there are few), or a good thing because you don't have to deal with charging but still get the benefit of a powerful electrified powertrain.
Thoughtful Features
More than just space, the Grand Highlander has features that make driving enjoyable with or without the family onboard. Those with younger kids will appreciate the ceiling-mounted heating and air-conditioning vents that can be pointed down at rear-facing car seats. It's a much better way to get airflow than rear-facing vents in the lower middle console or B-pillars.
There's also a top-down, "see-through" view that drivers can call up via the available Panoramic View Monitor called "transparent underfloor vision." This view stitches together captured camera images to show what's under the car as you crawl into a parking space. It effectively removes the car from the image so you can see precisely where the parking lines are. This was very much appreciated in a larger vehicle like the Grand Highlander and is quickly becoming one of my favorite driver-assist features. The Panoramic View Monitor is available as a $600 option on Limited trim levels and is standard on the Platinum.
Another cool feature is very powerful 1,500-watt household power outlets available in Hybrid Max trims, which can support more power-hungry devices than the 400-watt outlets you typically see in trucks and minivans. (The gas-powered Grand Highlander has an available 100-watt outlet). These outlets can support a range of household devices for camping or tailgating, such as an electric grill, air compressor or power tools, but note that the engine could turn on when using the outlet. Consult the Grand Highlander Hybrid owner's manual for the particulars about what's safe to plug in.
Where the Grand Highlander Isn't So Grand
Like most cars, the Grand Highlander has some oddities, though I don't think any are deal breakers (like the polarizing multimedia and control system Volkswagen put in the 2024 Atlas). For one, despite its impressive acceleration, the Grand Highlander Hybrid Max lacks the dynamism of an Explorer ST, which is not quite as long and exhibits rear-wheel-drive-like behavior. Also, the Grand Highlander's ride quality is somewhat jarring and noisy; the problem seemed to be coming from impacts with the 20-inch wheels and tires on my test vehicle. Because the SUV otherwise manages moderately rough roads and highway driving with minimal intrusiveness to occupants, the XLE trim's smaller 18-inch wheels might offer better isolation from impacts and noise.
Up front, the Grand Highlander has an available digital instrument panel to display vehicle vitals, which is becoming more common in new cars. In theory, it's a great addition thanks to its seemingly infinite configuration options, but Toyota's design amounts to a hodgepodge of lights and symbols on the dash. It's chaotic-looking and could use some cleaning up. The Grand Highlander has three configurable panels, but most of the chaos comes courtesy of the default icons for the cryptic safety systems and drive modes, not the configurable panels.
One of those safety systems, Proactive Driving Assist, has good intentions, but I was put off by its intrusiveness. This system can steer and slow the car when an obstacle is detected in normal driving, which may not sound offensive given features like adaptive cruise control, lane-centering steering and automatic emergency braking can also trigger this kind of behavior. But PDA operates independently of those features, and what it feels like behind the wheel is the Grand Highlander gently applying the brakes as you approach a car at a red light. It took some time to figure out what was happening, because the car was clearly operating outside of any driving assistance I had activated and outside of any emergency situation. There's also no button or clearly marked way to turn off PDA, so you have to dig through the instrument panel settings menu to do so. The system does offer adjustability, but you'll have to open the owner's manual to decipher the various settings of Obstacle Anticipation Assist, Deceleration Assist and Steering Assist, none of which are clearly identified on-screen.
Toyota Grand Highlander Vs. Highlander: Is It Worth It?
Perhaps the biggest barrier to overcome is the Grand Highlander's nearly $45,000 starting price, which will get you a FWD XLE with the base powertrain. That's quite a bit more expensive than the $38,000 starting price of a 2023 Highlander — as well as competitors like the Atlas, Palisade and Telluride — but the Grand Highlander does start at the XLE trim level, which in the regular Highlander is a mid-level trim.
The Grand Highlander XLE costs about $1,500 more than a similarly equipped Highlander XLE, which feels like a reasonable ask for the extra size you get with the Grand Highlander. If you're looking to spend less than $45,000, you shouldn't even consider a Grand Highlander, but if your budget can stretch that high, the Grand Highlander has many advantages.
The Grand Highlander Hybrid Max Limited I drove was $56,000, which is for sure at the top end of what shoppers should expect to spend on this class of vehicle; it's approaching luxury territory without delivering a particularly luxurious interior experience. But there's a clear difference in how the Grand Highlander with the Hybrid Max powertrain drives versus the Highlander (and most competitors) thanks to its impressive acceleration.
At the end of the day, the Grand Highlander's biggest advantage over the regular Highlander — and many of its competitors — is just how usable it remains beyond the second row both in terms of third-row roominess and cargo room behind the third row. If those are two areas where you need a lot of space, the Grand Highlander should be on your list. Similarly, if you're looking for a three-row SUV with a heaping dose of acceleration, surprisingly enough, the Grand Highlander Hybrid Max should be on your list, too.
Cars.com's Editorial department is your source for automotive news and reviews. In line with Cars.com's long-standing ethics policy, editors and reviewers don't accept gifts or free trips from automakers. The Editorial department is independent of Cars.com's advertising, sales and sponsored content departments.