An inside look at Israel's mission to find and destroy Hamas' vast tunnel network in northern Gaza
NORTHERN GAZA — In the wreckage of what was once a Palestinian beach resort, a team of Israeli combat engineers were facing a fundamental question about this war: When can an area be considered clear of Hamas?
Israeli forces seized this strip of Gaza's Mediterranean coastline days ago. Since then, columns of Israeli troops have rolled through on their way south toward Gaza City.
And yet on Saturday, the Israel Defense Forces said three Hamas fighters burst out of a tunnel hidden beneath the soldiers' feet to launch an ambush with assault rifles and rocket-propelled grenades. No Israeli troops were killed, the IDF said, but the tunnel represented a threat deep behind the front line.
"So now we're going to blow it up," said an Israeli officer. Moments later, a heavy explosive sent a plume of deep-red sand skyward. One tunnel down, many more to go.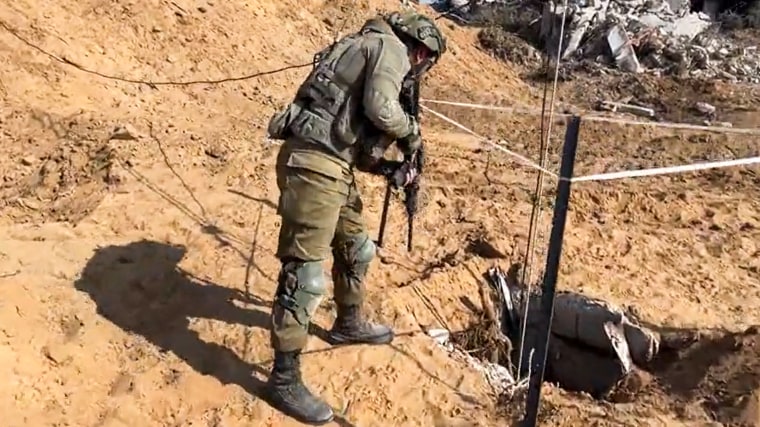 Follow the latest updates here
NBC News was given rare access to northern Gaza on Sunday, following the combat engineers on their mission to find and destroy Hamas' vast tunnel network. Hamas leaders have boasted that the labyrinth of tunnels is hundreds of miles long and full of traps. Israel's military says it represents a major threat to its ground forces as they advance deeper into the Strip.
We joined a line of Israeli vehicles heading through a gap in the Gaza border fence, the same fence that hundreds of Hamas terrorists burst through on Oct. 7 on their way to attack military outposts and massacre civilians in border communities.
NBC News was able to accompany the Israel Defense Forces into Gaza under conditions that prevent us from using images of lower-rank military personnel. NBC News did not allow the IDF to view any finished stories.
Sponsored Stories
TRIPS-SHOP.COMTeacher Keeps Throwing Away Boy's Lunch, When Parents Realize Why They Call the Police
HIGH PAYING NURSE JOBS IN 2023! | SEARCH ADSSearch NowNurses Salary in 2023: Price Might Surprise You!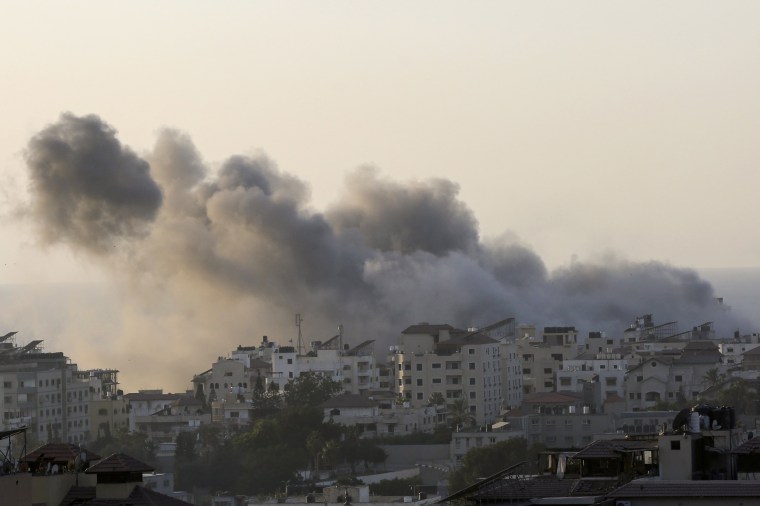 After passing a series of staging posts, we stopped at the remains of a two-story civilian home, one of the few still standing. The wall of the stairwell had been partially destroyed, forcing Israeli soldiers to duck beneath a twisted iron beam. The only sign of the Palestinian civilians who once lived there was a row of plastic jars on a spice rack, holding sugar and tea bags.
A few feet from the abandoned kitchen, Lt. Col. Ariel Gonen was looking at a small monitor held by one of his soldiers. It showed black-and-white footage from inside a tunnel.
"We're in big operation to seize as many tunnels as we can, to investigate them and obviously to terminate them," he told NBC News. "The tunnels are underneath hospitals, everything. We see that they're under schools, under mosques."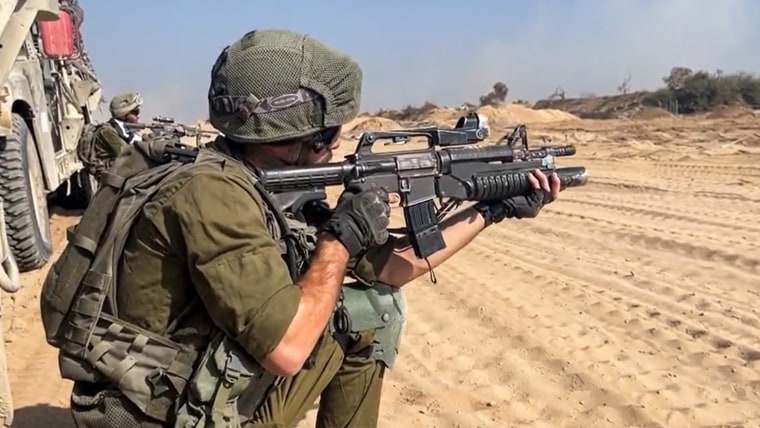 Gonen said the tunnel on his soldier's screen was just few yards away, in the backyard of the civilian house. Israeli forces had found it just a few hours before and had dropped a camera down its 15-meter shaft (about 50 feet) to see what was below.
The search for the tunnel had been spurred by an ambush on Friday.
"We got attacked by a few terrorists that came from this tunnel," said Maj. Maayan Mulla. "They came out, start shooting on us, and they run back. So we searched the area and we found the tunnel."
Sketching a diagram in the dust, Mulla said the tunnels ran both east to west and north to south. The main prizes for his combat engineering unit were the larger, central tunnels, from which smaller ones shoot off.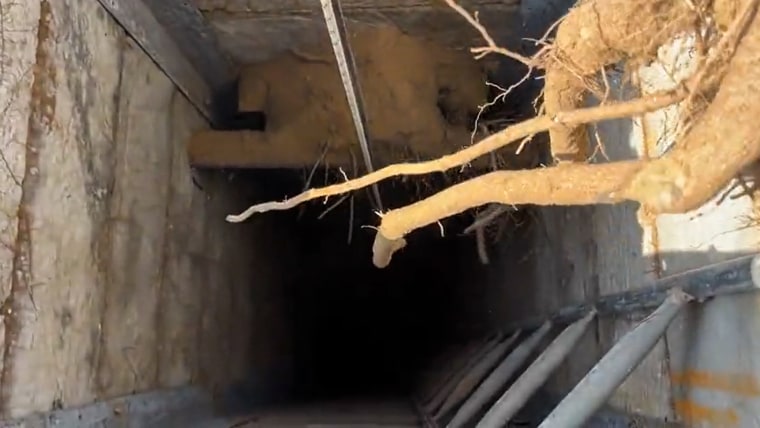 The tunnel network is not only a highway for Hamas fighters to travel the Strip without exposing themselves to Israeli air power. They are also a hiding place for the group's leaders and, Israeli officials say, where the hostages are likely being held.
Mulla said that as his troops explored the tunnels, they had not yet found any sign of the hostages. "They keep them in the center," he said. "Not up here. That's for sure that we didn't find them."
The fate of the hostages weighs heavily on Israeli troops as they advance. "Everyone in Israel knows someone who was killed or kidnapped," said one junior soldier sitting on the side of an armored personnel carrier. "Return the hostages," read the Hebrew graffiti spray-painted onto the side of a partially destroyed chalet.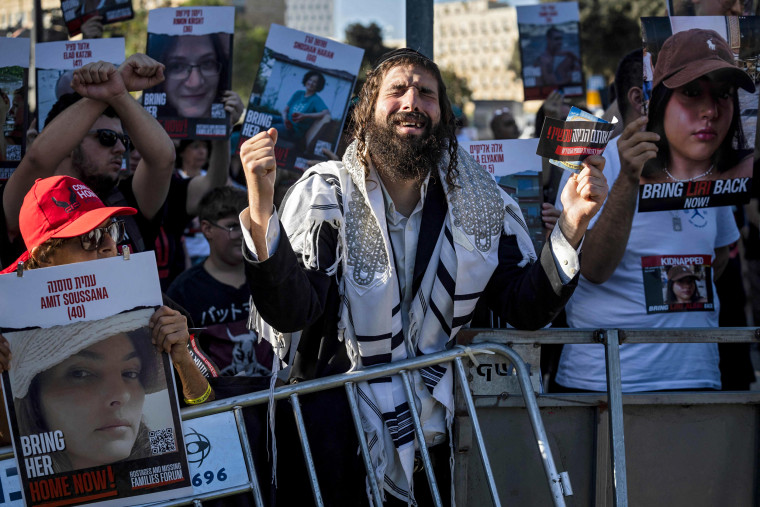 As the combat engineers search for enemies beneath the surface, there is also a threat from above. "They're using drones. Not as much as we thought, but they're using them," said Maj. Tomer, whose last name the IDF asked to be withheld for security reasons. Earlier this week, Hamas published a video appearing to show a small drone dropping an explosive on a squad of Israeli soldiers.
The turrets of many Israeli tanks are now shielded by a grated metal canopy designed to thwart attacks by drones.
At the destroyed beach resort, Israeli bulldozers had created vast sand berms facing south toward Gaza City. Two young Israeli soldiers perched on one of them, rifles pointing toward the distant plumes of smoke from airstrikes. A third lay against the dirt, his exhaustion evident.
"It's been tough," he shrugged. But he said the memory of the Oct. 7 massacre was keeping him and other troops focused. "We know what we're fighting for. That's for sure."