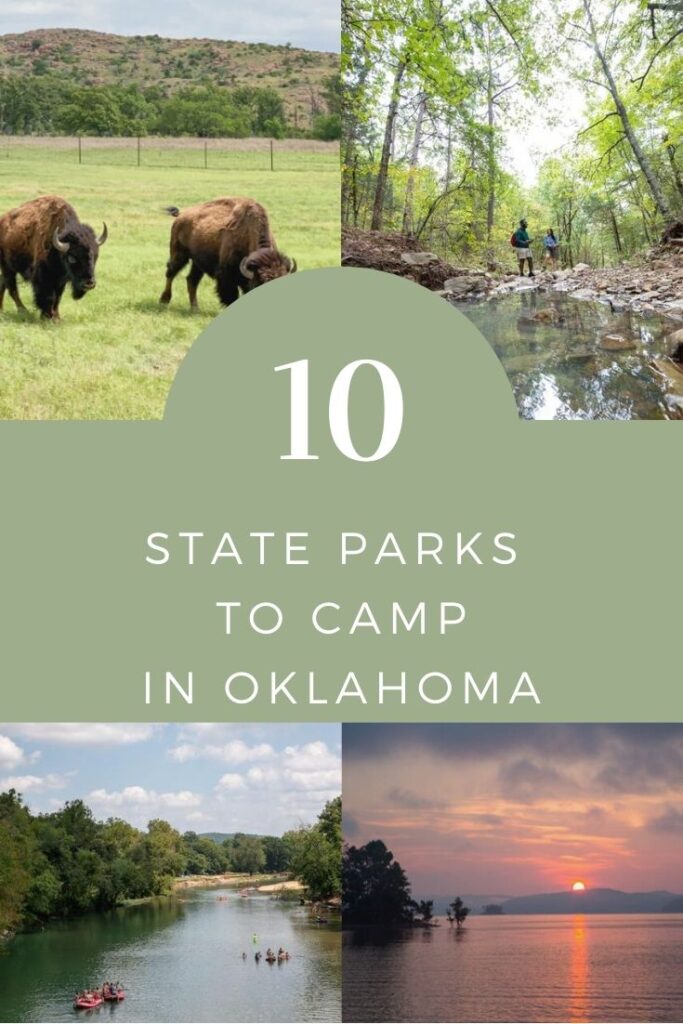 I have lived in Oklahoma all my life and I remember as a child my grandmother would play "Destination Unknown" with us. That meant whenever my grandmother called us grandkids on the phone and yelled "Destination Unknown" we knew she was coming to pick us up to go somewhere special, we just didn't know where. Usually we would hit up the local state parks for some fun.
Did you know that Oklahoma has 32 state parks that are perfect for the beginner camper as well as the experienced camper? Most of them offer picnic grounds, playgrounds for kids, electric hookups, flush toilets, showers, grill boxes and more. Just be sure that you check whatever location you choose to visit ahead of time to see what is available. Oklahoma has over 455 campgrounds
The Best Time to Go Camping In Oklahoma State Parks:
Camping Oklahoma State Parks can be a lot of fun if you plan your trip wisely. The Summer months in Oklahoma can get pretty hot, with record heat in July and August. So if you are not a fan of the heat then the best times to camp are in the spring or fall.
The weather is fairly mild in September or October which is perfect for campfires and S'more making. Mornings can be chilly so you will want to dress in layers.
However if you don't mind the heat and you're a lake person then there is plenty to do here in the summer with some great swimming holes and lots of great fishing ( don't forget your Oklahoma fishing license). Just make sure you pack plenty of sunscreen. At this time children under 16 do not need a fishing license.
Camping In Oklahoma State Parks- Our Top 10 List: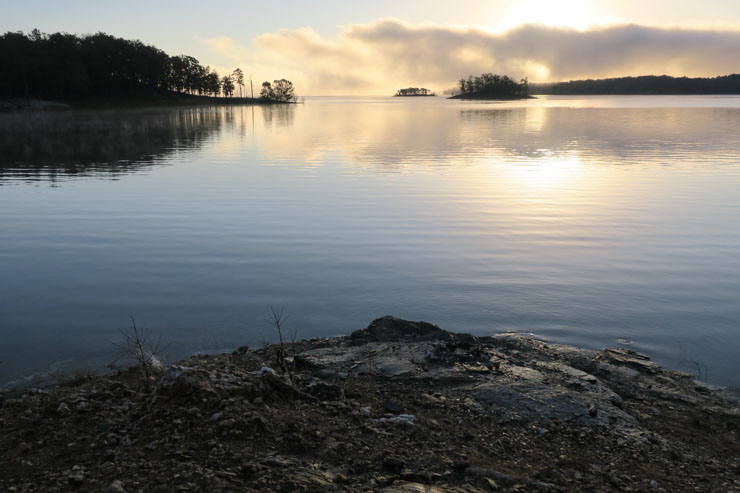 While Oklahoma has 32 amazing state parks. Today we are going to list our Top 10 favorites in no particular order..
Beavers Bend State Park:
Beavers Bend State Park is a 1,300 acres Oklahoma state park located in McCurtain County. They have a total of 56 tent sites for you to choose from. They also have cabins available to rent. Book early because they book up quickly. They do offer RV sites with water and electric hookups as well as 2 group picnic sites available for reservation.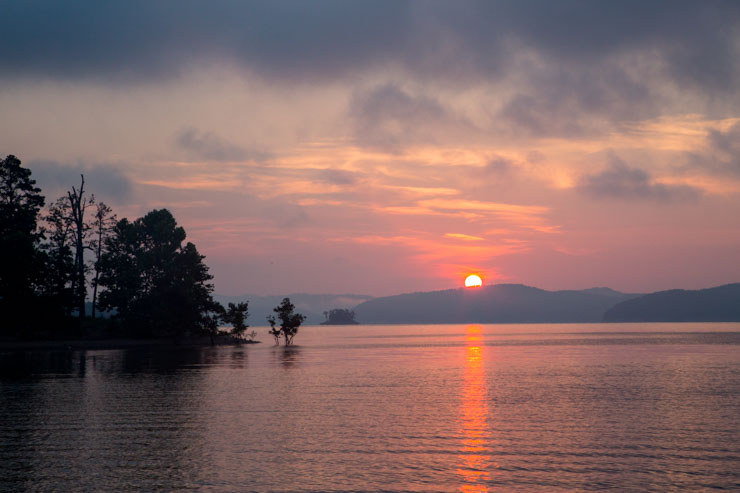 Grapevine and Hickory offer picnic tables with vault toilets.
Dogwood Campground has a children's play ground and trout fishing. It also offers picnic tables. From there you can walk to a sandy beach area that has paddle boat rental and miniature golf.
Elm Campground will be the closest to the riding stable if you love horseback riding.
The park also offers canoe, boat and kayak rental if you want to float down the river. If you plan on camping closer to the Broken Bow Lake you may want to check out the Blue Jay, Coyote, Hawk, Eagle and Dear campgrounds.
Barkcations Tip: pets are allowed on leash. There are also pet friendly accommodations.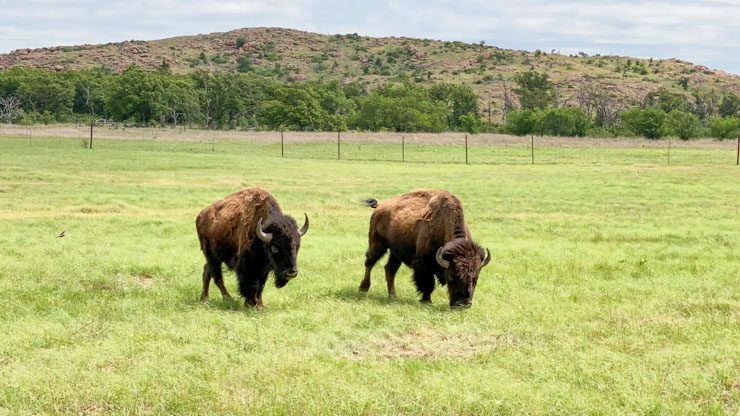 Wichita Mountains Wildlife Refuge:
Photos Taken by: Roaming My Planet.
The Wichita Mountains Wildlife Refuge is a beautiful place to camp with so many places to explore. If you're a wildlife lover like me the park is home to buffalo, elk, longhorn cattle and prairie dogs. Here you can go hiking, rock climbing, fishing, bird watching and more.
If you are interested in learning some great photography lesson while you are there check out the Wichita Mountains Photography Classes put on by the Wichita Mountain man himself. Explore hidden and unique locations often missed without the assistance of a knowledgeable guide. He will provide 2 or more hours of photographic instruction of the unique beauty within the Wichita Mountains Wildlife Refuge boundaries.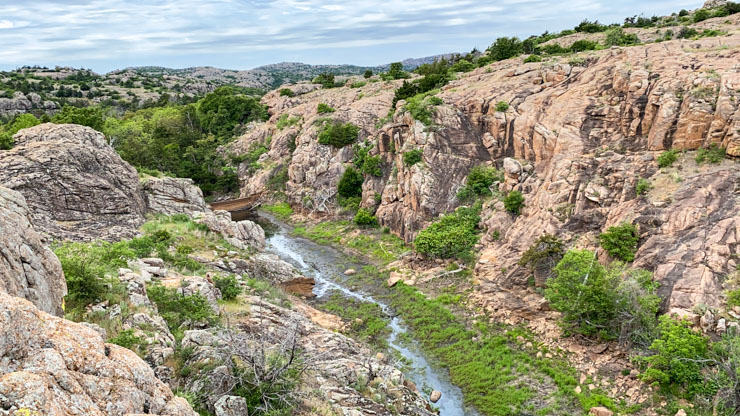 The only public campground at the refuge is the Doris Campground located on the banks of the Quanah Parker Lake. Weather you are tent camping or you're going to RV, it has 23 sites with electricity hook up and 42 sites without. All of the campsites do provide a picnic table, fire ring and grill for you to use. In the middle of the campground are showers and flush toilets for you to use.
Even if you decide not to camp here , I recommend going for a day trip. They also offer a swimming hole during certain seasons as well as few really good local restaurants and an ice cream shop.
Barkcations Tip: pets are allowed on leash.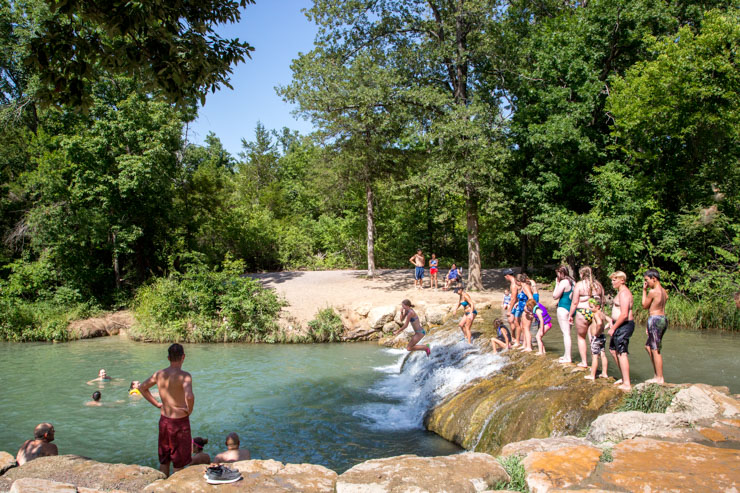 Chickasaw National Recreation Area:
The Chickasaw National Recreation area located in Sulphur was of our favorite places to visit as a kid. There is so much to see and do around this area. You can go swimming in swimming holes fed by natural springs, hiking through beautiful trails, catch a glimpse of the majestic Oklahoma Buffalo that call their home here, I actually wrote a whole post on what to do in Sulpher and Davis Oklahoma you should check out.
There are a total of three campgrounds located here.
The Point just northeast of Buckhorn offers 55 sites with comfort stations and showers and 22 sites with electric hookups.
Guy Sandy offers a more rugged experience with 40 tent sites that do not have electricity or showers.
Buckhorn has 22 sites with electric hookups and 55 sites with showers and comfort stations.
Barkcations Tip: pets are allowed on leash.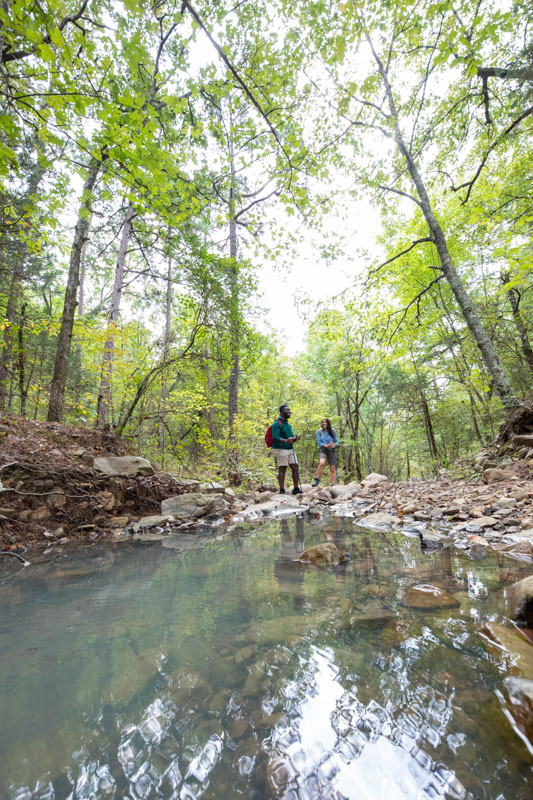 Quachita National Forest
The Ouachita National Forest is a National Forest that lies in the western portion of Arkansas and portions of eastern Oklahoma. It offers over 352,000 acres of hiking trails, horseback riding trails, mountain biking trails, hang gliding, hunting, fishing and more.
There are 4 campgrounds that offer RV and tent camping:
Winding Star – Offers 4 double and 23 single campsites. Flush toilets, showers and comfort station also offered.
Billy Creek – offers 12 sites with a vault toilet, picnic table and a grill or fire pit.
Cedar Lake – Offers both primitive and modern camping experiences.
Cedar Lake Equestrian Campgrounds – Over 100 miles of horse trails with picnic tables, comfort stations, horse corrals, hitching posts, wash fracks and pavilions.
Barkcations Tip: pets are allowed on leash. Keep your pets safe when Camping In Oklahoma State Parks.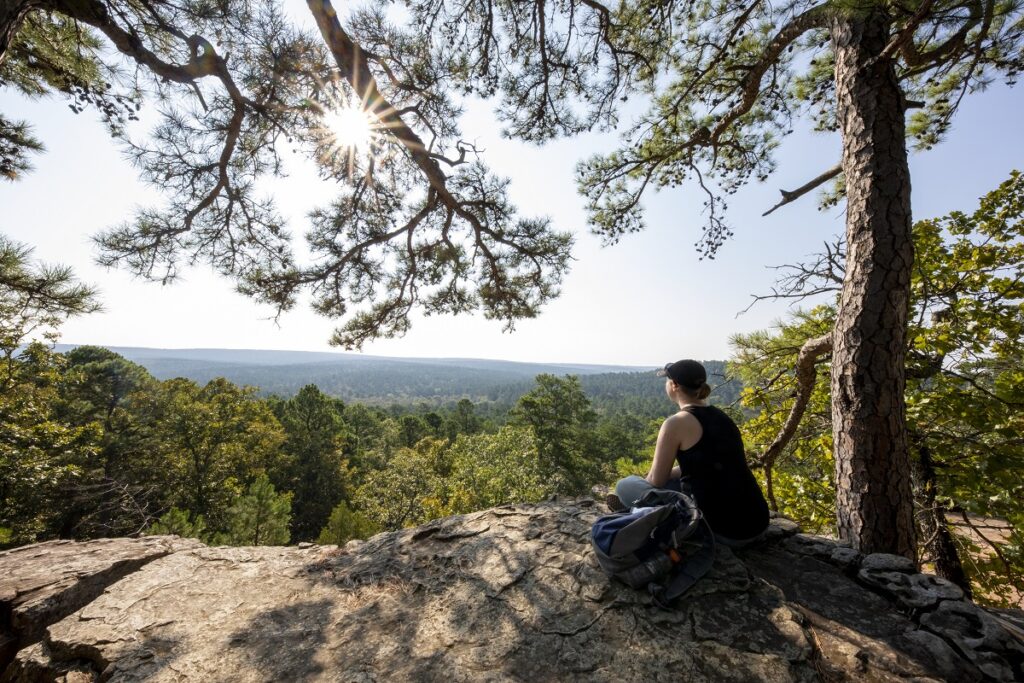 Robbers Cave State Park:
Robbers Cave State Park is a state park in Latimer County, Oklahoma. this is where I went to church camp every year as a kid and I had so many fun memories here. It has a ton of history here. Did you know that this is where famous outlaws like Jesse James and Belle Star used to hide out. ( we have a lot of outlaws in our family history but that's another story for another day)
Robbers Cave State Park offers 22 RV sites with full hookups including sewer and 64 sites with electric and water. As far as activities goes, there are lots of places to hike including a small cave you can walk through. There is also an equestrian campground.
You can also rent cabins or even a yurt or you can pitch a tent in one of the 86 primitive campsites.
Barkcations Tip: pets are allowed on leash. Pets friendly cabins are offered but pets are not allowed at the lodge.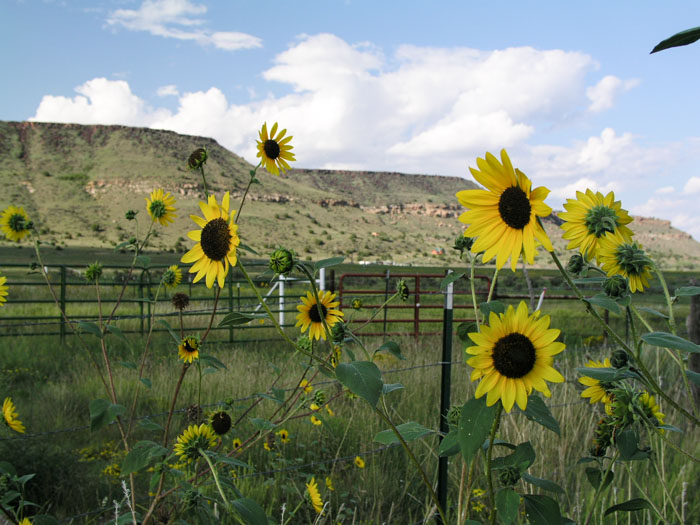 Black Mesa State Park & Nature Preserve:
Black Mesa ( the highest point in Oklahoma) is located in Oklahoma's panhandle along the tri-state border with Colorado and New Mexico. It offers 25 tents and 29 RV sites that include water and electric hookups. You will also find picnic tables, a playground, showers, restrooms and a boat ramp.
If your into dark skies, this is the place for you. It's one of the largest dark skies on publicly own land in the country and the best time to go is in August to see the stars. This is when the Perseid Meteor Shower is visible.
The Black Mesa Nature Preserve is only open from dawn to dusk. You want to allow 4-5 hours to hike to the top of the Mesa. There is no camping allowed in the actual preserve. Pleased be prepared for high temperatures in the Summer and bring plenty of sunscreen and water.
Barkcation Tip: Dogs are allowed in the park, nature preserve, and camp areas for no additional fee. Dogs must be leashed, under their owner's control, and cleaned up after at all times.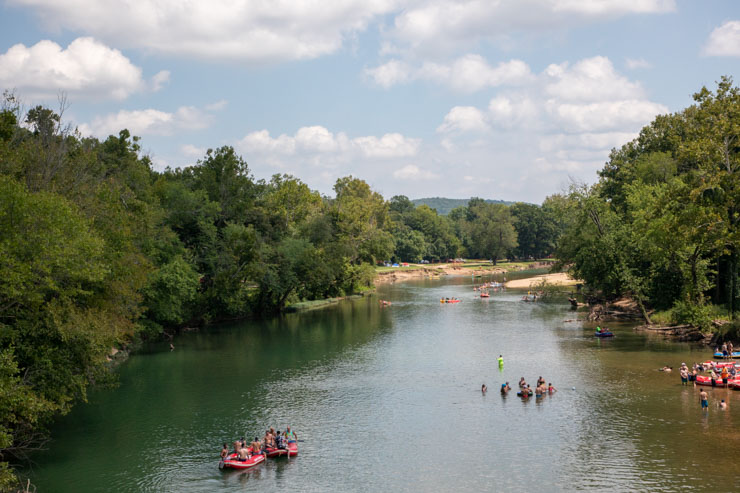 Illinois River:
Located in Tahlequah, (northeastern Oklahoma) the Illinois River is a class 2 river that offer 60 miles of winding river with mild rapids perfect for renting a canoe, kayak or raft. there are several outfitters here that offer both rustic and scenic river campgrounds for both RVers and those wanting to tent camp.
Here you may be able to catch a glimpse of a red fox dear or several bird species. If your planning a trip you should know that Memorial Day to Labor day is the busiest season. Don't forget to pack your life jacket and plenty of sunscreen.
Barkcations Tip: pets are allowed on leash.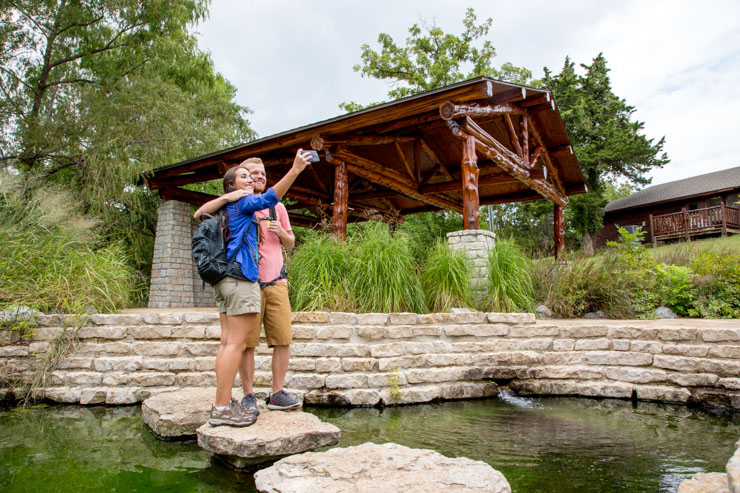 Boiling Springs State Park:
Boiling Springs State Park is a park built 6 miles northeast of Woodward, Oklahoma, USA. It was built by the Civilian Conservation Corps in the 1930s. It was named after it's natural boiling springs. The park is full of wildlife and there is plenty of hiking in the area.
There are two campgrounds, Spring Hill and White Tail that offer 12 tent campsites and 40 RV hookups. There are 3 pavilions available with electrical outlets a cook grill and water.
If you love fishing, Shaul Lake is spring fed and there is also a swimming pool. there are 5 hiking trails and 18 hole golf course for campers to enjoy as well.
You can also rent cabins here as well. Barkcation Tip: Pets are allowed in the cabins for a small fee.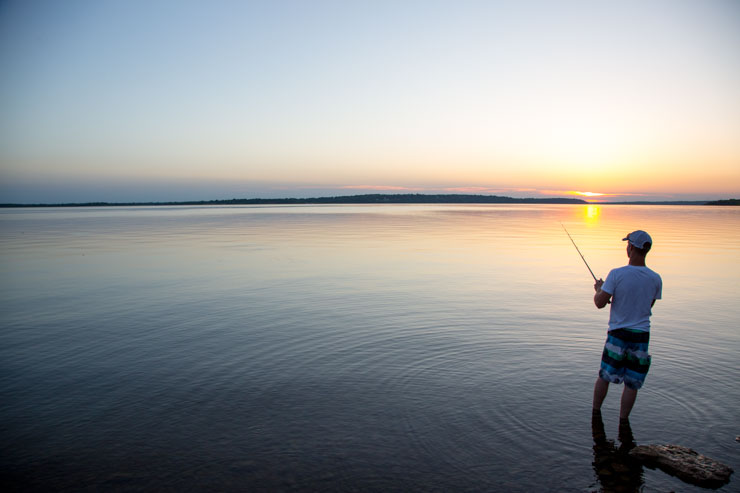 Sequoyah State Park & Fort Gibson
Sequoyah State Park, is a 2,200 acre peninsular recreation space on the eastern shore of Fort Gibson Lake in Cherokee County, Oklahoma. Camping sites offer both RV and tent camping.
If you are needing RV hookups you'll want to use the Choctaw and Seminole campgrounds. Both have full hookups but water and electric are only offered at Choctaw. All reservations must be made online.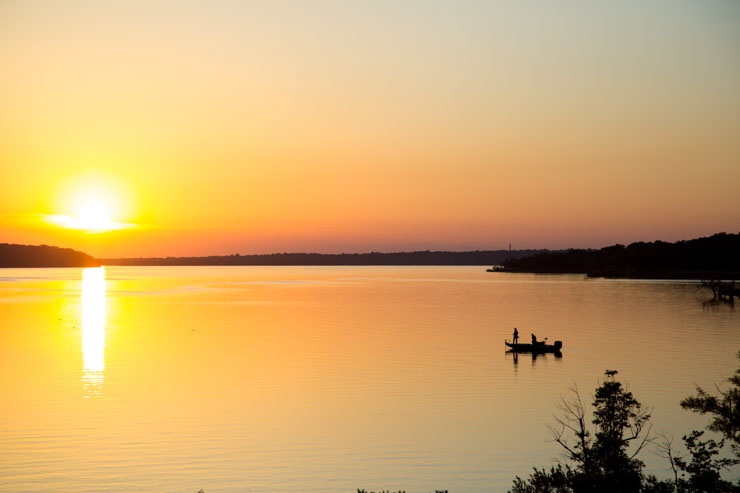 For tent camping you will want to use Choctaw, Creek and Paradise Cove campgrounds which have a boat ramp and showers. Paradise Cove is the closet to the boat ramp and Eagle Roost Trail.
There is an 18 hole golf course , a riding stable, a pool and a restaurant.
Barkcations Tip: Dogs are allowed on a leash but not at the lodge.
Greenleaf State Park: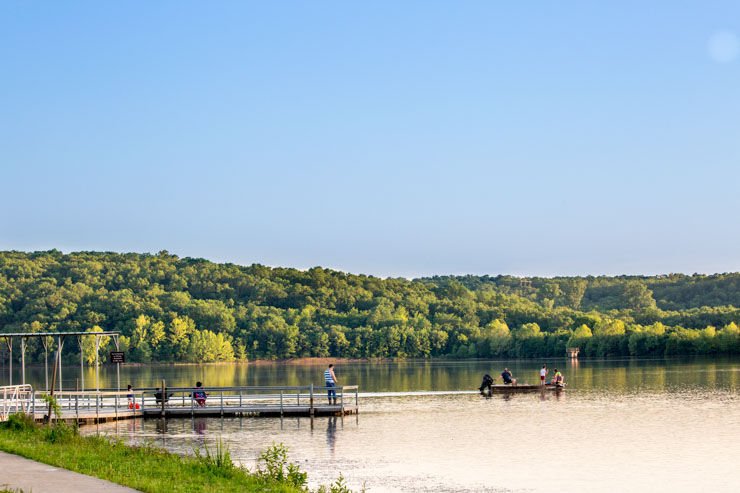 Greenleaf State Park is located near Braggs, Oklahoma that houses Greenleaf Lake. The Park offers 16 cabins for rent with fully stocked kitchens and satellite tv, but you will need to bring your food.
Barkcation Tip: Pet's are allowed in cabins for a small fee.
There are 50 amp electric and full RV hookups and you must reserve your spot online. This area also offers a fishing dock, pavillian, both enclosed and outdoor shelter and more. You can visit the office to get a wristband to use the 18 hole miniature golf and splash pad.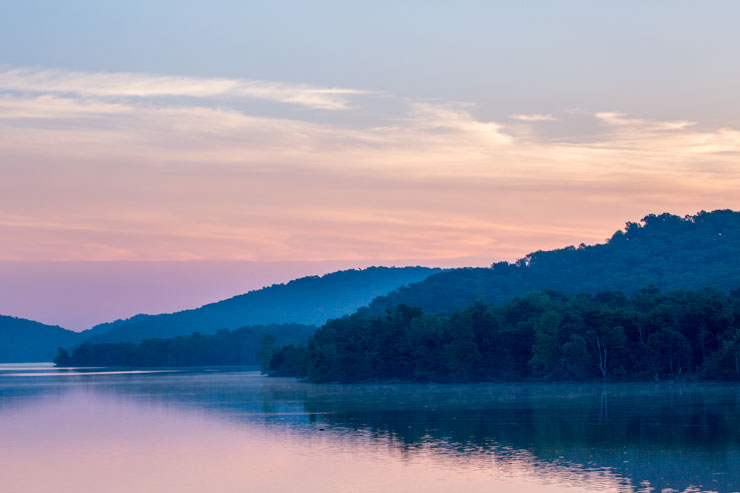 If you are pitching a tent, check out the following campgrounds: Lakeview, Eagles Nest, Trailhead Point and Gobbler Ridge.
Also available for use is the kid's pond, discovery center, volleyball courts and basketball courts.
There is an 18-mile hiking trail that begins inside the park and weaves its way around Greenleaf lake and into the adjacent government land of Camp Gruber which also has a swinging bridge.
We hope you enjoyed this list, there were so many others we wanted to mention as well but these are our top 10. Camping In Oklahoma State Parks is a great way to spend time with your family outdoors. Download the Oklahoma State Parks Guide App.
Photos provided by: Oklahoma Tourism except for Wichita Mountains which were taken by Roaming My Planet.
Awesome Camping Supplies:
This post may contain affiliate links. Click to read our Disclosure Policy . Click to read our Privacy Policy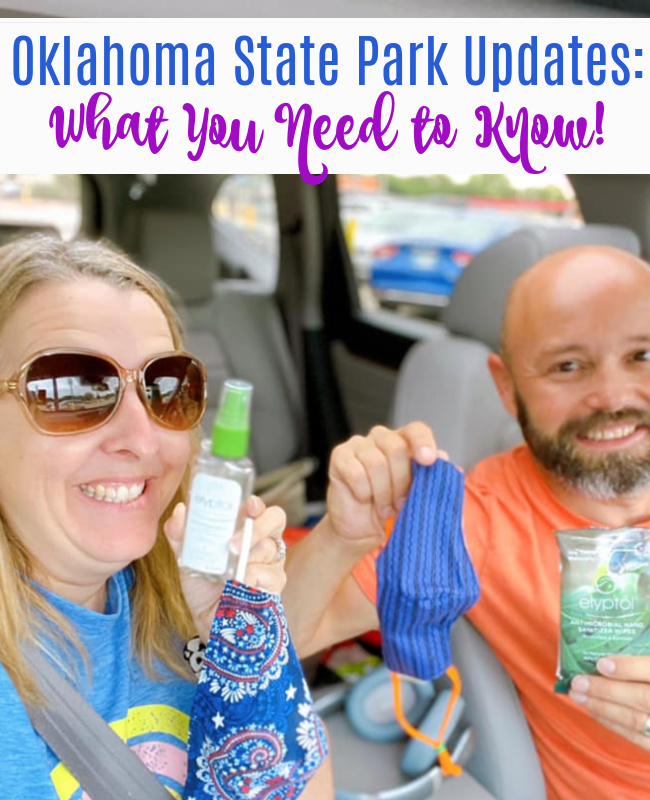 We love sharing news and information that can be helpful as you plan to travel.
With all of the changes this year, it's important to take the time to research closures and changes before you travel! We can still get out an enjoy nature and our beautiful state parks. Just take a few extra minutes as you plan your trip to make sure you know what to expect.