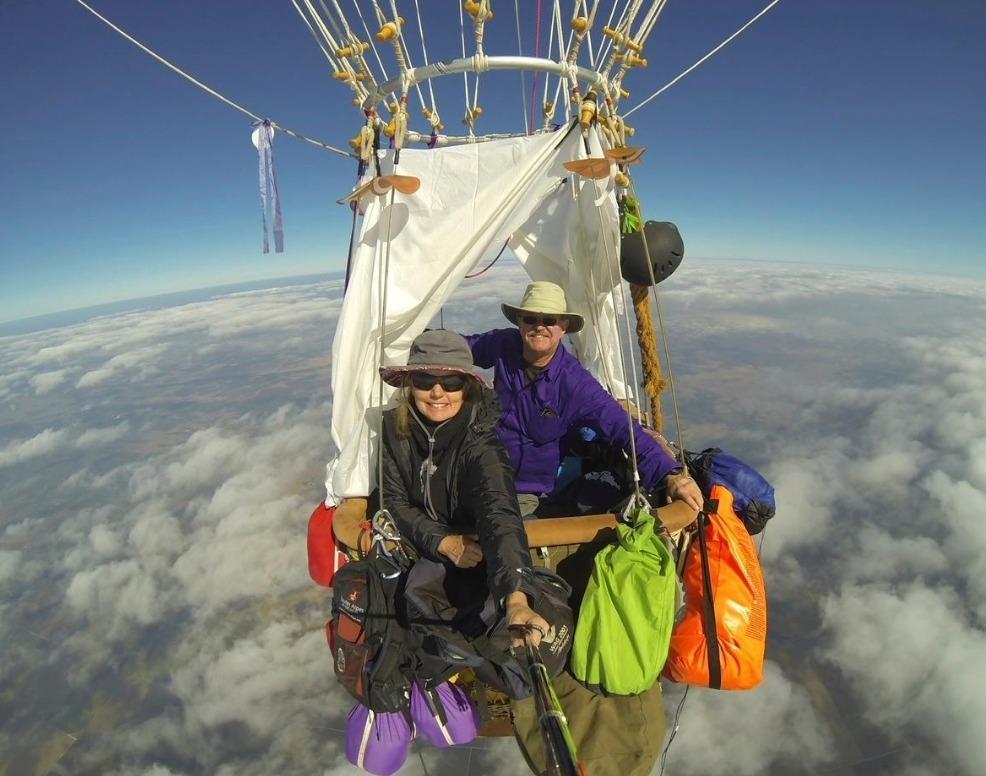 It's been 15 years since the world's elite gas balloon pilots have gathered in the United States for a race with roots that stretch back more than a century.
The pilots will be launching for this year's Gordon Bennett competition during an international balloon fiesta that draws hundreds of thousands of spectators to the heart of New Mexico each fall. The race has been held in the United States only 13 times before, and this will be the fifth time the Albuquerque International Balloon Fiesta has played host.
The launch window opens Saturday evening for what is billed as one of the most prestigious events in aviation.
Some worry that the massive spheres could be mistaken for Chinese spy balloons as they traverse the upper reaches of America's airspace. But the pilots who will be racing aren't worried. They're more concerned about charting a course that will keep them out of bad weather and give their hydrogen-filled balloons a path to victory.
There are no stops to refuel or to pick up extra supplies. They will be aloft for days, carrying everything they need to survive at high altitude as they search for the right combination of wind currents to push their tiny baskets as far as they can go. Prevailing winds are expected to carry the competitors through the Midwest toward the northeastern U.S. and potentially into Canada.
A Belgium team holds the record for traveling just over 2,112.9 miles (3,400 kilometers) in 2005. A German team was added to the record books for staying aloft the longest — more than 92 hours — during the 1995 competition. Willi Eimers, a member of that German team, holds the record for the number of times a pilot has competed in the race. He and his son, Benjamin, are back this year to defend their title.
Albuquerque balloonists Barbara Fricke and husband Peter Cuneo will be among three American teams. Their ballooning résumé includes four wins in the America's Challenge long-distance gas balloon race, and third- and fourth place finishes in previous Gordon Bennett competitions.
The couple are at a slight disadvantage because of their height. Their long legs make it tough to squeeze into a basket that is about 4 feet by 5 feet (1.22 meters by 1.52 meters) wide. They do have a trap door on the side so they can stretch out if needed.
On a recent day, Fricke and Cuneo had their equipment spread out on their living room floor as they checked their radio, transponder and GPS unit. A small solar panel and batteries will help to keep things charged while in the air. Dried foods, including Cheez-Its, are on the in-flight menu.
The idea was to get everything ready in advance so they could rest in the days leading up to the race and get themselves in the right state of mind.
"You've got to start thinking — yes, I'm going to live in this basket for three days, and this is going to be home, and I'm just camping out in the sky," Fricke said.
Another U.S. entry in the race is the team of Mark Sullivan and Cheri White, both of whom have a long list of accolades: Sullivan holds the record for the most competition gas balloon flights — 25 Gordon Bennett flights and 21 America's Challenge races, while White has flown in the Gordon Bennett 14 times, the most ever by a female pilot.
Sullivan, president of the FAI Ballooning Commission, said this will be an important year as the fiesta is partnering with hydrogen company BayoTech on a new system to convert high-pressure gas typically used for the long-haul trucking industry and other vehicles so that it can fill the race balloons.
Pilots and organizers say hydrogen has been hard to come by.
Never mind the cost — it can be a few thousand dollars to fill a 1,000 cubic meter (35,315 cubic foot) balloon.
Competitive gas ballooning is something of an exclusive club, but Sullivan and others are trying to get a new generation involved by training younger pilots.
There have been many technological advancements over the years — baskets are now made of carbon fiber, mapping and tracking apps are top-notch, and equipment is getting lighter and more compact.
But the pilots still take great pains to ensure sure they're at fighting weight. Every pound shaved means they might be able to add another ballast — extra weight in the form of sandbags or water jugs that are used to help keep the balloon flying longer.
Unlike the colorful hot air balloons that ascend en masse during the Albuquerque International Balloon Fiesta by using heated ambient air, gas balloons have an envelope filled with a gas lighter than air — usually hydrogen. Some of the gas is lost as it expands and contracts as temperatures fluctuate throughout the day, so pilots get rid of ballast to maintain altitude.
Teams dress in layers — long johns, hats, gloves and hand warmers for the frigid overnight and morning hours. In the afternoon, the sun can be more intense at high altitude.