How Game of Thrones Made These Young Actors Global Superstars
Game of Thrones is a show that needs little introduction, as it's undoubtedly one of the most popular and successful television series ever created.
Premiering on HBO in 2011, the show steadily gained traction across its eight seasons, enthralling audiences with its bloody mixture of fantasy, drama, and politics.
Sophie Turner, Maisie Williams, and Isaac Hempstead Wright grew up on the set of Game of Thrones (Credit: Roger Wong / INFphoto)
Surprisingly, although the massive ensemble cast included some of the most revered names in the entertainment industry, many of the most beloved characters were played by barely-known actors and actresses.
Plucked from their normal lives at the cusp of adolescence, their roles in Game of Thrones propelled several young actors into stardom.
Let's look at how now-famous actresses and actors like Emilia Clarke, Maisie Williams, and Isaac Hempstead Wright got their start on one of the biggest shows of the century.
Game of Thrones Casting Process
The development of HBO's Game of Thrones series kicked off in 2007, based on the Song of Ice and Fire novel series written by George R. R. Martin. As with most other movies and shows, casting began shortly after a preliminary script was written.
While the directors had a few actors in mind, including Peter Dinklage and Sean Bean, most choices were left up to casting directors Nina Gold and Robert Sterne.
As the show was set to take place over several years if successful, they set out to find young and talented actors who were still in the early days of their careers.
1 and 2. Maisie Williams and Sophie Turner
One of the biggest challenges came in casting the roles of the Stark children, a prominent set of characters who would remain relevant throughout the entirety of the series.
For the role of Arya Stark, an 11-year-old feisty anti-hero who would endure a life of hardship, the casters chose 12-year-old Margaret Constance "Maisie" Williams.
Maisie Williams was just 12 when she got the part of Arya Stark and skipped a field trip to a pig farm to audition for the role (Credit: HBO)
Surprisingly, Game of Thrones was the first professional acting gig for Maisie, who had spent most of her educational years focusing on musical theater and various forms of dance.
Funnily enough, she almost skipped the audition for Game of Thrones to participate in a school field trip but was swayed by her mother to attend.
Like Maisie Williams, Sophie Turner also landed a career-defining role for her very first gig, as Game of Thrones was the first television part of her career.
Sophie Turner auditioned for her role of Sansa Stark in Game of Thrones at just 13 years old (Credit: HBO)
While Sophie participated in theater starting at a very young age, her teachers began to take notice of her talent.
In fact, it was Sophie's drama teacher who encouraged her to audition for the part of 13-year-old Sansa Stark. After fully committing and dying her hair blonde, Sophie successfully nailed the audition and earned the mammoth role at just 14 years old.
"Well, I didn't tell my parents I auditioned for Game of Thrones, they just kind of found out," Turner told her Dark Phoenix costar Jessica Chastain in an interview for Vogue Paris.
"Me and all my friends auditioned," she added. "We just thought it was kind of a fun, jokey thing to do. And then I just got call back, after call back."
Sophie Turner as Sansa Stark, Maisie Williams as Arya Stark, Isaac Hempstead-Wright as Bran Stark, Richard Madden as Robb Stark, Alfie Allen as Theon Greyjoy, Jamie Sives as Jory Cassel, and Donald Sumpter as Maester Luwin in "Winter Is Coming," the series premiere of the HBO medieval fantasy television series Game of Thrones that aired on April 17, 2011 (Credit: HBO)
"My parents found out when I was in the final seven, and then my mom kind of freaked out, and she called my dad and said, 'I don't know if we can do this.'" Turner said.
"But my dad said, 'Shut up, this is what she has wanted her whole life. You have to let her give it a go.'"
3. Kit Harington and Isaac Hempstead Wright
While you might think that Game of Thrones was a hit from the very beginning, there was actually an original pilot episode that saw horrible reception during private screenings, leading to extensive reshoots.
Some actors were replaced, while several stayed on from day one. Kit Harington was one of those lucky few who kept his role even after re-shoots and eventually became a fan favorite as the 16-year-old Jon Snow.
Kit Harington got his breakthrough role as Jon Snow in the HBO epic fantasy television series Game of Thrones (Credit: HBO)
Like Sophie Turner, Kit Harington had been active in live theater for years before he appeared on Game of Thrones, but the HBO fantasy was also the 24-year-old actor's first television show.
The youngest of the Stark children, 10-year-old Brandon Stark, was played by an actor who only joined the business so he wouldn't have to play outdoors during the winter.
In a hilarious turn of fate, this tactic of staying warm would define his professional life, proving that sometimes the smallest of decisions can have everlasting outcomes.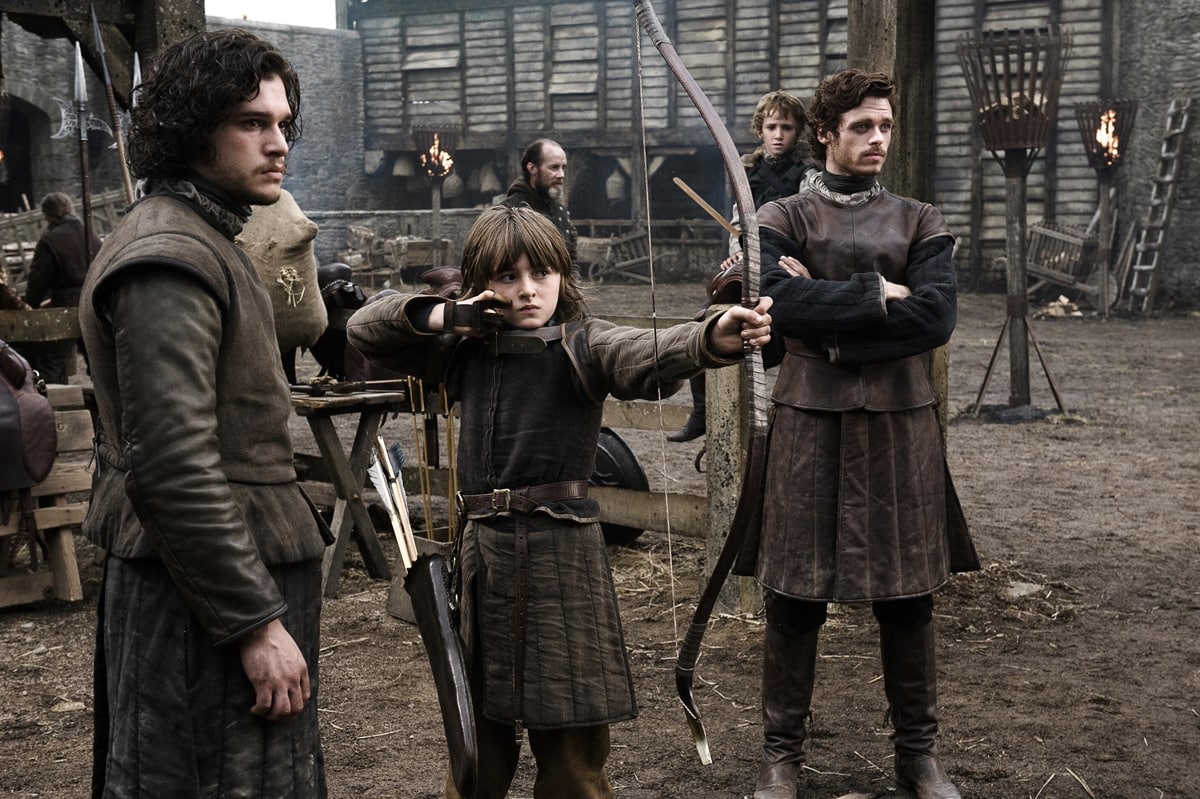 Isaac Hempstead-Wright was just 10 years old when the got cast as Bran Stark and co-starred with Richard Madden as Robb Stark and Kit Harington as Jon Snow (Credit: HBO)
While Isaac Hempstead Wright used acting as a way to avoid playing sports, at 11 years old, he found himself cast in one of the biggest shows to ever grace television.
As the show progressed, Brandon Stark became a more and more important role in the story, cementing his career in the entertainment industry for good.
"I have only recently come to terms with how weird my childhood was. You just kind of go with it when you're doing it at the time, but I've now realized [that] I've spent my formative years on the world's biggest television series, which is strange to comprehend," he told Complex about growing up on the set of Game of Thrones.
4. Emilia Clarke
Perhaps the most popular actress to achieve Game of Thrones stardom is Emilia Clarke, who gave a stunning and ferocious performance as Daenerys Targaryen.
Unlike most of her younger co-stars, Emilia had appeared in several shows and films before joining Game of Thrones and was even labeled as an upcoming starlet by tabloids in 2010.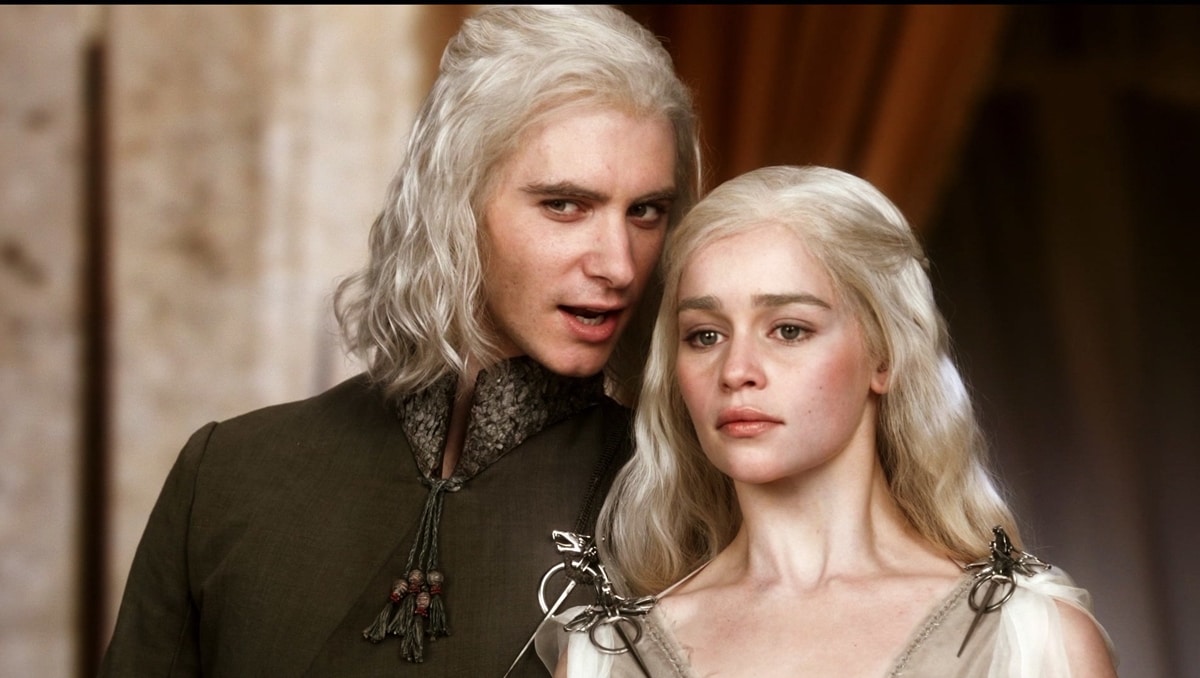 Harry Lloyd as Viserys Targaryen and Emilia Clarke as Daenerys Targaryen in Game of Thrones (Credit: HBO)
At age 23, Emilia's career was pushed to the next level when she was cast as 16-year-old Daenerys Targaryen.
However, Emilia was not the first choice for Daenerys, as 23-year-old actress Tamzin Merchant portrayed the character in the negatively-received pilot.
In fact, the role of Daenerys was a major sticking point for critics, which led to Emilia's recasting. Like Arya, Brandon, and Jon Snow, Daenerys would become a pivotal character in the show's later seasons, making Emilia one of the most recognized actresses around the world.
Where Are the Stars of Game of Thrones Now?
It's been over three years since Game of Thrones ended for good, but in the meanwhile, the show's youngest stars have stayed busy with new projects.
While Isaac Hempstead Wright has enjoyed modest success in various projects, Maisie Williams, Sophie Turner, Emilia Clarke, and Kit Harington have all reached massive levels of fame.
Almost all of the actors have appeared in other big-budget projects, continuing to take their careers to even greater heights.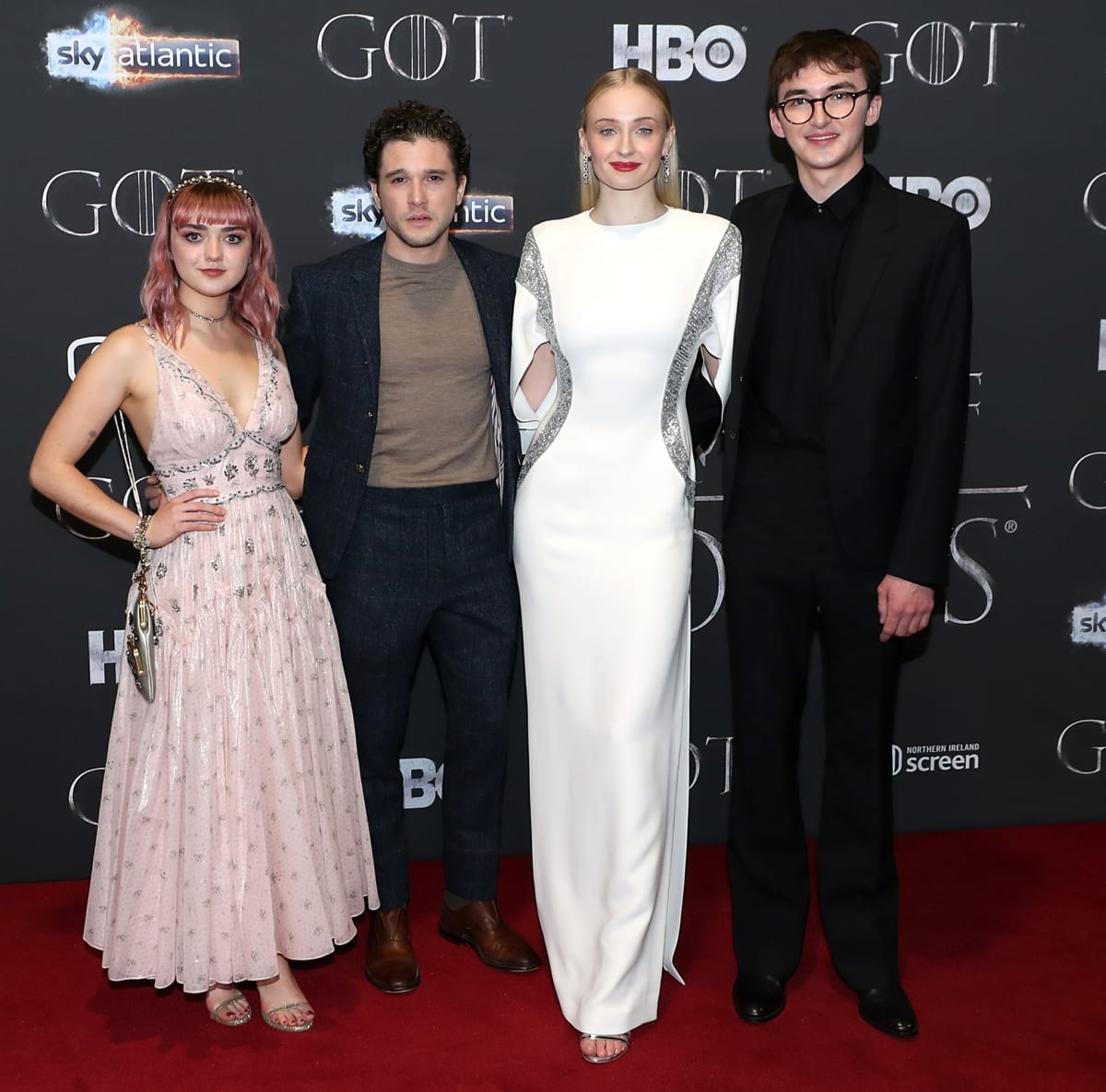 Maisie Williams, Kit Harington, Sophie Turner, and Isaac Hempstead Wright at the Season 8 premiere of "Game of Thrones" in Belfast, Northern Ireland, on April 12, 2019 (Credit: Liam McBurney / PA Images / INSTARimages)
The superhero genre has been especially kind, with Maisie Williams and Sophie Turner appearing in films like The New Mutants and Dark Phoenix respectively.
Most recently, Kit Harington popped up as a supporting character in Eternals, part of the sprawling Marvel Cinematic Universe.
Emilia Clarke has arguably had the best run of them all, nabbing roles in massive films like Solo: A Star Wars Story, Terminator Genisys, and more.
If there's one thing that's for certain, the professional careers of these popular young actors would be completely different if it wasn't for Game of Thrones.
John Bradley, Maisie Williams, Lena Headey, Peter Dinklage, Isaac Hempstead Wright, Conleth Hill, Emilia Clarke, Iain Glen, Sophie Turner, Alfie Allen, Gwendoline Christie, Kit Harington, Nikolaj Coster-Waldau, Carice van Houten, Liam Cunningham, and Nathalie Emmanuel pose with awards for Outstanding Drama Series in the press room during the 71st Emmy Awards at Microsoft Theater on September 22, 2019, in Los Angeles, California (Credit: Sara De Boer / Startraksphoto)
Say what you will about the show's controversial ending or its rampant displays of sex and violence. Still, the HBO franchise essentially birthed some of the most promising stars and starlets of our generation.
Maisie Williams Stuns in Blush Pink Midi Dress at 2015 Emmys
In September 2015, Maisie Williams stepped up the style game at the 2015 Emmy Awards held at the Microsoft Theater in Los Angeles.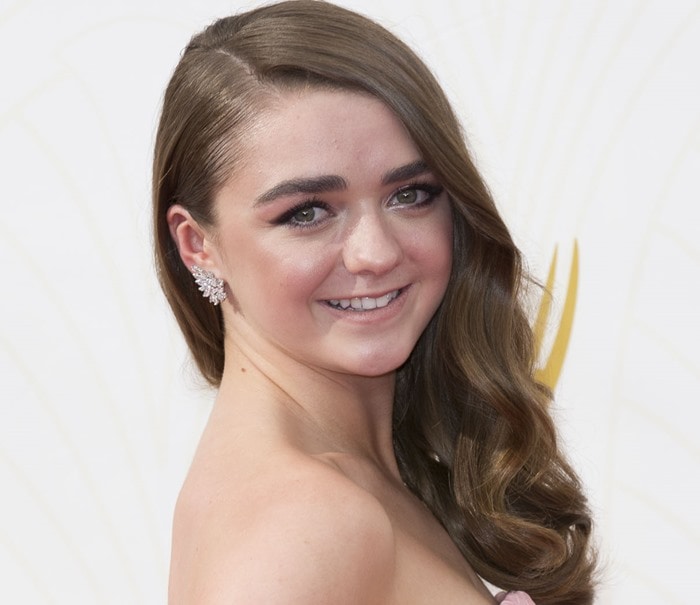 Maisie Williams attends the 2015 Emmy Awards held at the Microsoft Theater in Los Angeles on September 20, 2015 (Credit: WENN / Brian To)
The then-18-year-old "Game of Thrones" actress looked adorable in a chic blush pink midi dress styled with a whimsical pair of furry sandals and a few pieces of Kwait jewelry.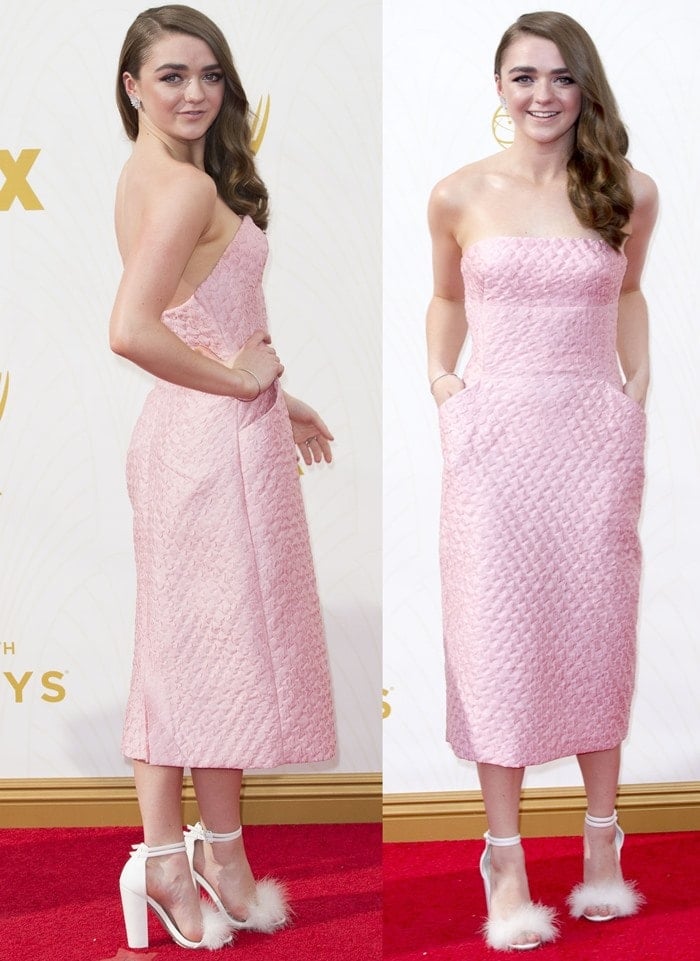 Maisie Williams smiles on the red carpet in a blush pink midi dress (Credit: WENN / Brian To)
How do you like her quilted frock and white statement heels?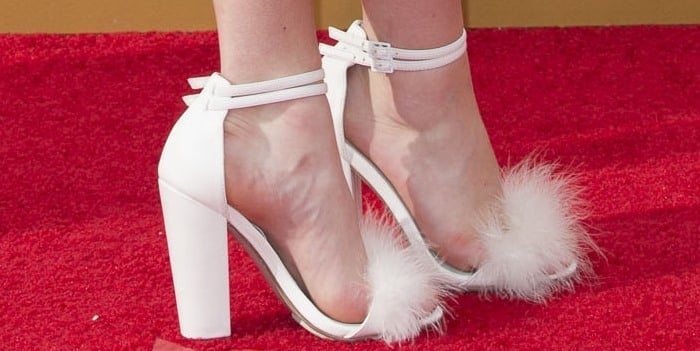 Maisie Williams wears a fun pair of furry white statement heels on the red carpet (Credit: WENN / Brian To)
While we have not identified her exact bubblegum pink dress and white heels, you can find a similar pair of shoes from Jeffrey Campbell at Nordstrom.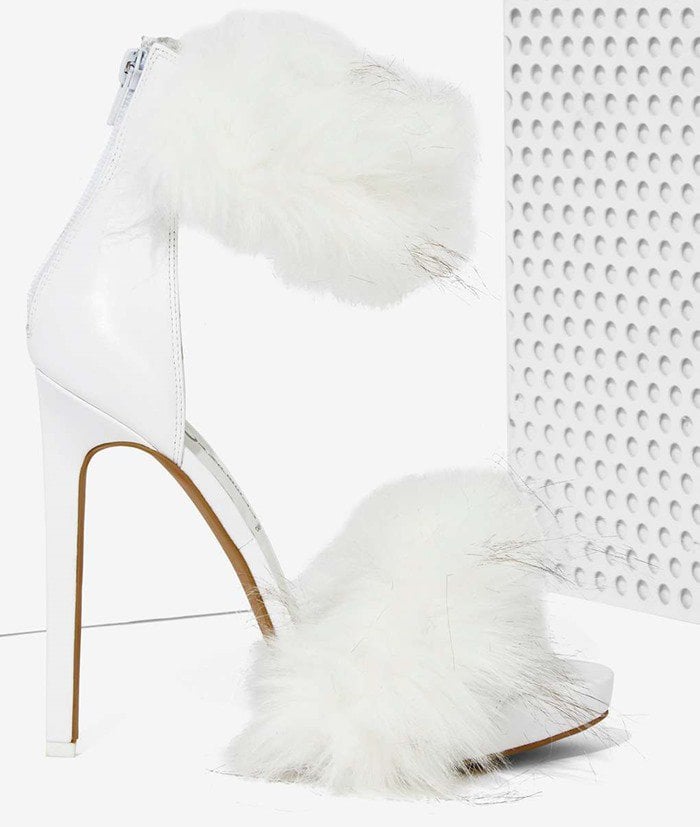 Jeffrey Campbell Cookie Faux Fur Heels, $140