How to Fit an Air Mattress inside a Tent?
Tents come in a variety of different sizes and shapes. So you need to consider some things. I receive a lot of emails about tents and air mattress sizes. What mattress should I buy for my 2-person tent? Can I fit my queen air bed in a 4-person tent? Is a 6-person tent large enough for 2 queen size air mattresses? And so on. Honestly, I can't answer those questions for everybody individually without a lot of information. So I decided to write this article to answer those questions and present you with different aspects of air mattress sizes for tents.
Now, very rarely, there will be a one tent fits all solution. For example, if you are going solo backpacking, you'll most likely be carrying a 1- or 2-person tent that barely fits a single sleeping pad with some extra space for gear. But when you are camping with your buddies, you need a bigger tent. So in this article, I am going to compare different air mattress sizes so that you can get a better understanding of what size tent is best for what air mattress.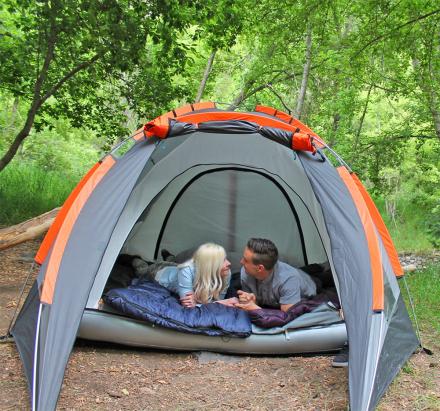 Single Sleeping Pad
A single sleeping pad, for example, Therm-a-Rest NeoAir XLite, will fit almost in any size tent. Even in a 1-person tent with some room for your gear. A good example of a 1-person is Big Agnes Copper Spur HV UL1. Single sleeping pads usually come in four different sizes:
Small: 47 x 20 inches
Regular: 72 x 20 inches
Regular Wide: 72 x 25 inches
Large: 77 x 25 inches
When it comes to single person tent sizes, they feature a floor dimension of about 88 x 38 inches in the case of BA Copper Spur HV UL1. So you can fit one single sleeping pad in this tent easily with extra room for moving around.
Double or Twin Sleeping Mat
You can fit double or twin air mattresses in a 2-person tent but the tent walls will be touching the mattress. It will be more than a close fit. This also increases the chance of condensation on the tent walls seeping through allowing moisture inside. You can overcome this problem by attaching a rainfly because the condensation will collect on it rather than on your tent walls. If you are doing this, make sure to blow the air mattress inside the tent, otherwise, it won't go through the door.
A 2-person tent, for example, Nemo Dagger, features a floor dimension of 90 x 50 inches and a double sleeping pad, for example, KLYMIT Double V, measures 74 x 47 inches.
So it is a good idea to go one size up if you are a couple. MSR Mutha Hubba NX, a 3-person tent can be a good choice for you if you want to fit a twin air mattress. It measures 84 x 68 inches so it is perfect for 2 campers.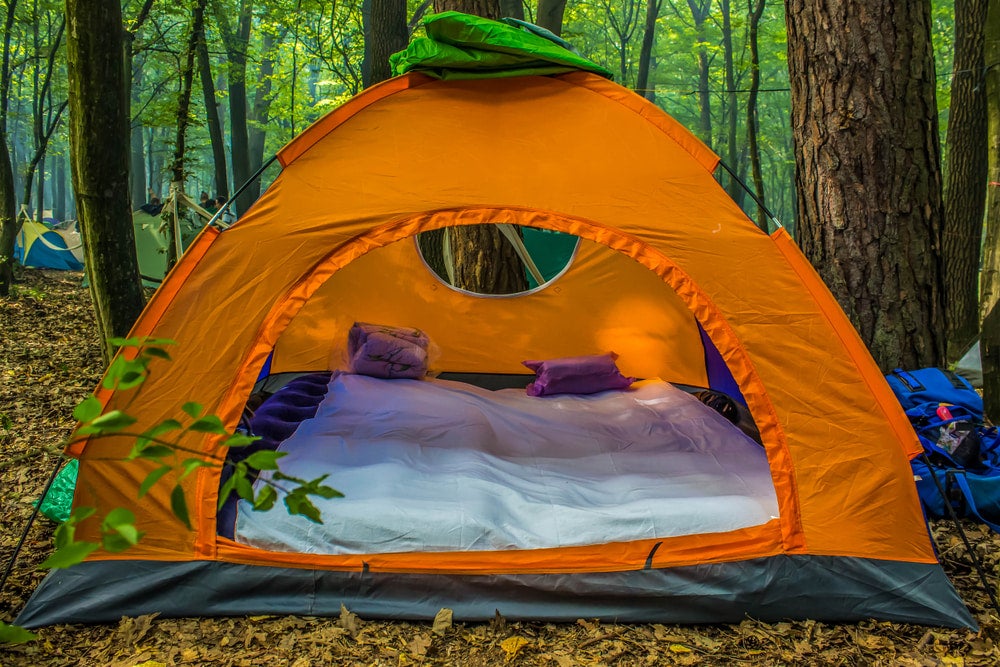 Queen Size Air Mattress
If you want to fit a queen size air mattress (80 x 60 in.), you at least need a 4-person tent in order to leave enough space for gear or have room for dressing and sitting. A 4-person tent, for example, Marmot Limestone usually offers a floor area of about 60 square feet or 92 x 92 inches. However, in a tent with sloping walls, an air mattress will occupy much of the center space and force you to crawl around the tent. So a cabin tent is a better option for large size air mattresses.
A queen inflatable mattress may also fit in a 3-person tent such as Coleman Sundome 3 (84 x 84). But it will take up the entire floor space leaving only a couple of feet on the side to put things. If you've got a tall air mattress, it could get tight and hotter because tents get tighter and hotter as you go high. It is a good idea to confirm the dimensions before purchasing a tent or mattress and test it out before you leave for the forest.
Can you fit a queen size air mattress inside a 2-person tent? The answer is yes. Just put your mattress in the tent and inflate it. It will literally stretch the walls of the tent and there will be no room to put anything anywhere, just a mattress on the floor. Also, it will pull down the ceiling towards the floor a bit because of the stretch. This is something I would never do!
King Size Air Mattress
You need at least a 6-person tent to accommodate a king size air mattress (84 x 72 in.). A 6-person tent typically offers a floor area between 84 to 100 square feet. You can easily fit a king size mattress or bed with enough space for moving around, sitting, or gear.
Matching Air Mattresses and Tent Floor Area: Table
MATTRESS SIZE
MEASUREMENTS
TENT SIZE REQUIRED*
Single
47 x 20 in. (Small)
72 x 20 in. (Regular)
72 x 25 in. (Regular wide)
77 x 25 in. (Large)
Any size tent.
Double or Twin
77 x 50 in.
2-person or a larger tent.
Queen
80 x 60 in.
3-person (not recommended), 4-person or larger.
King
84 x 72 in.
6-person or a larger tent.
Tents come in variable sizes so be sure and check the floor dimensions before purchasing.
Conclusion
There are a variety of tent and air mattress sizes available and you need to purchase the correct tent/mattress size for a perfect fit. Most manufacturers provide exact dimensions but if you don't find them, you can always measure the dimensions at home with the help of measuring tape. Also, tent walls play a major role when it comes to the total floor area. Near-vertical walls provide more livable space while tents with sloppy walls allow you to enjoy the peak height only at the center. Finally, always blow your mattress inside your tent, otherwise, it won't enter the door.