Jennifer Lawrence Isn't Active On Social Media, But Admits To Lurking
Jennifer Lawrence only has one social media account, and it's not what fans might think.
Celebrities are the most active users on social media, with popular figures like Kim Kardashian, Justin Bieber, and Ariana Grande among the most popular users on Twitter and Instagram. Some celebrities have chosen to completely avoid social media, either by deleting their accounts or by never creating them in the first place.
Hunger Games actress Jennifer Lawrence has always been forthright about her concerns about social media. Lawrence gave an explanation for why this is the case, noting that many people pay attention to social media and that these individuals have a variety of opinions about just about anything, and that is not something she wants to embrace unless it is absolutely required.
Jennifer Lawrence Reveals Why She's Not Fond Of Social Media
Jennifer has long been vocal about her aversion to social media. In an interview, she once revealed why she refuses to post online.
She explained her thoughts on unrealistic beauty standards, saying, "If you are 20 pounds underweight and talk about eating pizza and fried chicken all the time. That's not going to make people feel good about themselves."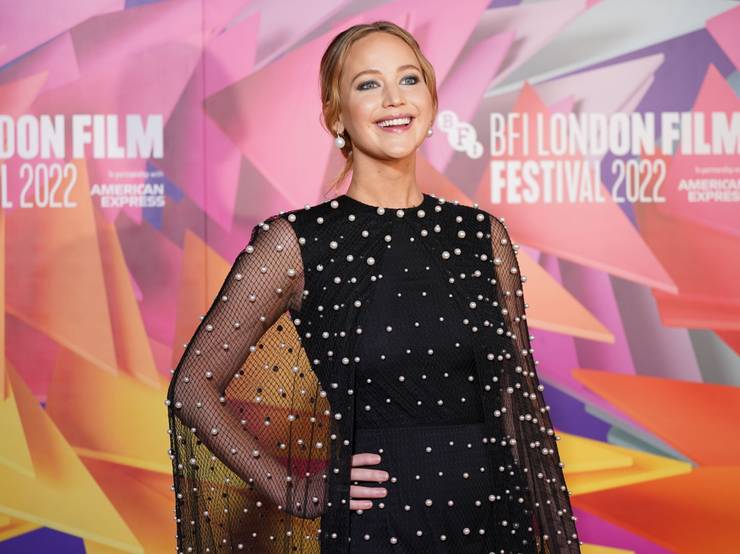 She also divulged that while she does keep an eye on what others are sharing on social media, she is not willing to subject herself to that online battleground.
"I'm on it. But I'm a voyeur: I watch, I don't speak. There is always so much backlash. So many people are listening and paying attention, and they have so many opinions about absolutely everything. I really don't want to welcome that unless it's absolutely necessary."
Jennifer further added, "I don't want to put myself out there for no reason. Unless I'm promoting something or something really burns my onions, you won't hear from me."
In a 2014 interview with BBC Radio 1, she also opened up about the overwhelming feeling of being on social media and how the internet has "scorned" her.
"I will never get Twitter. I'm not very good on the phone or technology. I cannot really keep up with emails so the idea of Twitter is so unthinkable to me. If you ever see a Facebook, Instagram or Twitter that says it's me, it most certainly is not…I had that one locked and loaded… Because the Internet has scorned me so much. And I feel like I'm that girl in high school like, 'You wanna talk about her? I'll take my hoops off, I'm ready to go,'" she said.
It can be remembered that Jennifer became the center of public opinion after the nude photo hack scandal. Fortunately, she was able to move on from that "disgusting sex crime."
She disclosed in an interview, "I'm not crying about it anymore. I can't be angry anymore. I can't have my happiness rest on these people being caught, because they might not be. I need to just find my own peace."
Jennifer, who won the Best Actress at the 2013 Academy Awards, has suggested that time passing has made her more open to a variety of things, as she added that life "gets better" with age, as it becomes easier for her to navigate with more understanding.
Jennifer Lawrence Has Finally A Twitter Account
Despite her best efforts over the years to avoid social media, it appears that Jennifer Lawrence was unable to stop using it. She ultimately admits to using social media in secret.
She finally acknowledged that she had been active on social media for some time. But she only lurks on social media, never engaging in conversation or making comments.
Jennifer drew attention to her easygoing demeanor, which might not be appropriate for the social media sphere, and that she is conscious of her propensity to say whatever comes to mind and that anytime she is out, she has to force herself to hold back from speaking.
While many fans likely assumed that the actress wasn't on Twitter or Instagram because of her tendency to overshare or because of protecting her privacy, it turns out that she is, in fact, on social media.
Though she doesn't have an account that people can follow, she does have a specific Twitter account for bringing on social change.
On her Twitter account, @JLawrence_RepUs, Jennifer has tweeted almost solely about issues involving voter rights, racial inequity, health care initiatives, and other social issues-related posts. In fact, in 2020, she made a rare video demanding people to vote at home amidst the ongoing pandemic.
The actress is a board member of the Represent Us organization, which is a grassroots organization dedicated to 'pursuing federal reform' and fighting anti-corruption.
Aside from Twitter, Jennifer also admitted to being on TikTok. On a segment of The Late Show, Jennifer was asked to reveal the "most used app on" her phone – to which she answered, "Oh, God, I hate the answer, but TikTok, yeah."
However, she clarified that she doesn't post on the app, explaining, "No, I don't make TikToks! Oh my god, can you imagine? No. No."
If having social media accounts can be a burden to non-celebrities, what it is like for those who are in the spotlight? Fans can somehow understand Jennifer Lawrence's decision to avert from the Internet. However, if she decided to take a change and create public accounts, she would surely have no shortage of followers.