Molly Ringwald and Mathilda Gianopoulos Make Stylish Mother-Daughter Duo in Sparkling Dresses at American Ballet Theater Fall Gala
A night of glitz and glamour unfolded in New York City, transforming into a breathtaking display of elegance and style as Molly Ringwald graced the red carpet alongside her eldest daughter, Mathilda Ereni Gianopoulos.
Mathilda Gianopoulos and Molly Ringwald making a glittering entrance at the American Ballet Theater Fall Gala held at the David H. Koch Theater at the Lincoln Center in New York City on October 24, 2023 (Credit: TheNews2 / Cover Images)
The American Ballet Theater Fall Gala, held on October 24, was the perfect stage for this dynamic mother-daughter duo to exude their celestial charm. And radiate they did, adorned in coordinating sequined ensembles.
Hosted at the Lincoln Center's David H. Koch Theater, this gala was no ordinary affair; it was a star-studded soiree, with stars like Annette Bening, Katie Couric, and Ubah Hassan, star of The Real Housewives of New York, among the distinguished guests.
Molly Ringwald, celebrated for her role in Pretty in Pink, certainly didn't disappoint her fans.
For this grand occasion, the 55-year-old American actress and accomplished writer channeled the essence of her beloved character, donning a floor-length champagne gown.
Molly Ringwald stealing the spotlight in a sequin-embellished, floor-length champagne gown (Credit: TheNews2 / Cover Images)
The Kissing Booth star's ensemble was adorned with long sleeves featuring slits along the arms, allowing the fabric to cascade gracefully, infusing her attire with an unmistakable flair.
Molly's sheer dress glistened with sequins that shimmered like the stars in the night sky, subtly revealing a delicate light pink slip underneath.
To complete her look, she carried a matching light pink clutch, holding the night's essentials, and adorned herself with exquisite silver jewelry, including embellished drop earrings.
Harmonizing with her outfit, Molly's signature red locks were elegantly pinned up into a chic updo. Her vibrant red lipstick and smoky eyeshadow were the perfect finishing touches, underscoring her timeless beauty.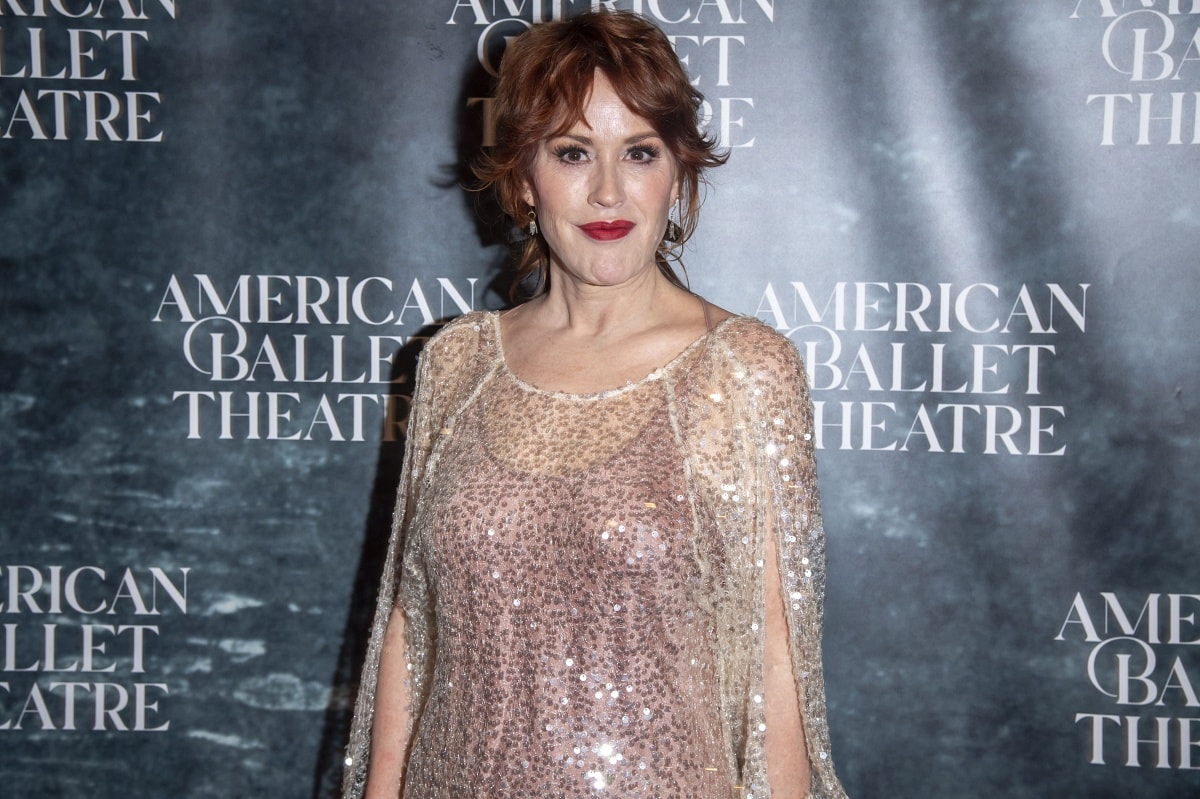 Molly Ringwald's beauty look consisted of a chic updo, a vibrant red lip, and smoky eye makeup (Credit: TheNews2 / Cover Images)
Elevating her stature further, she slipped her feet into a pair of pointed-toe red heels, instilling an extra dose of confidence into her already extraordinary ensemble.
Similarly, Molly's 20-year-old daughter, Mathilda, who had recently celebrated her birthday just two days before the event, was a vision of youth and sophistication in her sparkling, above-the-knee dress.
Her sleeveless silver and tan attire featured a plunging neckline adorned with a captivating geometric design, while its shimmering silver sequins flawlessly complemented her mother's look.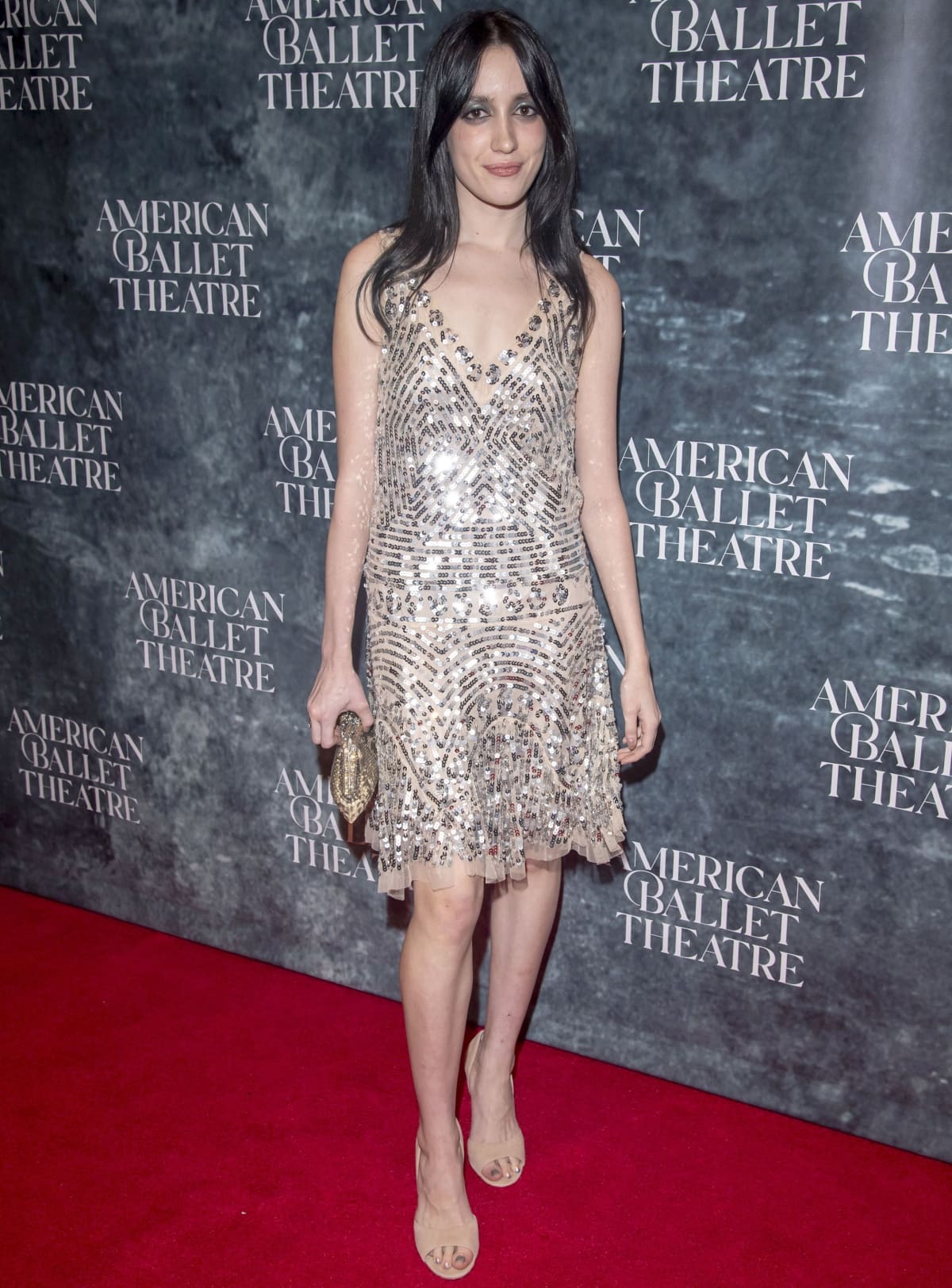 Mathilda Gianopoulos making her presence known in a sequin-embellished dress with a plunging neckline and an eye-catching geometric design (Credit: TheNews2 / Cover Images)
Mathilda carried a trendy snake-print purse, a chic addition that was stylish and functional. She further infused grace into her ensemble with open-toe nude heels.
Opting for a more sultry makeup look, her smoky grey eye makeup and rosy pink lips perfectly complemented her complexion. Her raven tresses flowed down her shoulders, framing her visage with exquisite elegance.
Mathilda Gianopoulos' beauty look consisted of a rosy pink lip, smoky eye makeup, and raven locks that fell in loose waves (Credit: TheNews2 / Cover Images)
Molly, with her penchant for sharing her life's moments, took to Instagram to offer delightful snapshots from the event.
These candid captures showcased precious moments with her daughter and friends, including designer Zac Posen and his fiancé, theater actor Harrison Ball, who coordinated in matching black tuxedos.
In a later post, Molly shared a candid photograph of the quartet, snapped outside the Lincoln Center venue, humorously tagged as the "After party."
The image featured Harrison reclining with outstretched leg, Zac striking a confident pose, and Molly adopting a mischievous expression, playfully sticking her tongue out. Meanwhile, Mathilda stood beside them with her hands on her hips.
Yet, it's not solely their stunning attire that made this mother-daughter pair shine.
During an exclusive interview with PEOPLE at the event, Mathilda, who is about to enter the acting world, revealed the wisdom imparted by her mother. She's set to play a supporting role in Michael Showalter's upcoming film, The Idea of You, starring Anne Hathaway and Nicholas Galitzine.
Mathilda Gianopoulos is entering the acting world armed with advice and support from mom Molly Ringwald (Credit: TheNews2 / Cover Images)
When asked what her mom had taught her, Mathilda shared, "Everything! Be prepared to wait and be nice, which you should always be anyways."
Molly echoed her daughter's sentiments, telling the outlet that she also taught Mathilda to "Remember people's names."
Regarding how she's passing the torch, the proud mother remarked that it's "something that we thought a lot about. She learned how to do it before, but it's a hard job, and I think she knows what she's in for."
Mathilda, born in 2003, is the eldest child of Molly Ringwald and her husband, Panio Gianopoulos, who have celebrated marital bliss since 2007. The couple is blessed with two more children, and in 2009, they welcomed fraternal twins, Adele and Roman, into their loving family.