Mike Eccles won promotion against the odds but the club have a mountain to climb if they are to stay among the elite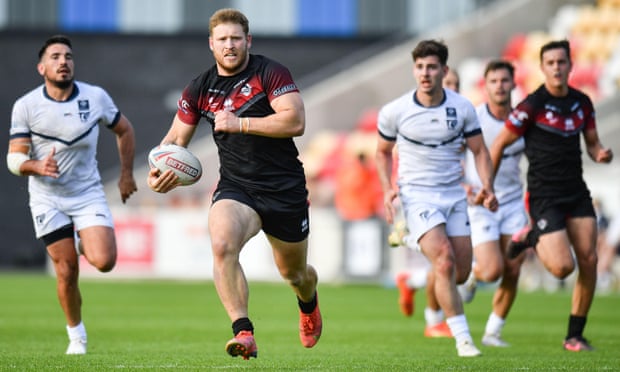 Having stunned the rugby league world by winning promotion back to Super League against the odds, you could forgive London Broncos for taking a moment to step back and celebrate their achievement. However, the reality is that time doesn't stand still in this game, and perhaps atypically of rugby league, the Broncos' success has already been shrouded in uncertainty.
For only the second time in the past 10 seasons, rugby league's elite competition will have a presence from the capital after Broncos won the Championship playoffs, defeating the heavy favourites Featherstone and Toulouse away from home along the way. To call it a shock, given Broncos' smaller budget, would be an understatement.
But while scaling that particular mountain was a triumph, what happens next is perhaps an even greater challenge. Within days of Broncos being promoted, IMG revealed its provisional club gradings which, this time next year, will determine who will play in Super League in 2025. Only the top 12 at the end of next season will make the cut based on a variety of on and off-field metrics. Broncos were ranked 24th – graded lower than a plethora of part-time clubs and with practically zero chance of making up enough ground to reach the Super League places in a year's time.
What does it mean? In reality, the euphoria at Broncos finally being back in Super League is set to be short-lived: under IMG's grading criteria, even winning the Grand Final next year wouldn't be enough to prevent them from being replaced at the end of 2024. It begs the question: what does the next 12 months look like for an expansion club who are probably going to be kicked out of the elite competition? "There is no moaning from us," their coach, Mike Eccles, says. "We are just going to gather [grading] points to set us up properly. We are disappointed with the grading result, but we are absolutely on board and we will have a real go at this. We will pull together and will do our best to retain our Super League status."
Promotion to Super League brings with it an increase in funding but with demotion to the Championship all but certain at the end of next year, how do Broncos approach 2024? Do they spend the money and attempt to challenge or save it and plan for a long-term future?
The answer seems to be a mixture of the two. Broncos will adopt a unique model of having part-time players in their Super League squad next year, training in evenings on some days, as well as mornings on others like any other club, to facilitate the needs of the squad. "We've got players who came here in good faith and we'll give them the chance to play in Super League no matter their situation," Eccles says. "It'll be the biggest challenge the club has embarked on but I believe in what we're about as a club. My job is just to deliver on-field performance."
There are positives in and among the uncertainty, though. Off the field, Broncos are stronger than the last time they were in Super League in 2019, with Plough Lane in Wimbledon a Super League-standard facility. Building their fanbase remains a challenge, with Eccles saying: "We probably haven't had a great fanbase since the Richard Branson days so we've got to improve and we can't hide away from that."
Last summer they were on the brink of relegation to League One; had that happened, their very existence would have been under threat. But Eccles has rebuilt Broncos with the help of their academy and promotion was secured this year with a large core of southern, homegrown players – not a single member of their first-team squad came from the rugby league heartlands of the north. "I'm very proud of that," Eccles says. "We won the final with a pack predominantly full of London-produced or London-born players. We've been working in the background for years developing those players."skip past newsletter promotion
Frustratingly for Broncos, having one of the most vibrant academies in the game means nothing when it comes to IMG's grading. But things like their social media output and, crucially for the Broncos, their attendances do. Eccles is adamant that Broncos will commit to their long-term plans for a prosperous future even if they are removed from Super League next year, and he remains certain that the game can still capitalise on their return, even if it is destined to be a brief sojourn in the spotlight.
"This is an unbelievable opportunity," he says. "For London rugby league and the sport. Next year every London game will be televised. That's allowing the possibility of people in the capital watching rugby league like never before. I genuinely think the benefits of having London still outweighs the negative. It's our job to prove the doubters wrong."