Relive Taylor Swift and Selena Gomez's 15-Year Friendship
Published on 10/2/2023 at 3:00 PM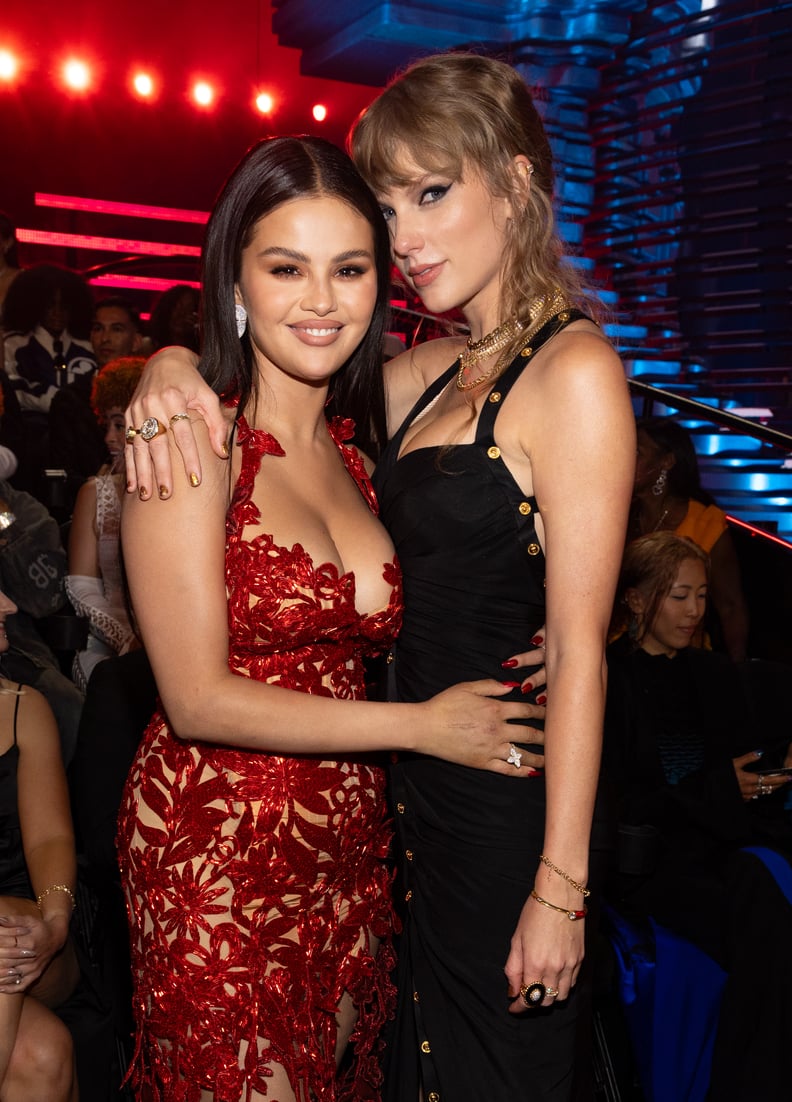 Getty | Christopher Polk
Selena Gomez and Taylor Swift have been best friends for over a decade. They first met as teenagers in 2008. At the time, Gomez was starring in the Disney Channel series "Wizards of Waverly Place." Meanwhile, Swift was getting ready to drop her second album, "Fearless." In the years since then, Gomez and Swift have become some of the biggest stars in Hollywood. While they've both changed so much over the years, one thing that has remained the same is their friendship.
Despite the pair being busier than ever, Gomez and Swift still make time to hang out. After spending the Fourth of July together, the stars reunited just weeks later at the 2023 VMAs, where they were each other's biggest cheerleaders throughout the night. At one point during the show, they got up from their seats to give each other a hug and pose for photos together. The moment was just one of many public interactions Gomez and Swift have shared together.
To find out how they first became friends, check out Gomez and Swift's friendship timeline in the slideshow ahead.
01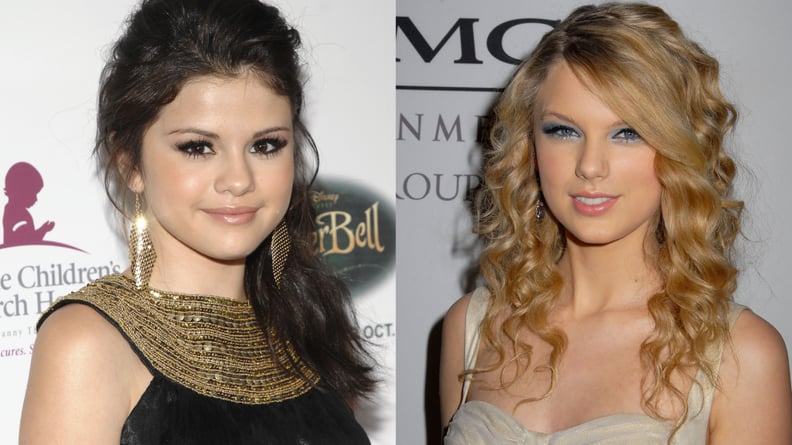 August 2008: Selena Gomez and Taylor Swift Meet For the First Time
Gomez and Swift were spotted together for the first time in August 2008 while they were on a triple date with the Jonas Brothers. At the time, Gomez was dating Nick Jonas, while Swift was with Joe Jonas. Gomez spoke about their famous outing during a 2017 interview with KISS FM UK. "We actually dated the Jonas Brothers together! It was hysterical," she said.
Although she and Swift came from two different worlds, Gomez said they became fast friends. "It was amazing, because [Swift] was the girl with the big curly hair and all the bracelets and the cowboy boots. And I was definitely up-and-coming, and we just clicked," she said. "[Our friendship] was the best thing we got out of those relationships."
02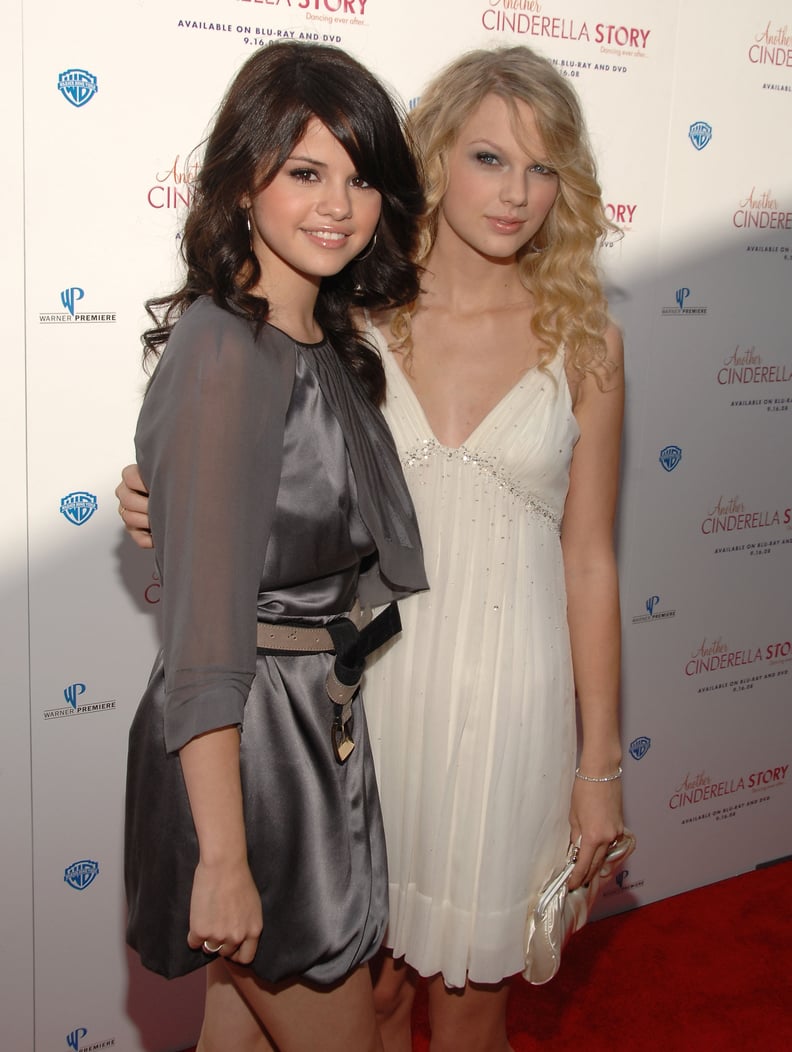 September 2008: Taylor Swift Attends the Premiere of "Another Cinderella Story"
In September 2008, Gomez and Swift made their first public appearance together at the premiere of "Another Cinderella Story" in Los Angeles. The "Wizards of Waverly Place" actress appeared to invite Swift to the event following their date with the Jonas Brothers that August.
03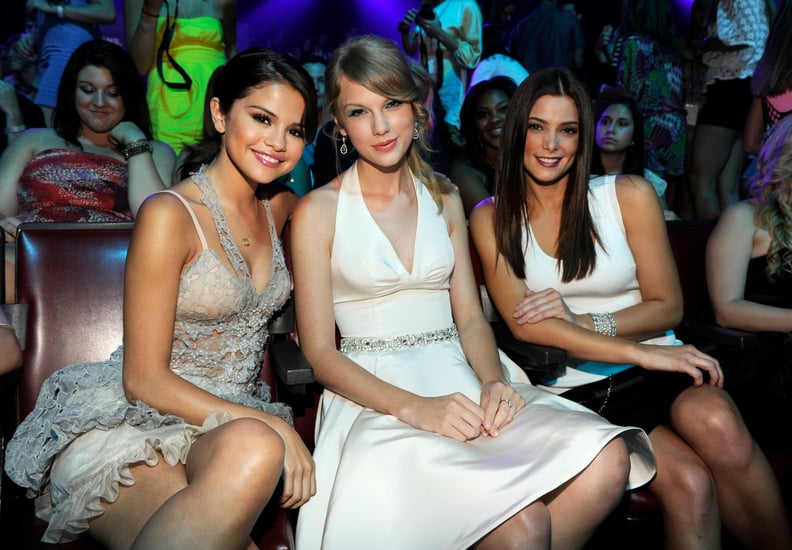 August 2011: Selena Gomez and Taylor Swift Sit Together at the 2011 Teen Choice Awards
Over the years, Gomez and Swift would often run into each other at award shows and take pictures together behind the scenes. In August 2011, they sat next to each other for the first time at an award show at the Teen Choice Awards. The pair were all smiles while posing for photos with "Twilight" actress Ashley Greene during the show.
04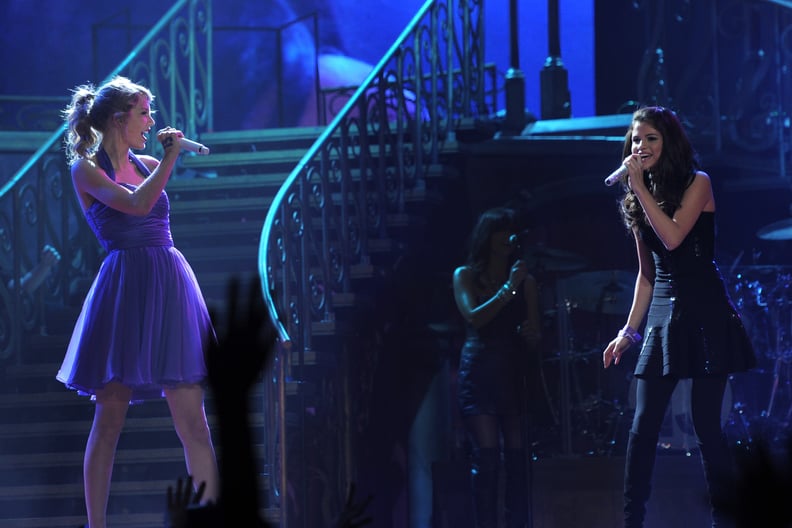 November 2011: Selena Gomez and Taylor Swift Perform "Who Says" Together
In November 2011, Gomez joined Swift on stage at Madison Square Garden during her "Speak Now" tour. They surprised fans with a joint performance of Gomez's hit single "Who Says," which she dropped with her band Selena Gomez & The Scene that March.
05
May 2015: Selena Gomez Appears in Taylor Swift's "Bad Blood" Music Video
Swift's star-studded "Bad Blood" music video featured several members of her girl squad, including Gigi Hadid, Karlie Kloss, and — you guessed it — Gomez. The "Only Murders in the Building" actress played Swift's enemy Arsyn in the video.
06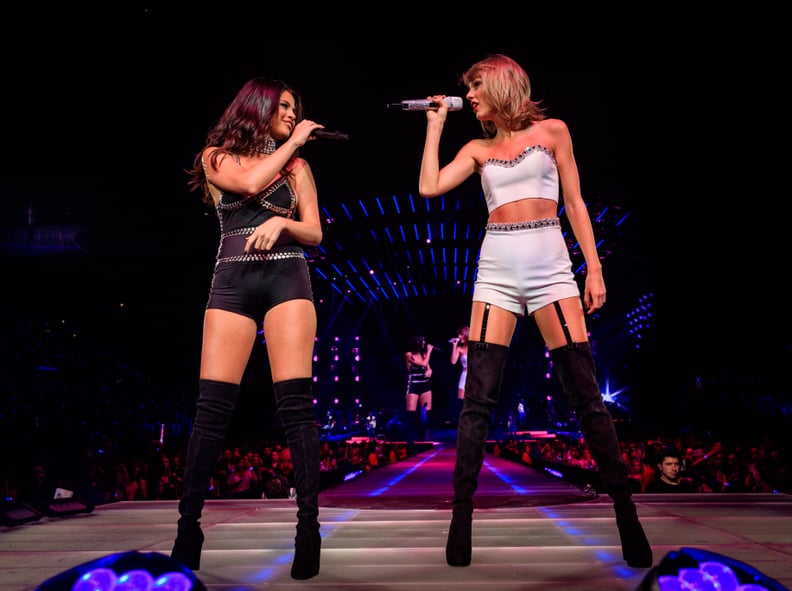 August 2015: Selena Gomez and Taylor Swift Perform "Good For You" Together
After filming "Bad Blood" together, Swift invited Gomez to perform with her on her "1989" tour. They performed a surprise duet of Gomez's single "Good For You," which she dropped in collaboration with A$AP Rocky that June.
Gomez shared her excitement over joining Swift on tour on Instagram. "After nearly 8 years of friendship, I just can't wait to tell our kids we ACTUALLY got to perform in front of thousands of insanely beautiful people together. TWICE! I love you Tay. #bestnightEVER #whatISlife," Gomez wrote alongside a photo of her and Swift on stage.
07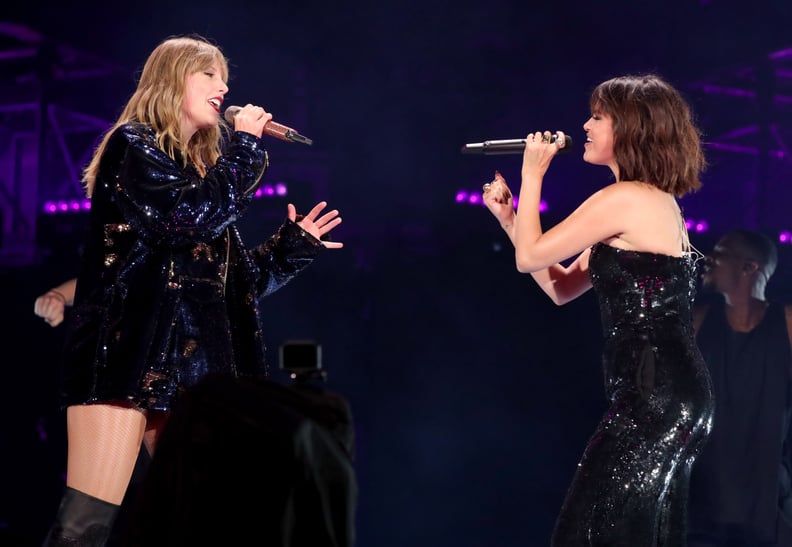 May 2018: Selena Gomez and Taylor Swift Perform "Hands to Myself" Together
Years later, the stars reunited on stage during Swift's 2018 "Reputation" tour. While making a stop at the Rose Bowl Stadium, Swift brought out Gomez to perform her "Revival" track "Hands to Myself" together. Following their joint performance, Swift praised Gomez on Instagram, writing, "To the person I could call at any time of day, who has been there no matter what… you absolutely KILLED IT tonight and everyone was so excited to see you. I love you, and 60,000 people at the Rose Bowl loved you too."
Gomez also penned a sweet Instagram tribute to Swift in return. "I'm grateful for those I surround myself with. And this woman right here happens to be one of my favorites. Love our tradition and I love you," she wrote alongside a selfie of the pair backstage.
The Best Football Outfits For Swifties — a Complete Guide
08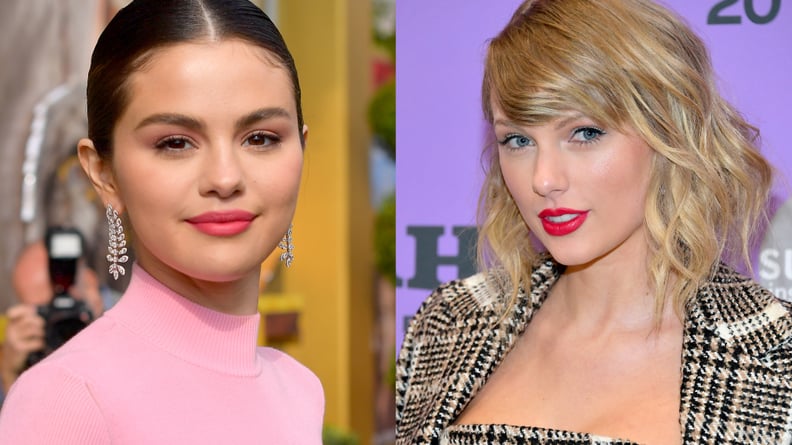 January 2020: Selena Gomez and Taylor Swift Talk About Their Friendship
A few days before releasing "Rare" in January 2020, Gomez did an interview with WSJ Magazine in which she opened up about her longtime friendship with Swift. The actress revealed she and Swift "clicked instantly" after bonding over their respective personal struggles. "We both went through sh*t at the same time," Gomez said.
While they've documented much of their friendship on Instagram, Gomez said she and Swift have actually hung out more than people realize. "There's so much of my friendship with Taylor that people don't know about because we don't necessarily feel the need to post about everything we do," she told the publication. For example, Swift has always "showed up" for Gomez during the toughest moments. "It's been proven year after year and in every moment of my life that she is one of my best friends in the world," Gomez said. "We don't agree on everything, but we respect each other with everything."
In that same interview, Swift said that she and Gomez are so close that she feels very protective of her. "There has always been this quality of sisterhood, and I don't say that in a basic way," Swift said about their friendship. "I knew from when I met her I would always have her back. In my life, I have the ability to forgive people who have hurt me. But I don't know if I can forgive someone who hurts her."
09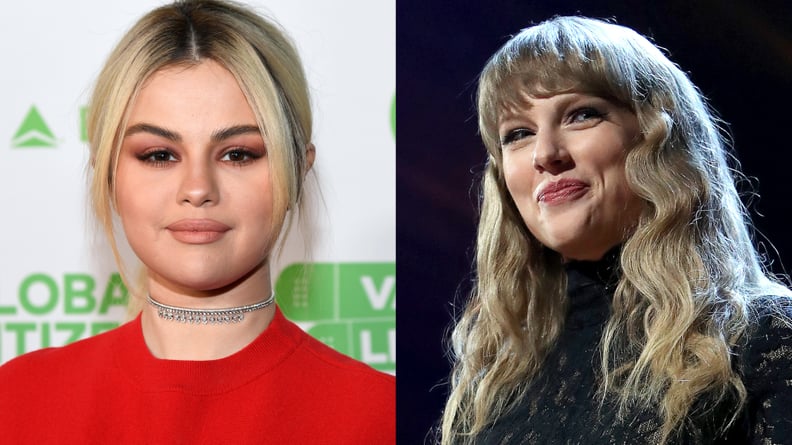 November 2021: Selena Gomez Attends Taylor Swift's "Saturday Night Live" Episode
Following the release of "Red (Taylor's Version)" in November 2021, Swift promoted her record by performing the 10-minute version of her track "All Too Well" on "Saturday Night Live." Gomez showed support for Swift's big performance by traveling to New York City to watch her episode in person. The pair even filmed a cute TikTok together backstage.
10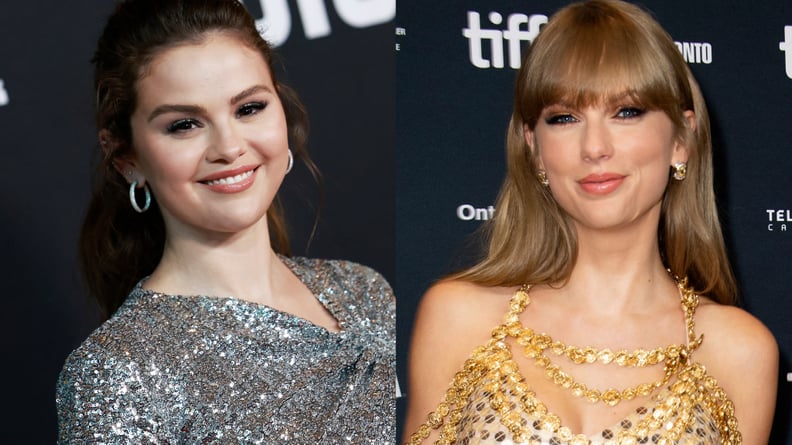 November 2022: Selena Gomez Calls Taylor Swift Her "Only Friend in the Industry"
While speaking to Rolling Stone in November 2022, Gomez got candid about struggling to make friends in Hollywood. "I never fit in with a cool group of girls that were celebrities," she admitted. Although she never had a famous squad of her own, Gomez said she could always rely on Swift. "My only friend in the industry really is Taylor [Swift]," she said.
11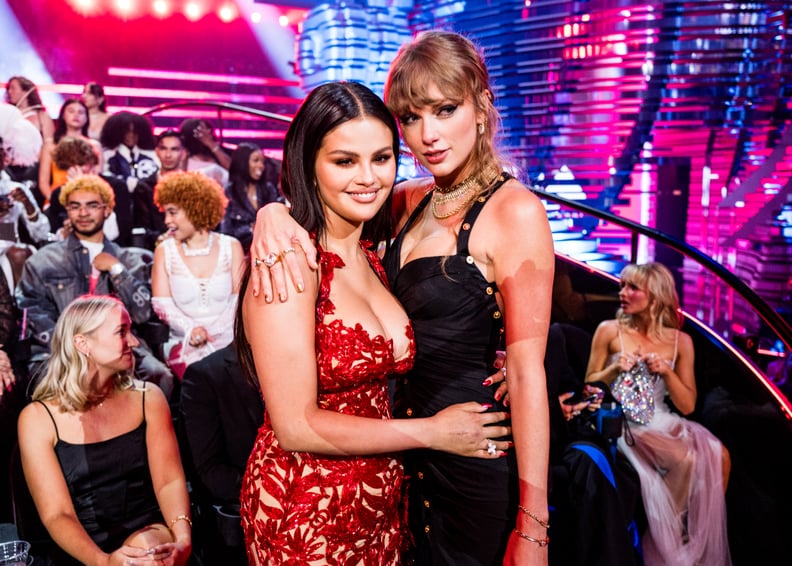 September 2023: Selena Gomez and Taylor Swift Reunite at the 2023 VMAs
Most recently, Gomez and Swift both attended the 2023 VMAs. Although they didn't sit next to each other, the stars stopped to chat and give each other a hug during the show. They also posed for a few photos together and cheered each other on throughout the night. For example, when Swift accepted her award for best pop, Gomez was captured smiling and clapping as the "Cruel Summer" singer made her way to the stage. Similarly, when Gomez and Rema won best afrobeats for "Calm Down," Swift was seen rooting for her best friend from the crowd.