Testing a tent, chair, table, and more from Moosejaw's new beginner friendly collection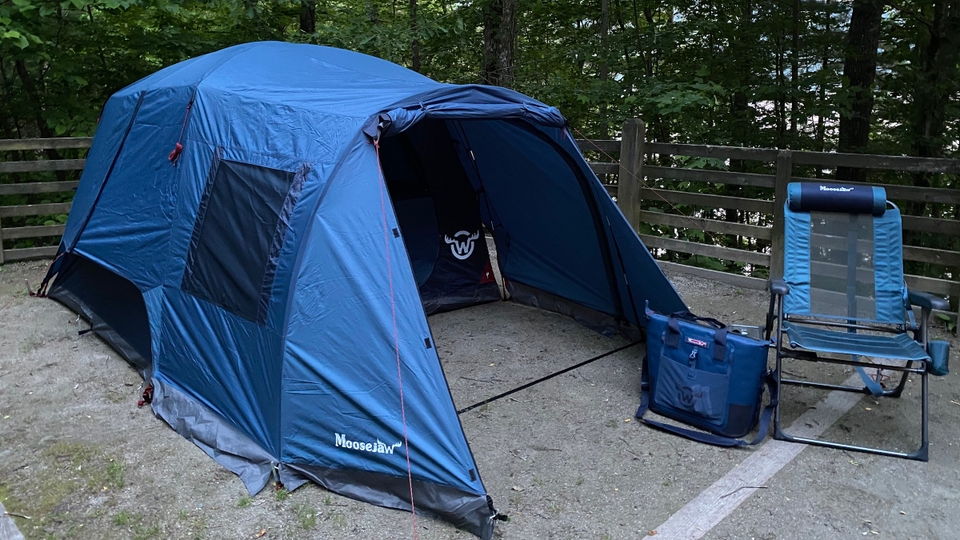 Camping is expensive. If you want to be comfortable while sleeping outside, it requires a monetary investment on some level. But how much should you spend? A good car-camping tent can cost several hundred dollars alone, which can be a barrier to entry for some families that want to try the activity for the first time.
With that in mind, online retailer Moosejaw released the budget-friendly Comfort Camp Gear line this spring. It features several core pieces of gear designed to make spending time outdoors as "easy, comfortable, and affordable as possible," said Moosejaw CEO Eoin Comerford, in a video press release. We're not talking about space-age materials or ground-breaking design here: Instead, think of a roomy tent that's easy to set up or a camp blanket that's half the price of its competitors.
See more car camping reviews in our 2023 Summer Gear Guide. 
How We Tested
I spent the last few months testing a handful of Moosejaw's new products, using the gear at developed campgrounds and trailheads in Pisgah National Forest and in my own backyard. Nothing I tested was perfect, but there are a lot of things I like about Moosejaw's lineup. As a whole, I was impressed with the design and quality, particularly when you consider the price tags. Here are my thoughts on five key pieces from the line.
Review: Moosejaw Comfort Camping Collection
The Comfortress ($249)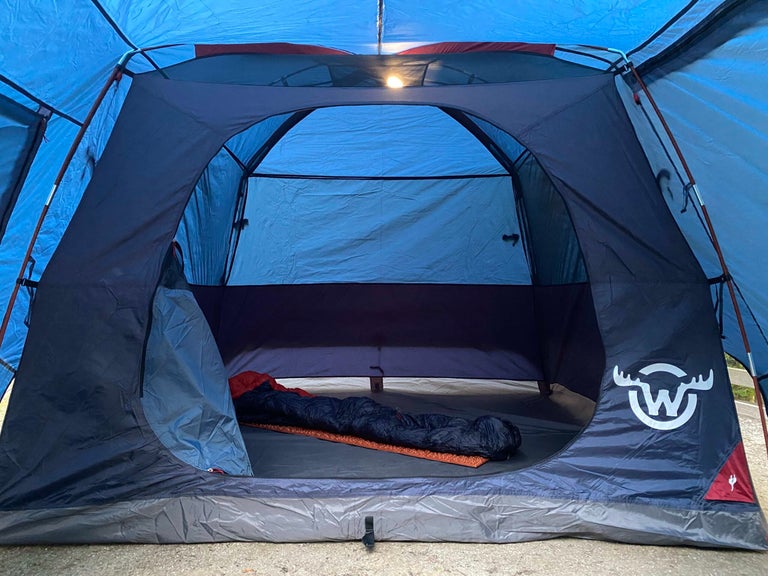 I've lost count of the number of car camping tents I've tested over the years, but the one thing I've learned is that you probably need a bigger tent than you think. If you have four people in your family, get the six-person tent—you'll need that extra room for all their stuff. Bags of clothes, shoes, wet swimsuits, more shoes … it all adds up and eats away at the square footage.
The Comfortress is the rare four-person tent that might actually fit that many people over a weekend. That's thanks, in part, to the design: it has 64 square feet of floor space with nearly vertical walls and a peak height of six feet, which allows you to use all of the room (including standing up to change). This goes a long way toward making it supremely livable. But it's the massive porch/vestibule that really sets the Comfortress apart, giving you an additional 43 square feet of dedicated hangout and gear-storage space. You can sit under the vestibule and drink a beer, or just keep all of the wet shoes and clothes out of your new living room. Or make one of your kids sleep out there—I won't judge.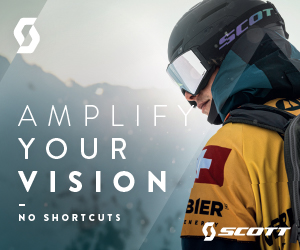 The Comfortress is made from quality materials (the 150 denier floor and 1500 millimeter waterproof-coated poly shell are pretty standard for car camping tents), and has a lot of nice details that make it user friendly, like stash pockets in the corners, a gear loft that attaches to the top of the tent, and an "e-port" that allows you to pass an extension cord into the tent. Attaching the rainfly for the first time took a while, but overall the tent is intuitive enough for first timers to pitch. My only concern was that if you don't pitch it taut enough using all of the guy-lines, water can gather on the roof of the vestibule and potentially leak into the front of the tent. I worked hard to get all of the sag out of the fly and vestibule. It wouldn't keep me from purchasing this tent, especially considering the price point, but it's something to watch out for.
Bottom Line: It's a good starter family tent, just make sure to pitch it correctly.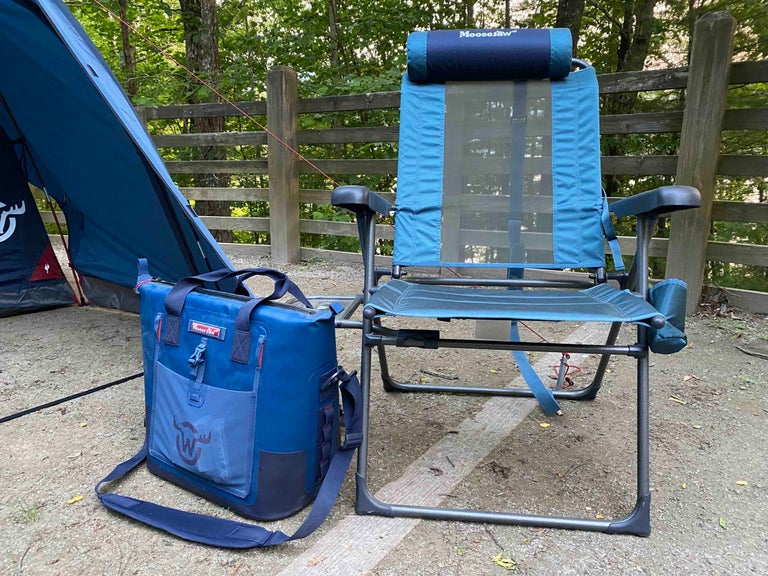 The Slounger and the Chilladilla cooler in their natural habitats. (Photo: Graham Averill)
We're living in the era of peak camp chair technology, people, and it's a wonderful time to be alive! The Slounger is a trickle-down beneficiary of all that camp chair innovation and at $79, it's one of the most comfortable seats I've ever owned. The mesh and padded seat is cushy without being sticky on a summer night; it reclines into several different positions so you can fine tune your state of relaxation; and it not only has a cupholder but also features a built-in side table for snacks. I love this chair. I use it on my back porch and in my living room when we need extra seating. It will be accompanying me on many beach trips this summer. I can think of no finer compliment than this: my family members and I fight over it when we're camping.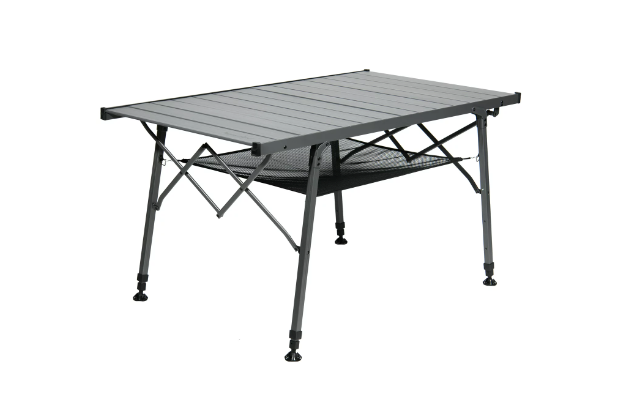 Major points for the mesh hammock below the table that can dry dishes or store snacks. (Photo: Courtesy Moosejaw)
If you're just building out your car-kit quiver, a table shouldn't be at the top of your list since most developed campgrounds have picnic tables. But when it comes time to add an extra work or eating surface, I'd recommend the Eatastic, which is large enough to accommodate a family of four at dinner time. It's also incredibly versatile, thanks to the adjustable legs, which convert the table from a 25.5-inch high coffee table to a 34.5-inch tall cooking area. The mesh gear loft that attaches to the underside of the table is genius too, cause you can put snacks or drying dishes in there.
My only complaint about this table is the pack size. The top folds into a rectangle and legs fold into their own unit. In short, it's large and takes up a lot of space. If you don't have a truck or an SUV, it might be a little bulky when stuffed in with all your other gear.
Bottom Line: When you're ready for a table, the Eatastic is a great option.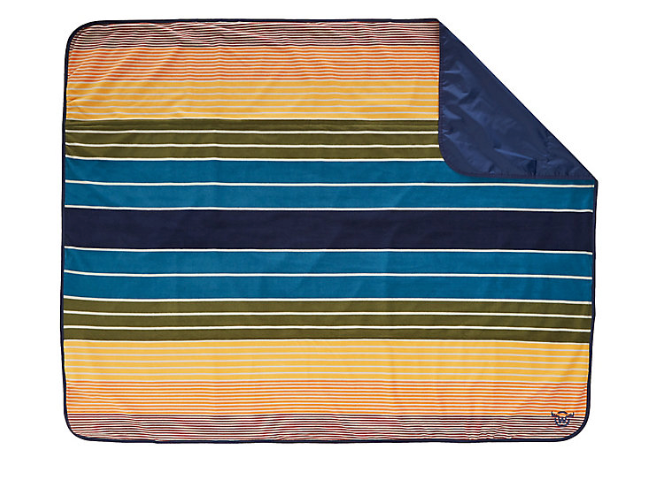 Moosejaw doesn't break the mold with the Carpet Diem, but it's a solid camp blanket with fleece on one side and water-resistant polyester ripstop on the other, reminiscent of many other options on the market. But Moosejaw's version is about half the cost of the competition, and is made from 100 percent recycled polyester. It'll keep you warm in camp, and also acts as a nice ground cover. There's no stuff sack, but it does roll up into built-in straps.
Bottom Line: It's an inexpensive blanket made from recycled materials. There's no reason not to buy it.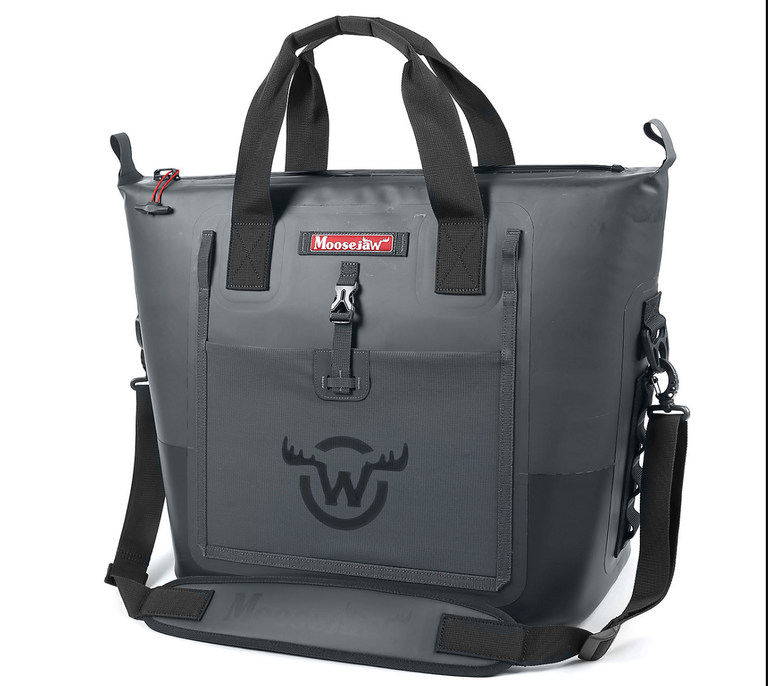 Technically, the Chilladilla isn't part of the Moosejaw's Comfort Camping Collection, and at over $150, it's priced a bit over the "budget-friendly" category. But I'm a sucker for coolers so I had to check it out. And there's a lot I like about this number. It's large and does a great job with ice retention, keeping up with other high-end soft-sided coolers on the market. The waterproof-leakproof zipper is easy to open and close unlike some other waterproof zippers we've used. And I think the magnetic snaps that bring the grab handles together are absolutely brilliant. But there's a dealbreaker: the zipper of the Chilladilla doesn't open wide enough, making it very difficult to load. You need two hands to hold it open and another to load it with cans and ice. This might sound like a minor complaint until you spill ice all over the kitchen floor and your wife yells at you. Or if you actually use it often.