Taylor Swift Slays Trendy No-Pants Look in Oversized Rugby Shirt Amidst Deadpool 3 Cameo Rumors
When it comes to fashion, Taylor Swift isn't just following trends – she's setting them.
On Thursday, the 33-year-old pop superstar made a striking appearance in New York City's West Village, confidently embracing one of this year's hottest fashion trends by opting for a leg-baring ensemble, forgoing pants.
However, what sets Taylor apart is her unusual take on this bold trend, infusing it with a touch of preppy, autumn-inspired flair that blends flawlessly with the warm October weather.
Instead of embracing the more revealing approach of this craze, the "Lavender Haze" singer chose a refreshing alternative by sporting an oversized Stella McCartney cotton rugby shirt from the renowned English fashion designer's Winter 2023 collection.
Taylor Swift in no-pants look while out and about in New York City on October 26, 2023 (Credit: Roger Wong / INSTARimages)
Worn as a dress, the long-sleeved top boasted a metallic embroidered detail, complete with a large gold horse and horseshoe decal on the upper chest, injecting a hint of glamour into her laid-back attire.
With the long hem of the shirt hitting her upper thighs, she left room for imagination regarding what, if anything, she had on underneath.
To give her ensemble an autumnal touch, Taylor complemented her look with Prada leather knee-high boots that offered some coverage to her long legs.
These elegant Italian-made boots in a rich burgundy hue featured a polished design, showcasing a rounded toe and an impressive 5-inch heel, which beautifully elevated her statuesque 5 feet and nine ¼ inches frame.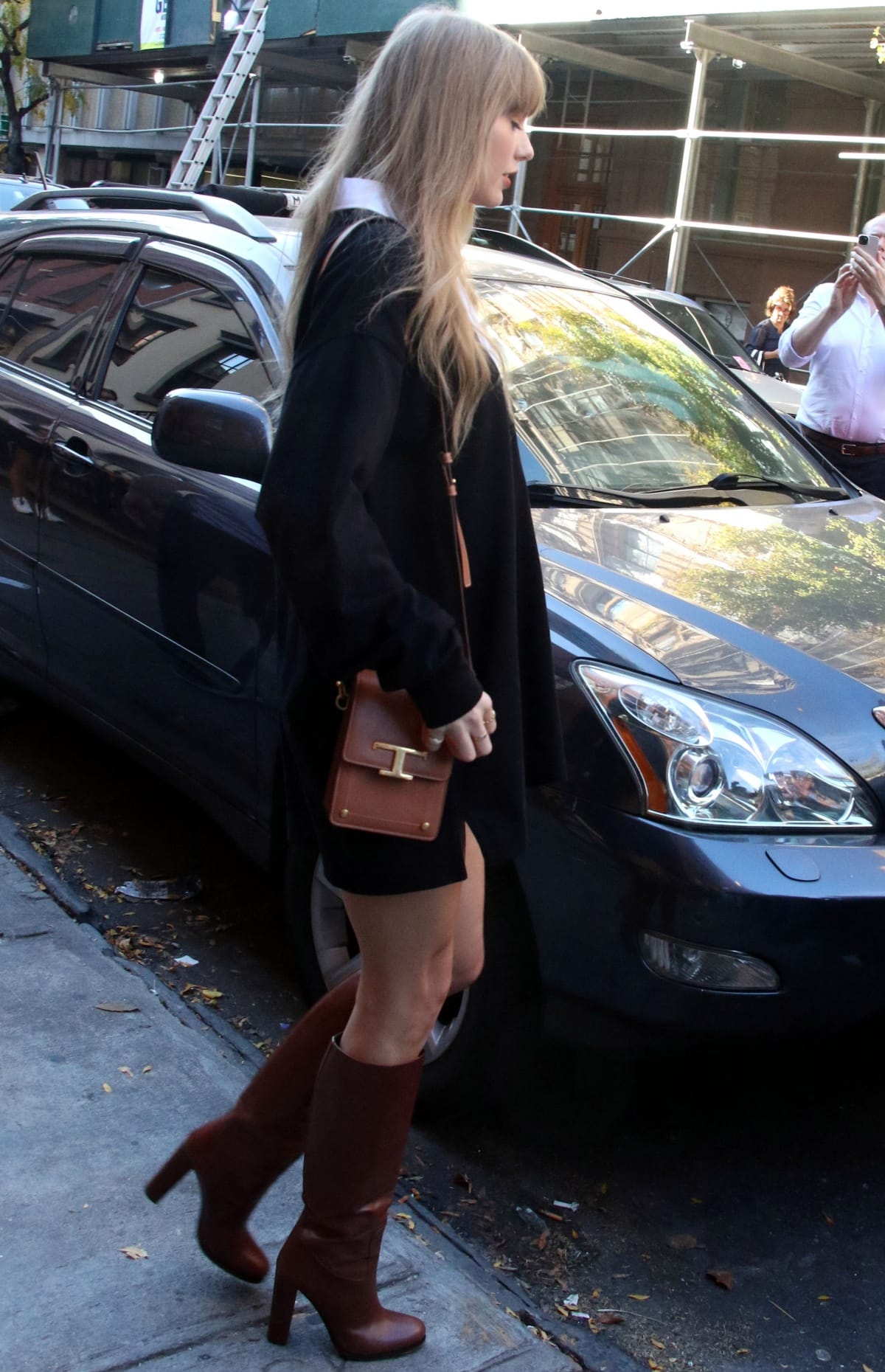 Taylor Swift wearing Stella McCartney oversized rugby shirt with Prada burgundy leather knee-high boots (Credit: Roger Wong / INSTARimages)
The 12-time Grammy Award winner added a brown Tod's logo plaque leather crossbody bag to complete her trendy ensemble and a khaki Ralph Lauren cotton chino ball cap.
But the accessories didn't stop there – she wore a pair of Maria Tash diamond pear stud earrings and Foundrae's 36" Heavy Belcher Sister Hook necklace with a Foundrae diamond center heart miniature medallion, adding a touch of elegance to her otherwise casual attire.
And, of course, her long, wavy blonde hair and soft coral lipstick were on point, showcasing her signature style.
Taylor Swift's beauty look consisted of wavy blonde locks, soft coral lips, and diamond jewels (Credit: Roger Wong / INSTARimages)
But what's even more thrilling is the buzz circulating about Taylor Swift's possible appearance in the upcoming Deadpool 3 movie, where she could take on the role of mutant pop sensation Dazzler.
Recent photos of her casually walking through the streets of New York City with the film's director, Shawn Levy, have ignited the rumor mill and intensified the speculation about her potential cameo.
And her recent outing with Deadpool 3 stars Hugh Jackman and Ryan Reynolds during a New York Jets vs. Kansas City Chiefs game has only added more fuel to the already passionate assumptions of Marvel fans.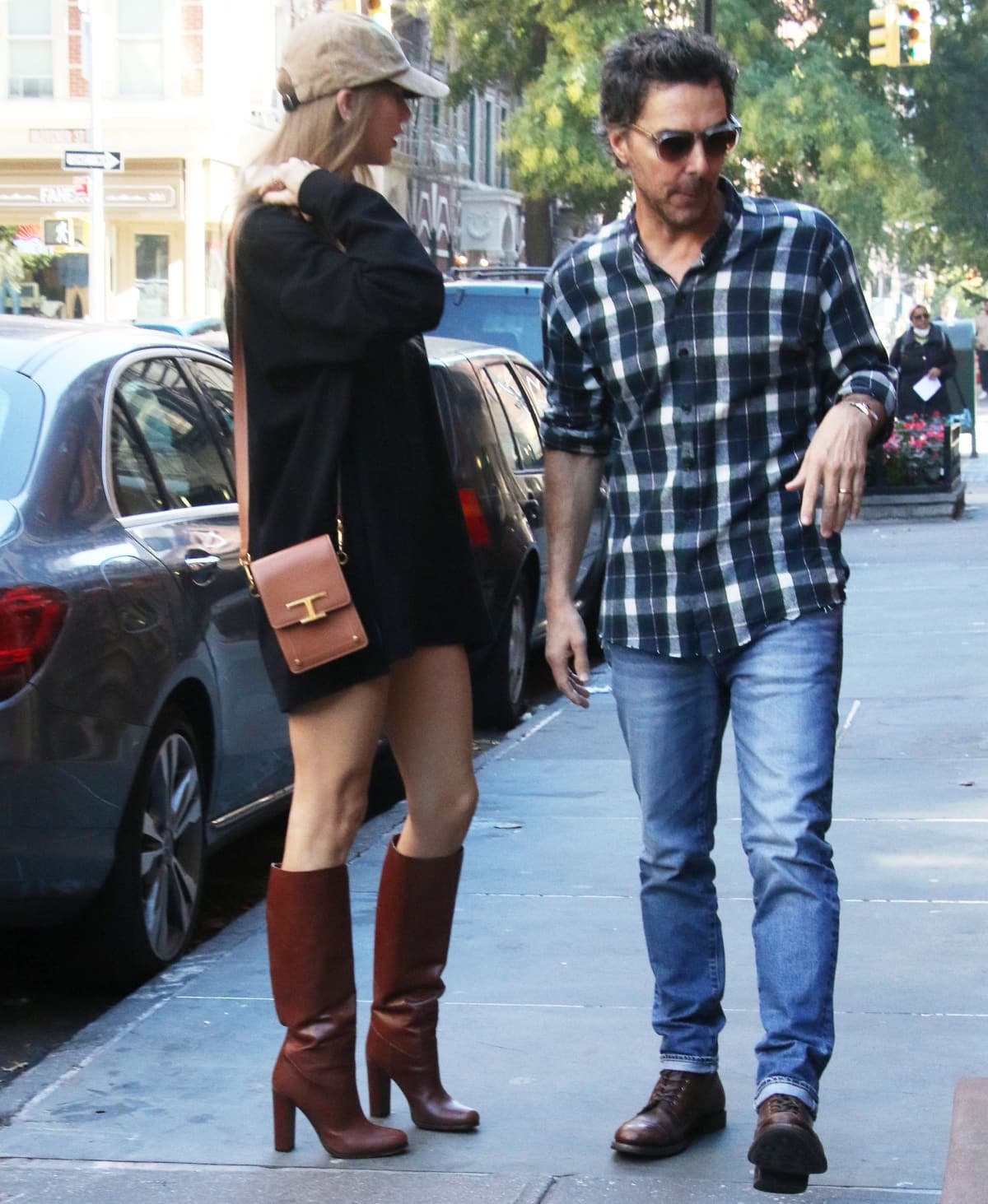 Taylor Swift spotted with director Shawn Levy out in New York City on October 26, 2023, sparking rumors of a cameo in Deadpool 3 (Credit: Roger Wong / INSTARimages)
Shawn Levy has neither confirmed nor denied the casting rumors, leaving fans hanging with his cryptic comments.
During an episode of the Happy Sad Confused podcast on October 26, the 55-year-old Canadian film director said, "Sounds like a great idea."
He added, "I feel like, 'Oh wow, I went to a football game a couple weeks ago, and I had a really good time with friends, and I am thrilled to be talking about other things.'"
Taylor Swift's connection to Shawn Levy doesn't stop at the Deadpool rumors, as he made a cameo appearance in her 10-minute adaptation of "All Too Well."