The Complete Timeline of Olivia Rodrigo and Taylor Swift's Friendship
Following the release of her debut album Sour in 2021, Disney Channel star Olivia Rodrigo has skyrocketed to global music stardom. 
As Olivia began to cultivate a dedicated fan following across the globe, her catchy tunes and scathing lyrics began to capture the attention of some of music's biggest stars, with Taylor Swift soon becoming one of Olivia's biggest supporters on social media. 
WATCH: Olivia Rodrigo 'Brutal' Music Video. Article continues after video. 
Despite many years of friendship in the public eye, the release of Olivia's sophomore album Guts led some fans of the duo to speculate that there was a potential conflict between the famous friends.
As both Taylor and Olivia prepare for their upcoming world tours, scroll down to look back on the complete timeline of their friendship, including their rumoured feud.
Olivia Rodrigo and Taylor Swift's Friendship Timeline
April 2020: Taylor Swift reposts Olivia Rodrigo
Taylor Swift and Olivia Rodrigo first crossed paths online after Olivia posted a clip of her covering Taylor's Cruel Summer to Twitter.
To Olivia's delight, Taylor stumbled across the video and reposted it to her Instagram Stories, writing, "Love This!! Thanks for this beautiful performance @olivia.rodrigo."
Understandably, Olivia was over the moon as she took to Twitter to share her excitement.
"Taylor Swift is the reason I write songs and she posted me on my story and told me I was talented?… I'm going to frame this screenshot and hang it above my firstborn's crib," she wrote in all-caps.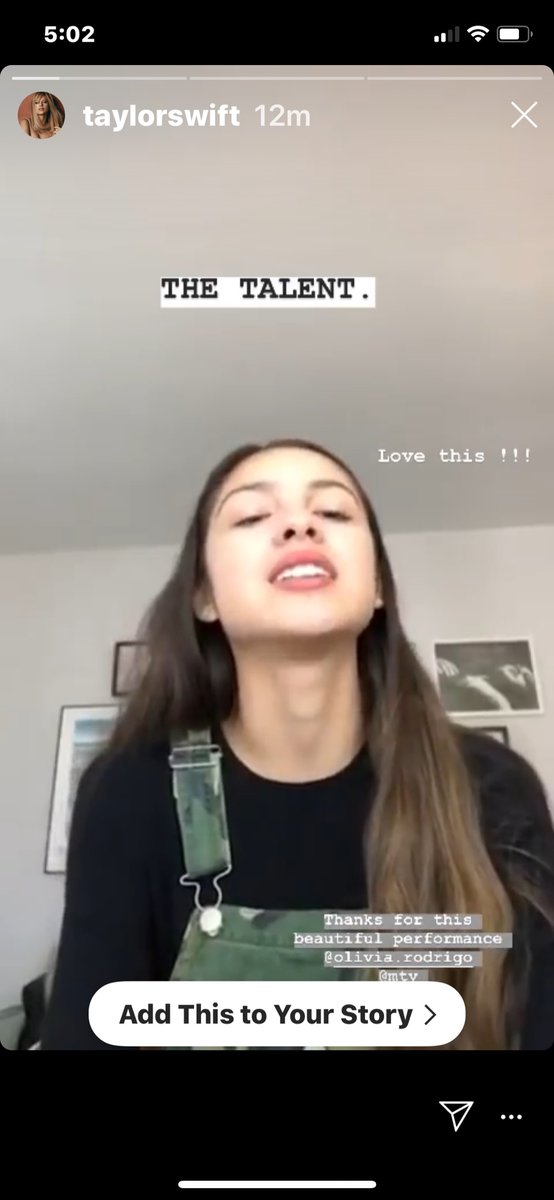 January 2021: Olivia Rodrigo releases Drivers License
Following her success in Disney's High School Musical: The Musical: The Series, Olivia ventured into the world of music as a solo artist; releasing her debut single Drivers License on January 8, 2021.
As the single rocketed through the charts, Olivia took to Instagram to celebrate her new chart-topping success, writing, "Next to Taylor on the US iTunes chart I'm in a puddle of tears."
On January 10, Taylor replies to Olivia's excited announcement, commenting, "I say that's my baby and I'm really proud."
March 2021: Olivia Rodrigo receives gift from Taylor Swift
In an interview with SiriusXM, Olivia gushed over her friendship with Taylor, calling the singer "the kindest individual in the whole world."
"I got a package from her with this handwritten note, and she gave me this ring because she said she wore one just like it when she wrote Red and she wanted me to have one like it… she's hand-wrapped all these gifts," Olivia shared.
"I feel so lucky that I was born at the right time to be able to look up to somebody like her. I think she's incredible and all of the support and genuine compassion and excitement for me has just been so, so surreal."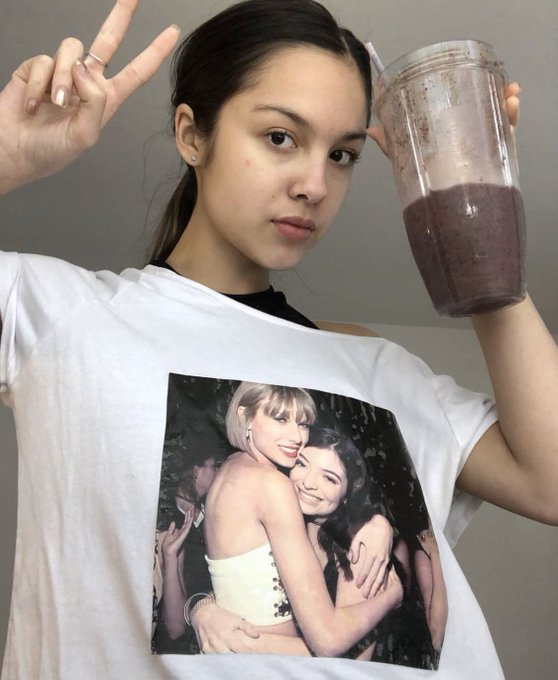 April 2021: Olivia Rodrigo and Conan Gray promote Taylor Swift's Fearless
In true Swiftie fashion, best friends Olivia Rodrigo and Conan Gray took to Instagram to celebrate the release of Taylor's re-recording of Fearless, with the duo sharing a fun lip-syncing video.
"We got a sneak peek of White Horse (Taylor's Version) and we just had to make this vid lol. One of my fav songs of all time. Remix this and sing along!" Olivia wrote.
Taylor later went on to reshare another of the pair's videos, writing, "I sent my two kids Olivia and Conana my new version of You Belong With Me and THEY ARE SO CUTE IT PHYSICALLY HURTS ME."
May 2021: Olivia Rodrigo meets Taylor Swift at the 2021 BRIT Awards
Over a year since the pair first crossed paths online, Olivia Rodrigo met Taylor Swift in person for the first time at the 2021 BRIT Awards, with Olivia reportedly handing Taylor a hand-written note.
Instagram
May 2021: Taylor Swift receives writing credits on Olivia Rodrigo's Sour
Releasing her debut album Sour on May 21, Olivia Rodrigo credited Taylor Swift and her producer Jack Antonoff as songwriters for her song 1 Step Forward, 3 Steps Back.
"We interpolated New Year's Day, which is Taylor's song from Reputation. I came up with the concept and I sort of wrote a verse and a chorus… I decided to sing it over the chords of New Year's Day… I was lucky enough to get that approved," Olivia told The Zach Sang Show.
The following month, Taylor and Jack were further given songwriting credits on Olivia's Deja Vu after similarities were drawn between Olivia's hit and Taylor's Cruel Summer.
June 2023: Sabrina Carpenter joins Taylor Swift on The Eras Tour
In news that both delighted and shocked Swifties, Taylor announced that Sabrina Carpenter would be joining the Eras Tour as her opening act.
The announcement caused some fans to speculate about a rumoured feud between Olivia and Taylor, with fans emphasising the alleged rift between Sabrina and Olivia over their relationship with Olivia's High School Musical: The Musical: The Series co-star Joshua Bassett. 
Getty
June 2023: Olivia Rodrigo releases her single Vampire
In the lead-up to the release of her second album Guts, Olivia dropped her first single Vampire.
While some fans initially believed that the song was written in relation to Olivia's ex-boyfriend Adam Fraze, many began to speculate that the song was instead a commentary on the music industry and her relationship with Taylor.
September 2023: Olivia Rodrigo responds to rumours about Vampire
In an interview with The Guardian, Olivia vaguely addressed the ongoing speculation that Vampire had been inspired by Taylor Swift.
"I never want to say who any of my songs are about. I've never done that before in my career and I probably won't. I think it's better to not pigeonhole a song to being about this one thing. I was very surprised when people thought that."
Olivia also further commented on the rumours in her Rolling Stone profile, telling the publication, "I don't have beef with anyone… I'm very chill… There's nothing to say. There's so many Twitter conspiracy theories. I only look at alien-conspiracy theories."