This (Relatively) Inexpensive Trailer-Rooftop Tent Combo Rocks
SylvanSport's TrailLoft is a budget-friendly option for serious car campers or folks that want to start overlanding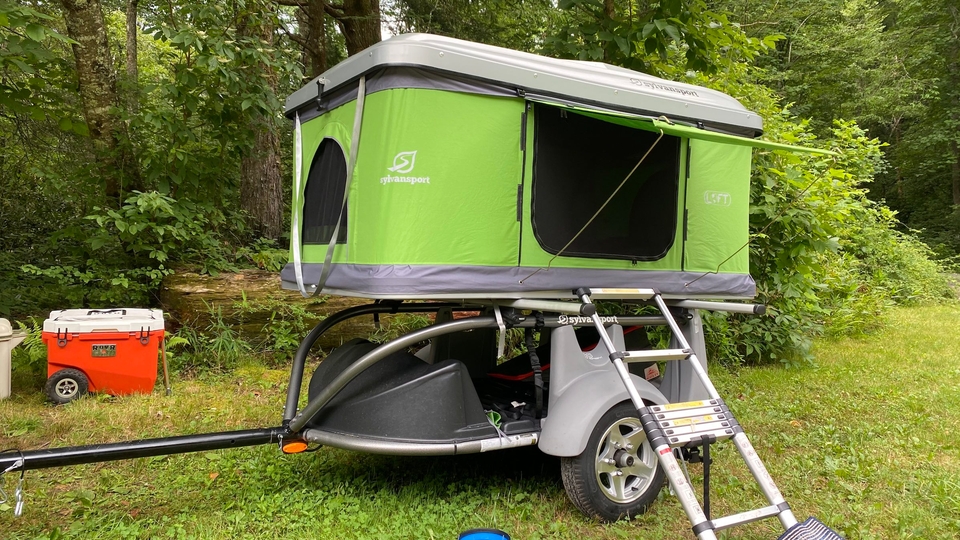 Overlanding ain't cheap. A rooftop tent alone can run you $4,000, and that only gets you a place to sleep. I've been ogling the new breed of tow-behind overland trailers, which combine compact gear storage with rooftop tents for a tight, towable basecamp.
They're badass, but they're also expensive—many of the top-of-the-line models have a starting price of around $30,000. I thought the trailer camper game was out of my price range until I found the SylvanSport TrailLoft, a gear hauler/rooftop tent combo with the low starting price of $5,195.
Who Might Want a Trailer-Rooftop Tent Combo?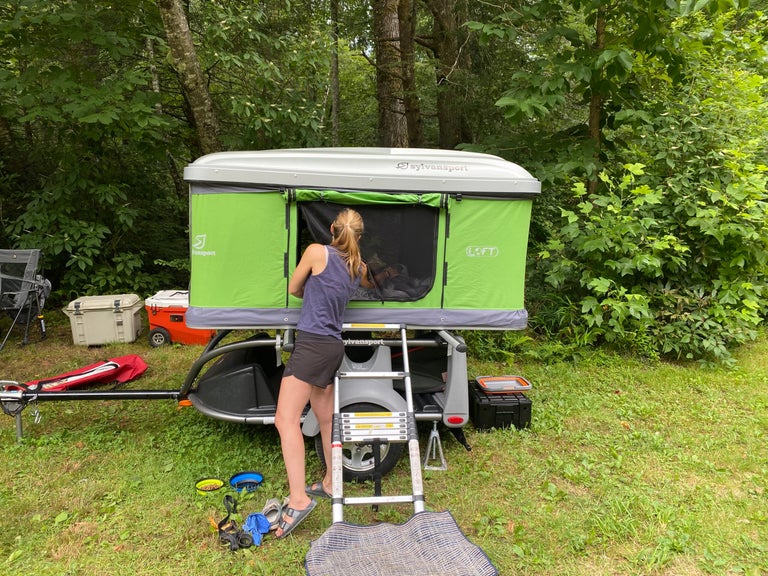 I like the idea of a camping trailer. They allow you to organize all your gear in a single unit and set up fast when you get to camp.
You can also drop your gear and tent at a site by detaching the trailer and then explore the surrounding terrain in your vehicle, unlike when you have a rooftop tent on your vehicle, which you have to pack up before you drive away.
SylvanSport is best known for its Go, a gear trailer that converts into a pop-up camper with room to sleep four, while also carrying bikes and kayaks. It's like a car-camping Transformer.
The TrailLoft is a smaller offering, combining SylvanSport's Loft rooftop tent with the Go Easy trailer for a tow-behind "micro camper" that can carry more than 500 pounds of gear and has room to sleep two people—as long as those people like each other a whole lot.
How We Tested the SylvanSport TrailLoft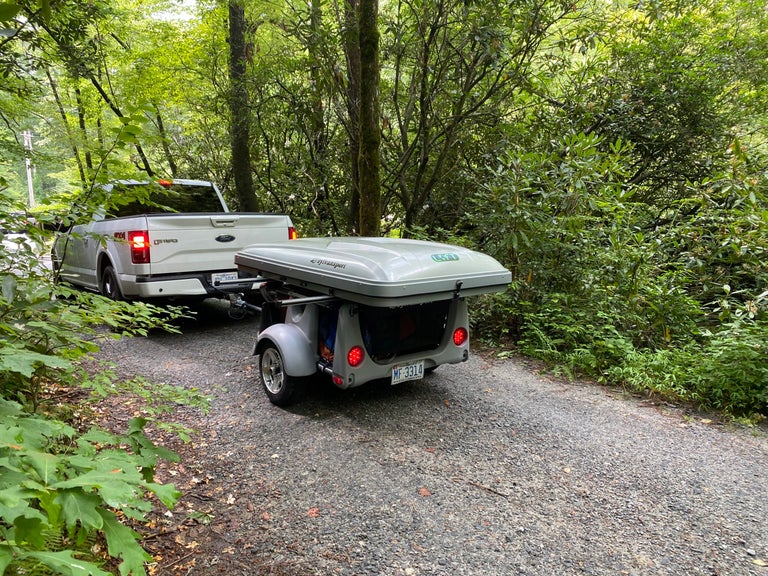 I took the TrailLoft on a three-night camping trip in Pisgah National Forest in North Carolina to see how the budget-friendly trailer could handle light overland duty, from gravel roads to torrential downpours. The TrailLoft has limitations, but overall, I was impressed with how it performed for the cost.
The base of the system is the Go Easy Trailer, which is made from a lightweight combo of polyethylene and powder coated steel. It weighs just 260 pounds, which is light enough that you could tow it with a Subaru, and so light that you can detach the thing and maneuver it by hand, which is helpful if you're not great at backing trailers into spaces.
The Go Easy can carry 540 pounds of gear in its 47 x 43-inch cargo floor, and the Yakima JetStream crossbar can be configured to carry any gear you'd normally attach to the front of your car. Sylvan Sport then places their Roof Top Tent, a thin and aerodynamic hard bed, on top of the trailer, so you have space to pack the equipment floor underneath the tent and even enough room to Attach the bike or kayak to the outside of the crossbar.
It's a neat package that's easy to tow and can carry a lot of stuff. I packed the equipment deck with camping boxes, firewood, chairs, table, and a pop-up tent for protection from the sun and rain. And there's a big bonus: you can take down the tent and use the trailer just to haul lumber, gear, or other equipment.
The Go Easy Trailer isn't a zombie apocalypse-ready towable, and I'm sure there is terrain that it's not capable of handling. It has 9.75 inches of ground clearance, which is several inches less than some sturdier trailers on the market, but it performed well on the interstate and pot-hole-ridden gravel roads that I often drive in Pisgah National Forest.
I have some concerns about the gear storage aspect of the trailer, which I'll explain below, but it's a breeze to tow and will get you to where you need to go unless you plan on doing serious rock hopping.
I was most impressed with the Loft tent. There are two reasons why I'm sold on rooftop tents: getting off the ground helps keep you dry in the Southern Appalachians where a heavy dew soaks everything on the ground, and they're typically easier to set up than a traditional tent.
The hard-case Loft is great on both fronts. Between the hard top and elevated position off the ground, the pesky morning dew issue was completely eliminated. And it literally sets up in less than a minute. Just unhook a handful of buckles and four hydraulic arms do the heavy lifting, erecting your tent like a magic trick.
Throw a sleeping bag and pillow inside and you're ready to nap. Inside, there's a fan/light combo, two mesh gear lofts and four hanging pockets for smaller items. Two doors and two windows add plenty of ventilation, and they all have zippered privacy panels that work like the black-out curtains in Las Vegas. Seriously, set your alarm if you need to wake up early—the sun will not help you out.
Technically, it sleeps two people, but it's much smaller than other rooftop tents I've tested with just 83- by 51-inches of room to spread out and 41 inches of headroom.
It's a well-organized tent, but I wouldn't call it roomy. If you're squeezing two people inside, there isn't enough room to bring duffel bags with you. And forget about trying to pack a dog in there too. But I had enough room to stretch out and sit up without hitting my head, and there was plenty of space for my wife to swing an elbow into my side when I started to snore. So, it was just like sleeping at home.
And the tent stayed bone dry during an hour-long torrential downpour that soaked lesser vessels in the same campsite to the core. All I had to do when the rain started was zip the waterproof privacy panels shut on the windows. No rainfly necessary.
One Drawback of the SylvanSport TrailLoft
My only complaint with the TrailLoft has to do with the gear storage. There's a decent amount of space for your things, but because the tent covers the entire top of the trailer's interior, it's hard to load the gear deck. You basically have to kneel and load your camping boxes from the ground through the rear tailgate.
That's the only access, so unloading it also requires the same sort of body contortions. If the tent was raised off the trailer by a foot or more, you could get into that space from all angles. It would also give you enough height to stow a large cooler in the trailer—neither of my roto-molded options would fit. It might impact the aerodynamics of the whole package, but it's a tradeoff I'd happily make. Still, that's a minor limitation when you consider what the TrailLoft does offers the budget-minded camper.
Final Thoughts
The SylvanSport TrailLoft doesn't have the bells and whistles of the more expensive overland trailers on the market, but it's an efficient system that makes camping easier. And for many people, like myself, that's all you really need.