Trump-hatted rioter sentenced for bear-spraying 8 officers on Jan. 6
Edward Rodriguez, known to online sleuths as "SuitMacer," was one of hundreds of rioters identified by "Sedition Hunters." He was sentenced to three years in prison.
WASHINGTON — A Donald Trump enthusiast who bear-sprayed officers at the U.S. Capitol on Jan. 6 was sentenced to three years in prison following a lengthy hearing Monday.
Edward Rodriguez was identified by online "Sedition Hunters" who have aided in the arrests of hundreds of Capitol rioters. The sleuths called him "#SuitMacer," because he was wearing a suit as he assaulted law enforcement with what turned out to be bear spray. He was arrested in 2021 and pleaded guilty in March.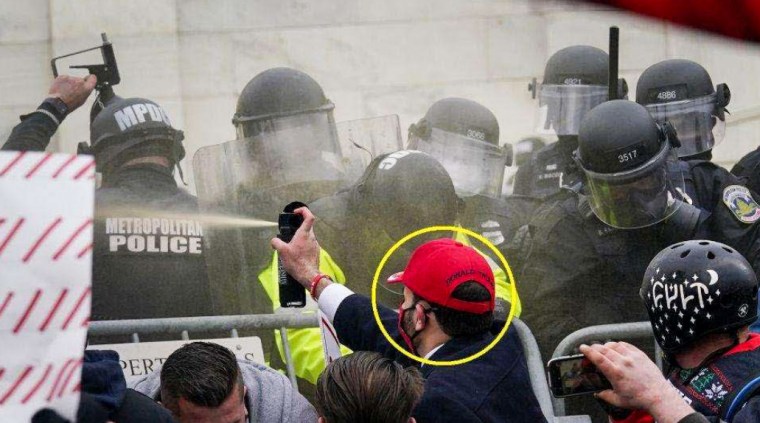 Prosecutors sought more than seven years in federal prison for Rodriguez, who was a 28-year-old real estate agent from Brooklyn, New York, when he attacked officers Jan. 6. The government identified at least eight officers — Sergeant O.A., Officer M.B., Officer N.D., Officer P.N., Officer B.R., former Officer J.R., Sergeant A.W., and Officer A.Z. — who were injured by Rodriguez's spray attack. (The Justice Department has frequently identified victims in Jan. 6 cases by their initials).