Trump is gunning to take over Ron DeSantis' base of power in the Florida GOP
The former president's allies are trying to flip lawmakers who previously endorsed Gov. Ron DeSantis, and Trump will host state GOP leaders at Mar-a-Lago next week.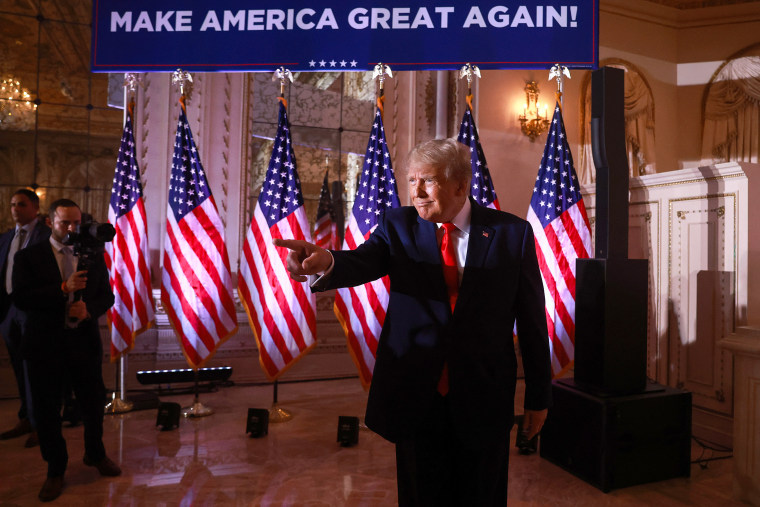 Former President Donald Trump at Mar-a-Lago in Palm Beach, Fla., in November 2022.Joe Raedle / Getty Images file
The Republican Party of Florida that Ron DeSantis built is now turning Donald Trump's way.
Trump allies in the state are organizing an effort to flip Republican lawmakers from DeSantis endorsers to Trump. Two sources familiar with the effort said as many as six could come out for Trump as early as next week.
The move is scheduled to coincide with this Saturday's Florida Freedom Summit, which will feature all of the major Republican presidential candidates and shine a national spotlight on the state.
The sources said that details are still being finalized but that they're aiming for an announcement about Florida state-level elected Republicans' moving away from DeSantis for next week. In addition to the summit, the third Republican presidential debate (hosted by NBC News) is being held in Miami next Wednesday.
"It's coming," the source familiar with the changes said. "Exact number not yet said, but it will be close to 10."
A Florida Republican lobbyist who has heard about the effort but isn't involved said he expects "at least five" to move to Trump.
"There is no doubt that there are more coming next week," he said.
The DeSantis campaign declined to comment.
Trump is also hosting a reception at Mar-a-Lago "honoring" Florida GOP leaders the day after the debate, according to sources familiar with the event and an invitation obtained by NBC News.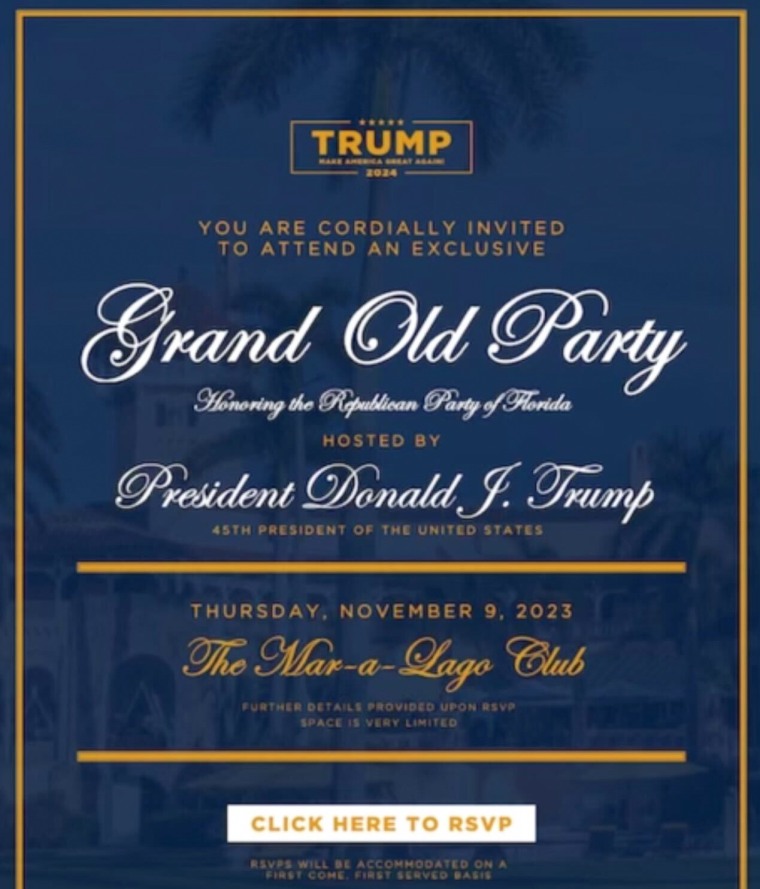 It is a continuation of the Florida GOP's shift to Trump as he has taken a commanding lead in the 2024 Republican primary campaign.
Trump quickly secured the endorsements of most of the state's Republican members of Congress; then, in September, party leaders voted to get rid of a requirement that GOP presidential candidates support the eventual nominee. The move was supported by Trump — who wouldn't commit to support the GOP nominee if it's not him — but not supported by DeSantis, whose teams actively lobbied his home state party to keep the oath in place.
Ahead of that vote, Trump similarly invited Florida Republican leaders to Mar-a-Lago. At the time, the move was seen as a lobbying technique to sway them to get rid of the loyalty oath. Trump's decision to once again host a similar gathering is being seen in Republican circles as Trump's putting the finishing touches on his takeover of DeSantis' home state party.