Uma Thurman and Look-Alike Nepo Baby Maya Hawke Twin in Black Outfits and Sleek Hairstyles at the Room To Grow Gala
Uma Thurman and daughter Maya Hawke attended Room to Grow's 25th Anniversary Gala at Ziegfeld in New York City on Wednesday.
And while it's no secret that the mother-and-daughter duo share an uncanny resemblance, the two had fans doing a double take when they showed up on the red carpet in matching black outfits and slicked-back hairstyles.
Uma and Maya both have gorgeous facial features and tall, slim frame, which they highlighted in their matching black ensembles.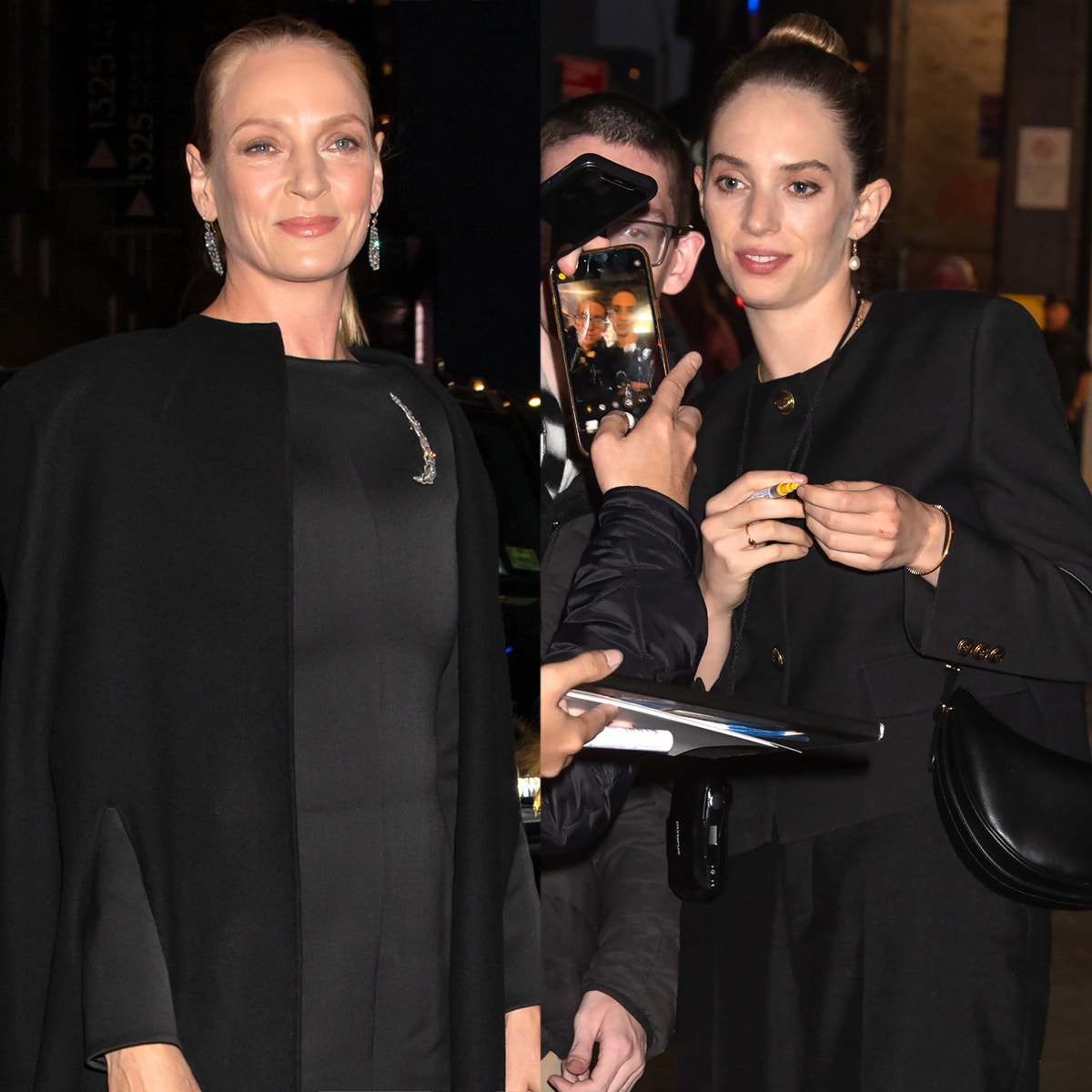 Uma Thurman and Maya Hawke share an uncanny resemblance at the 25th Anniversary of Room to Grow Gala held at New York City's Ziegfeld on October 25, 2023 (Credit: Janet Mayer / Startraksphoto)
Uma Thurman, who co-chaired the gala, embraced quiet elegance in a black maxi dress highlighting her statuesque frame. It was a simple column dress that had long sleeves, a boat neck, and a front slit to showcase her long legs.
A crystal-embellished crescent moon brooch fastened to the bodice gave the otherwise quite plain black outfit a dash of glitter.
Adding a regal element to the look, the 53-year-old actress draped a black ankle-length coat over her shoulders designed with cape-like sleeves.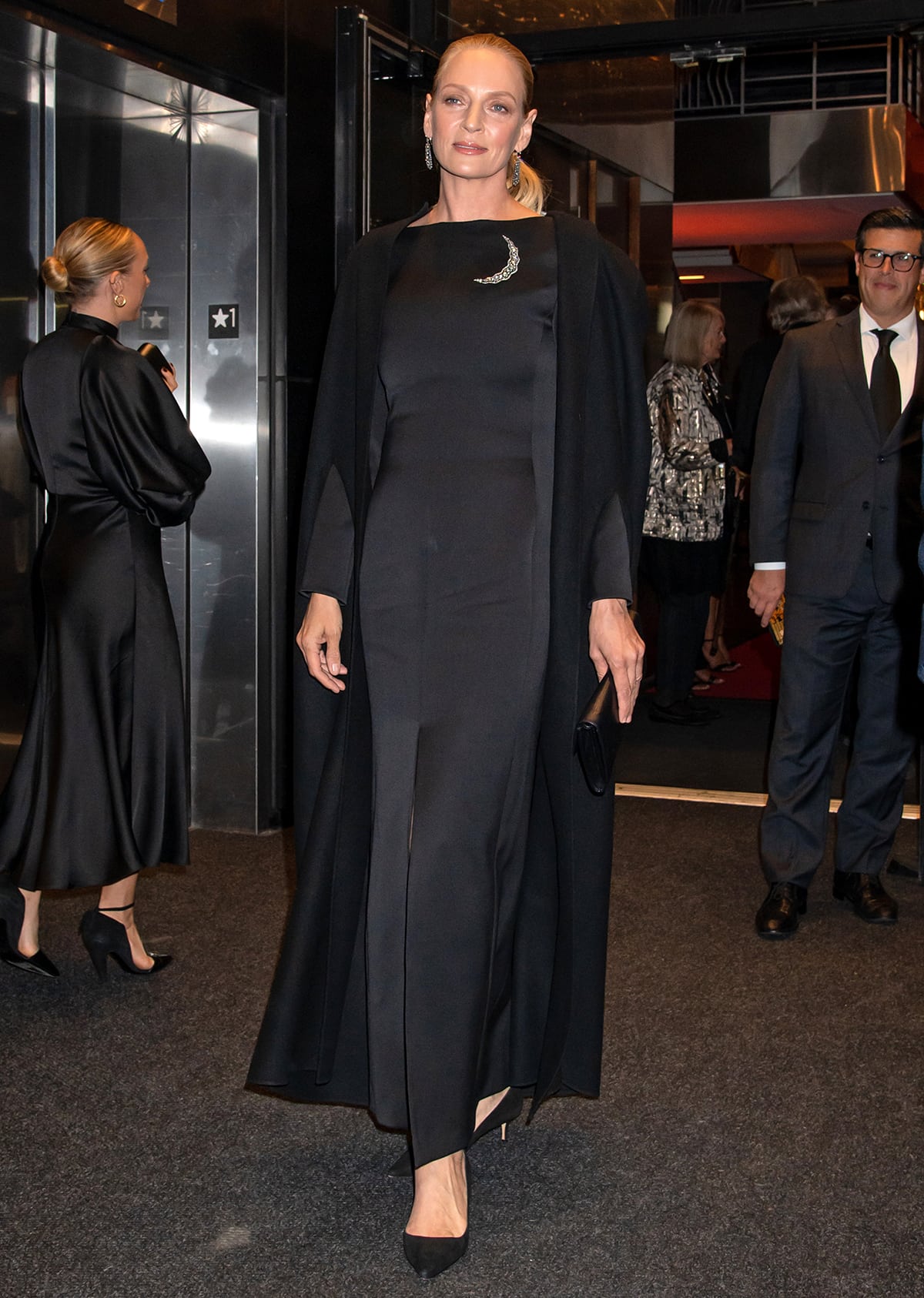 Uma Thurman looks regal in a black column dress with a moon crescent brooch, a matching cape, and black pumps (Credit: Janet Mayer / Startraksphoto)
Her blonde tresses were slicked back into a neat low ponytail, showcasing her dangling diamond earrings. She then wore minimal makeup, neutral eyeshadow, and mascara to draw attention to her blue eyes, along with a dab of pink lipstick and matching blush.
She then continued with her ensemble's black theme by donning a pair of classic black pumps and carrying a black envelope clutch.
Uma Thurman accessorizes her look with dangling diamond earrings and wears her hair in a slicked-back low ponytail (Credit: Roger Wong / INSTARimages)
Meanwhile, Thurman's nepo baby Maya Hawke opted for a retro-style outfit from Prada, a brand for which she serves as an ambassador.
Her head-to-toe black look was composed of a two-piece co-ord set featuring a black collarless jacket with shiny gold-tone buttons that bore the brand's logo down the center front and cuffs.
The Stranger Things actress teamed her silk jacket with matching straight-leg pleated trousers, glossy black pointed-toe pumps by Prada, and a sleek black Prada Arque shoulder bag.
Maya Hawke signs autographs in a Prada co-ord that includes a collarless jacket and pleated trousers (Credit: Roger Wong / INSTARimages)
As for her accessories, Maya wore a gold necklace, a gold bangle, some rings, and mismatched drop and stud pearl earrings.
When it came to her glam, Maya drew attention to her blue eyes with metallic eyeshadow and mascara. She then dusted her cheeks with a rosy blush that matched her pink lipstick and wore her dark tresses in a high donut bun.
Maya Hawke styles her black ensemble with a black Prada shoulder bag, black Prada pumps, and mismatched pearl earrings (Credit: Roger Wong / INSTARimages)
During a red-carpet interview with People at the event, Uma and Maya opened up about their bond.
"Good communication. That is a big challenge, to make sure we keep communication healthy, strong and open with your family," Uma said.
The Little Woman actress then credited the importance of her mother reading to her as a child for her development.
"Being read to is so important for kids. I've now supplemented it with audiobooks in my adult life because it made such an impact on me."
"I have a learning disability and I didn't do so well in school and was slow to read," she explained. "So being read to changed my ability to comprehend language and changed my life. I really hope that every child gets that opportunity. And if Room to Grow can help in any way, I'm honored to be part of it.
Maya Hawke's Latest Projects
Maya Hawke's latest projects include The Kill Room, a dark comedy that also stars her mom, Uma Thurman.
Prior to the film's premiere, Maya stated in an interview with Variety that she wanted people to see her mother's comedic side in the movie.
"I'm so excited for people to get to see my mom be funny. In the last couple of years, she's done independent comedies that, for whatever reason, haven't seen the light of day. She's the funniest person I know."
Maya Hawke, born on July 8, 1998, is the daughter of Uma Thurman with actor Ethan Hawke.
Aside from starring with her mom in The Kill Room, alongside Samuel L. Jackson and Sofia Vergara's ex-husband Joe Manganiello, Maya Hawke also teamed up with her father for Wildcat.
Wildcat is a biographical drama directed and co-written by Ethan Hawke. It follows American novelist Flannery O'Connor, played by Maya Hawke, as she struggles to get her first novel published.
Maya had to film several love scenes for the movie, and Ethan insisted he had no issues or awkwardness about directing her daughter.
"We needed to take care of Rafael [Casal] and Cooper [Hoffman]," the two men acting alongside his daughter. "I think it was weird for them," Ethan said.
He then turned to Maya and said, "We were so comfortable with it. I couldn't care less."
Maya added, "We made sure to have an intimacy coordinator on set for them. So that they felt safe and comfortable and not like they were being spied on…"
"… by some creepy dad," Ethan continued.
Maya Hawke on Being a Nepo Baby
Maya and Ethan Hawke shared their thoughts on the "nepo baby" criticisms they faced while working on their independent movie, Wildcat.
"Put simply, I'm a nepo dad! And I'm not embarrassed about it," Ethan told Variety.
Ethan Hawke and daughter Maya Hawke at the 48th Toronto International Film Festival premiere of their movie Wildcat on September 12, 2023 (Credit: Starface Photo / Cover Images)
Admitting she felt insecure, Maya added: "I had moments of insecurity about it while we were shooting the movie. But the internet doesn't have a lot of nuances. My dad has been a massive teacher for me, and we want to work together. We like being with each other."
"If someone wants to criticize us for working together, that's totally fair. You have to let people have their opinion. You just have to try to do a good job when you're onstage," Ethan added.