What is bikepacking? Europe's latest adventure travel trend and where to try it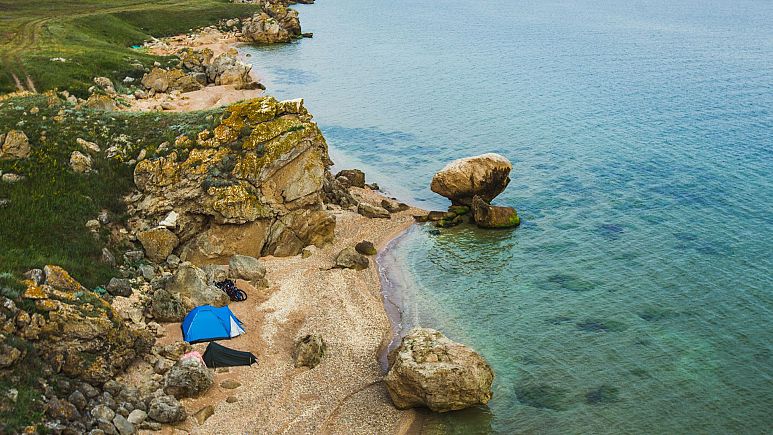 Here are four of Europe's best bikepacking routes that are accessible by train.
'Bikepacking' is the perfect way to enjoy the great outdoors this summer
Searches for bike holidays have surged by 151 per cent over the past year, booking platform Omio has revealed, while searches for 'bikepacking' have increased by 100 per cent.
This unique holiday option combines the freedom of a bicycle with the self-sufficiency of backpacking. With your essentials strapped to your bike, you can venture off the beaten path, discovering hidden gems that are inaccessible by car.
It's also great for the planet – and it's even better if you get to your starting point by train. Discover four of the best cycling routes in Europe, each starting at an easily accessible train station.
How to bikepack safely using trains
Many trains have designated cycle spaces, but it's best to check ahead of time and reserve yourself a spot. Most providers charge a small additional surcharge.
Check local camping regulations before you go. Some European countries permit wild camping, meaning you can set up a tent on most public land. Most countries restrict camping to designated zones though, so make sure you plan ahead.
The duration of each trip can vary based on your pace, fitness level and the number of stops you make along the way.
Enjoy museums and chocolate between Amsterdam and Bruges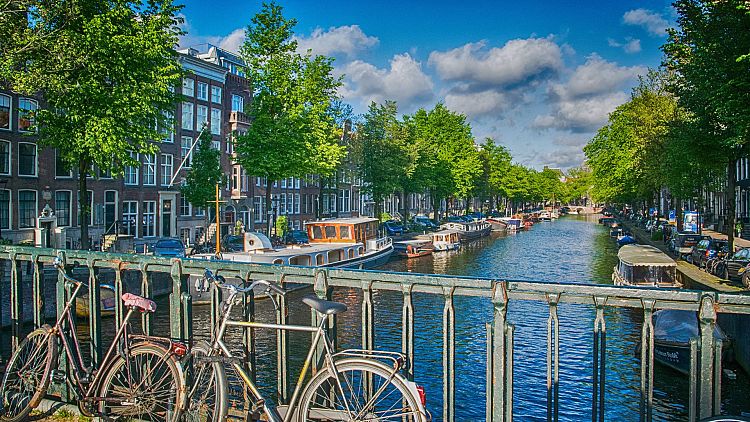 Cyclists can follow the North Sea Cycle Route from Amsterdam to Bruges. Start your journey in the vibrant Dutch capital, admiring the picturesque canals and world-class museums.
En route to Belgium, enjoy coastal scenery, dunes and historic towns like Ghent. Once you reach Bruges, indulge in delicious Belgian chocolate and beer – with hundreds of kilometres of cycling under your belt, you'll definitely have earned it.
While this route is very flat, there can sometimes be strong headwinds that make the ride more difficult. You can use the Windfinder app to determine the best time and direction to ride.
Both Amsterdam and Bruges are major train hubs, meaning the route is easily accessible by rail.
Check out flamingos on the road to Perpignan
This route is nearly 500 km long from Valance on the banks of the Rhône River to Perpignan near the French border. When cycling, take the southern section of the European Divide, a challenging trip with some rough terrain.
Along the way, consider stopping in Arles, a UNESCO World Heritage Site. The city boasts well-preserved Roman ruins, including the Arles Amphitheater and the Alyscamps necropolis. Keep an eye out for flamingos and wild horses in the Camargue marshes. A beautiful natural scene
Valence is 2.5 hours by train from Paris.
Climb the Devil's Staircase in the Scottish Highlands
Weaving through the mountains and gullies of the Scottish Highlands, the Highland Trail 550 is not for the faint of heart.
The 885km route takes riders through ancient wilderness, past gushing waterfalls and over remote mountain peaks. With highlights such as the 'Devil's Staircase' – a steep climb up the side of the mountain – it is only recommended for experienced cyclists.Healthy
Scotland is one of the few countries in Europe to have wild camping rights by law – meaning you can pitch a tent on all public land.
To reach the trail by train, take the two-hour train from Glasgow to Tyndrum.
Check out Roman ruins in Germany's rolling forests
3 Days,208 km
The Taunus Storm Chase is an exhilarating cycling adventure that takes riders through the Taunus region in Germany. This route starts and ends in the medieval village of Runkel, and winds through rolling hills, lush forests and charming towns.
The historic region is filled with Roman ruins, and parts of the bike track follow the former line of fortifications that separated the Roman Empire and the Germanic tribes until 260 AD.
You can reach Runkle by train – it's around six hours from Brussels.