Yamaha add to their popular Ténéré 700 line-up with long-legged Extreme model
Published: 20 October 2023Updated: 20 October 2023
Yamaha Ténéré 700 Extreme
Yamaha have added a fifth Extreme option to their popular Ténéré 700 line-up – effectively equipping the £10,110 standard model with the advanced long-travel KYB suspension from the £11,910 World Raid.
Although prices and availability are yet to be announced, the Yamaha Ténéré 700 Extreme will be suspended by golden 43mm upside down KYB forks – promising 230mm of front wheel travel. Some 20mm more than the standard bike, they are fully adjustable and come with the inclusion of a durable Kashima coating to aid movement at slow speeds.
At the back end, you'll also find a fully adjustable piggyback shock absorber again supplied by KYB. Like the forks, there's an extra 20mm of travel over standard – bringing it to 220mm with an overall ground clearance of 260mm.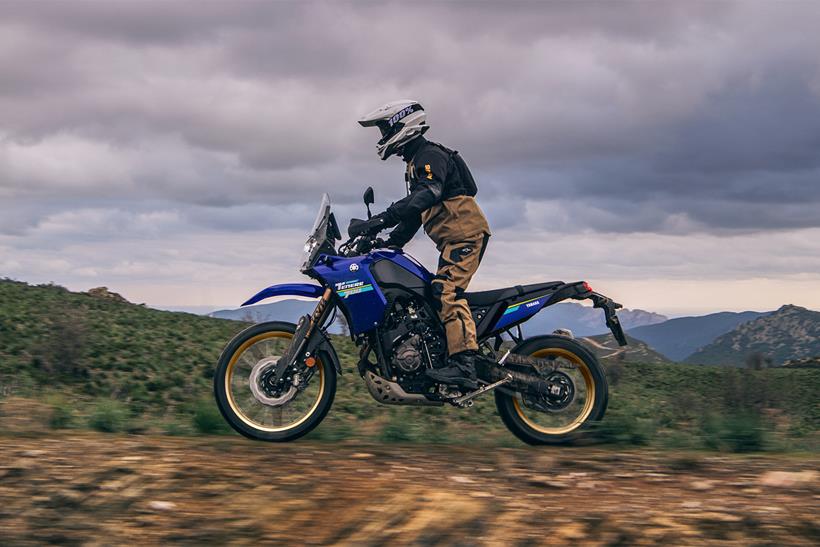 As you would expect, this has also led to a rise in the seat height. Already at 875mm as standard, it's now climbed to a heady 910mm which will likely deter some shorter and less experienced riders.
This seating figure also matches Ducati's recently revealed £18,995 DesertX Rally, which takes the standard twin-cylinder retro adventurer and adds an additional 20mm of travel at each end and gold KYB forks up front. That said, the 48mm closed cartridge Ducati forks offer less adjustment.
Away from the suspension, the Extreme also gets lightweight titanium footrests for additional bite into your boots and 35% greater surface area when riding off-road. What's more, you'll find an aluminium chain guide and radiator protector – plus the usual underslung bash plate to keep everything safe off of the tarmac.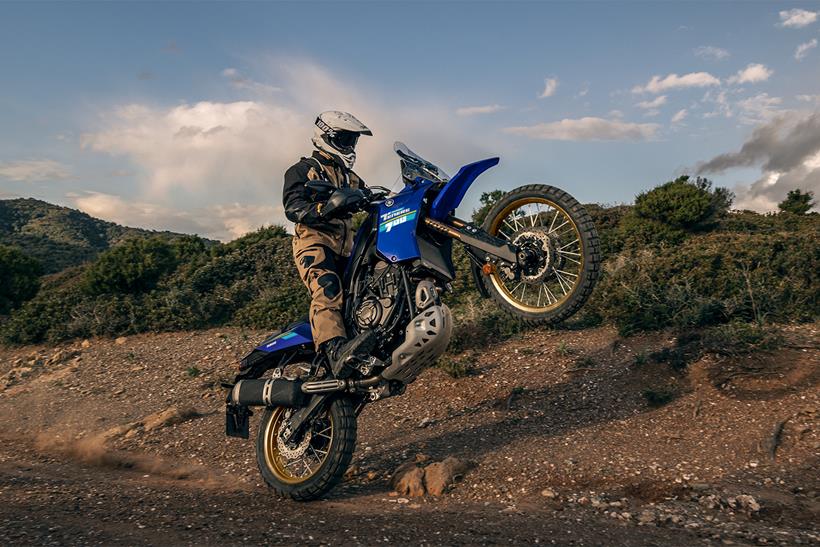 Like the Ducati mentioned previously, the Ténéré Extreme is distinguished in the looks department thanks to a much taller front mudguard. It's a two-part design, with the front beak colour-matched to the deep blue of the fuel tank, and a black rear section closer to the front tyre designed to limit the dirt fling into the front of the engine.
On top of this, Yamaha have also had a play around with the vertical five inch TFT display – offering three themes including a Rally Raid road book style option for those passionate about off-road. A trip switch can also be found on the left switchgear.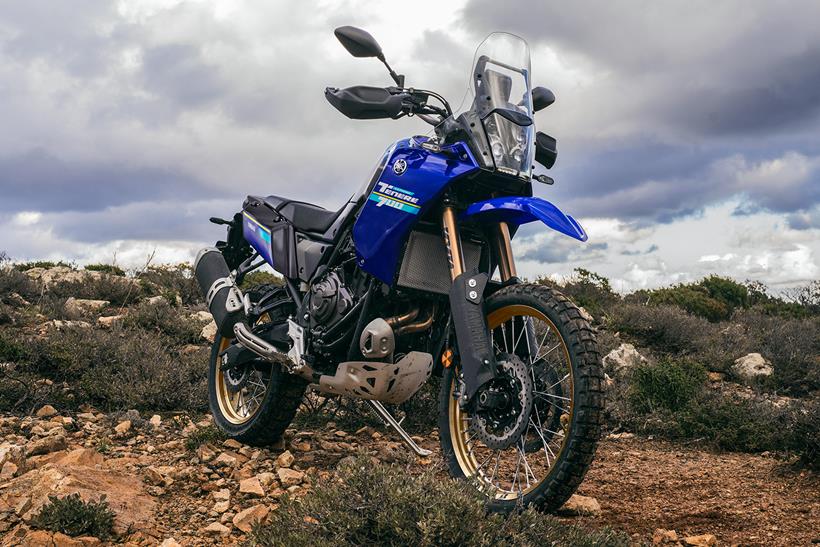 Yamaha Ténéré 700 Extreme explored:
Same old motor As before, Yamaha have stuck with their 689cc DOHC parallel twin 'CP2' engine which can be found in every Ténéré model
Mobile connectable On top of the rally-style roadbook layout on the five inch TFT dash, the unit can be connected to your mobile using the Yamaha app
Sitting comfortably The seat height has jumped to 910mm thanks to a flat one-piece seat offering 20mm of extra padding
Feeling blue The Extreme will only be available in 'Icon Blue' with special graphics. The tall front mudguard will also be finished in the same colour
Extra bling To match the golden KYB forks, the Yamaha also rolls on gold anodised aluminium spoked wheels